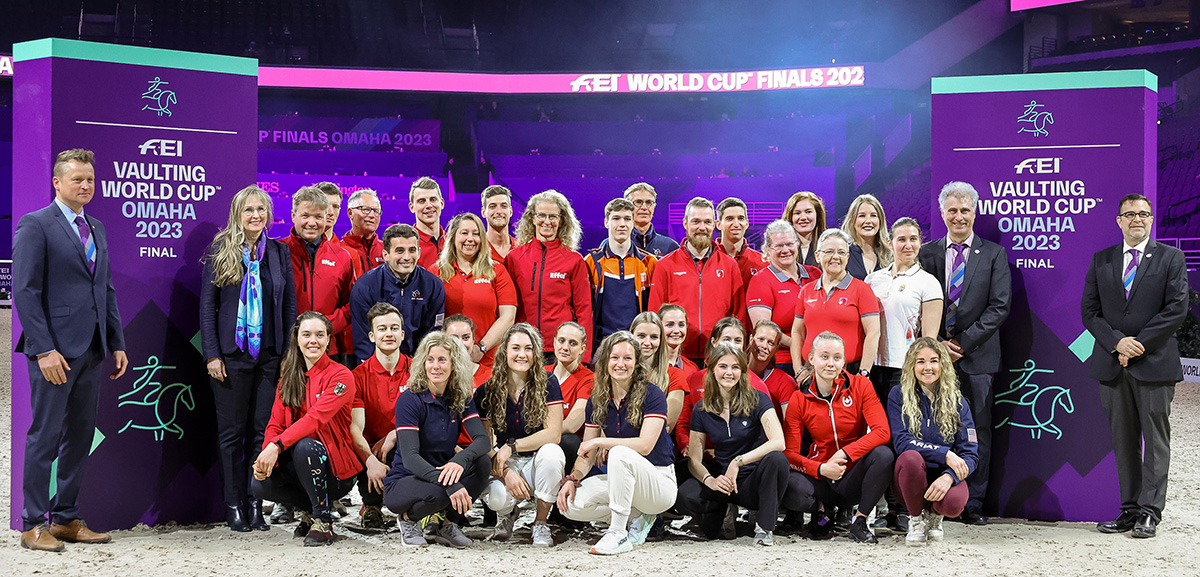 Thursday was day two of competition at the 2023 Omaha FEI World Cup Finals in the CHI Health Center in Omaha. The day was action packed with a full roster of educational presentations and children's activities in the demonstration arena in the trade fair and FEI World Cup Finals vaulting and show jumping competition in the main arena. 
Vaulting Begins
New to the FEI World Cup roster in Omaha was the FEI World Cup Vaulting Finals presented by Burlington Capital Foundation. Individual men and women and pairs (pas-de-deux) will compete over two days (yesterday and Saturday). The men and women performed a technical test Thursday and will do a freestyle test on Saturday, while the pas-de-deux athletes will do a free test each day. The highest combined score from the two days determines the winners.
Germany and the USA each provided five vaulting horses and the vaulters were assigned a horse and longeur prior to the competition. Most vaulted on borrowed horses and only had a few days to get to know their mounts, making the competition even more challenging for them. Yet, the vaulters all put on a lovely show for the appreciative crowd that cheered for every competitor.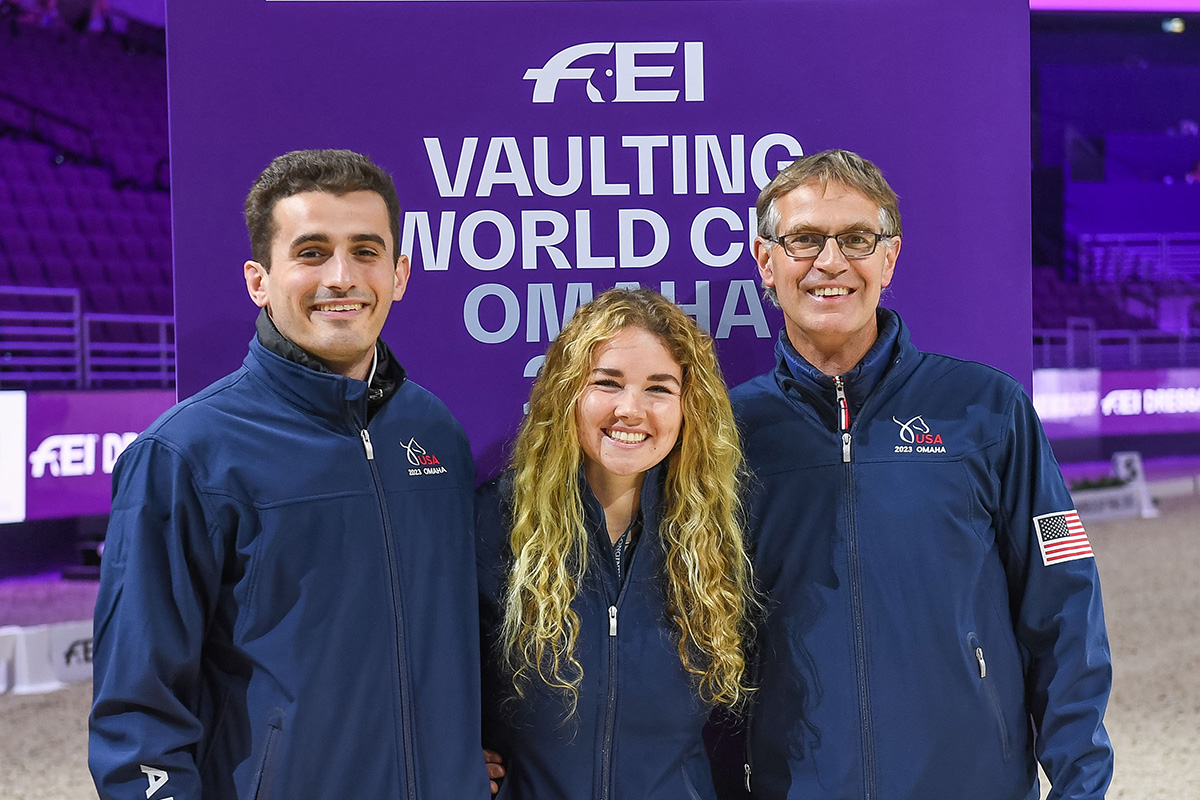 Competing in vaulting were: eight women from six countries (Austria, Canada, Germany (2), Hungary, Switzerland (2), and the USA); six men from four countries (Germany (2), the Netherlands, Switzerland (2), and the USA), and four pas-de-deux pairs from three countries (Austria, Denmark, and two from Germany).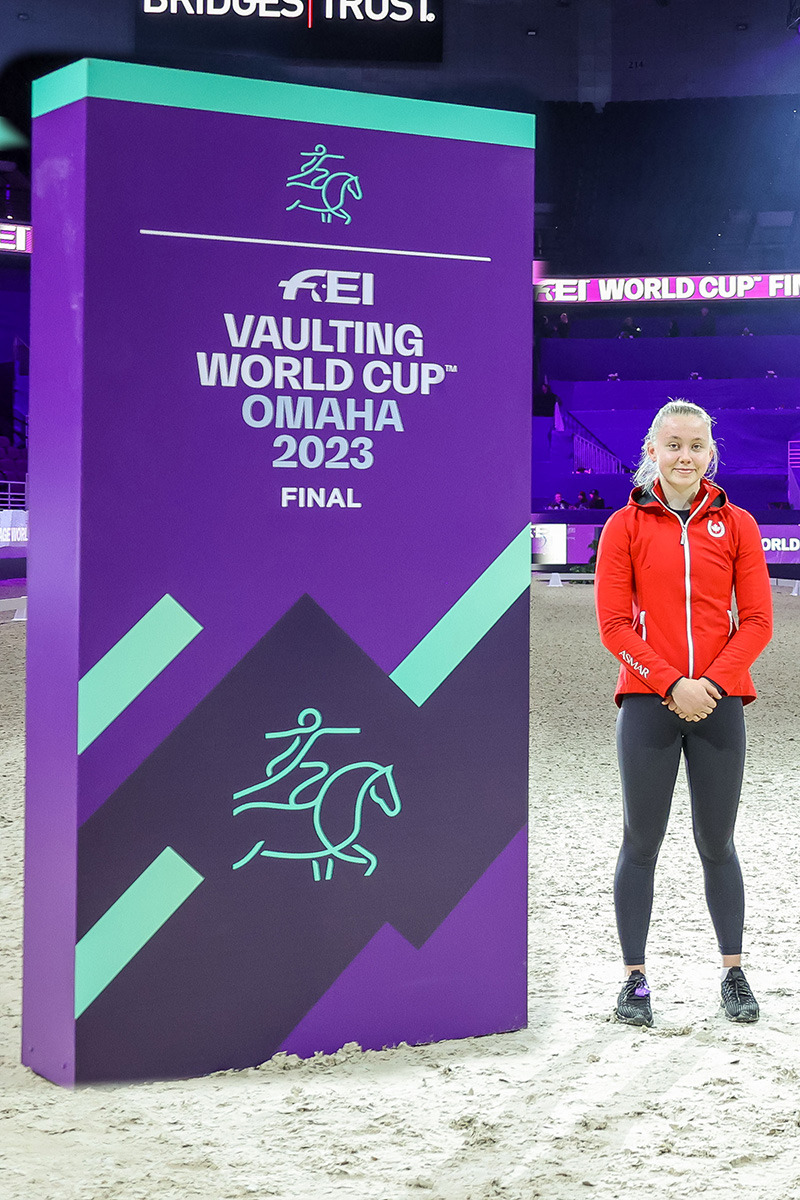 Individual Female Technical Test
First up on Thursday's competition docket was the vaulting individual female technical test. Germany's Kathrin Meyer showed the depth of her experience performing a smooth, expressive and accurate test to take the lead in the individual female division. Having her mother Sonja as the longeur and her family's horse San Classico S as her mount helped her feel right at home and she scored 8.299 over Swiss vaulter Danielle Bürgi (8.092) vaulting on Best Brew lunged by Andrea Selch of the USA in 2nd. 
Meyer commented on her horse and the competition after her round, "I'm so proud of him. We've had him for 10 years. There were small things that I wasn't 100% happy with, but it was the first time I showed this routine for the season, so it was a good job for the three of us. The lights [in the CHI Health Arena] create a different atmosphere than a normal competition. The audience was great, and I'm happy to be here."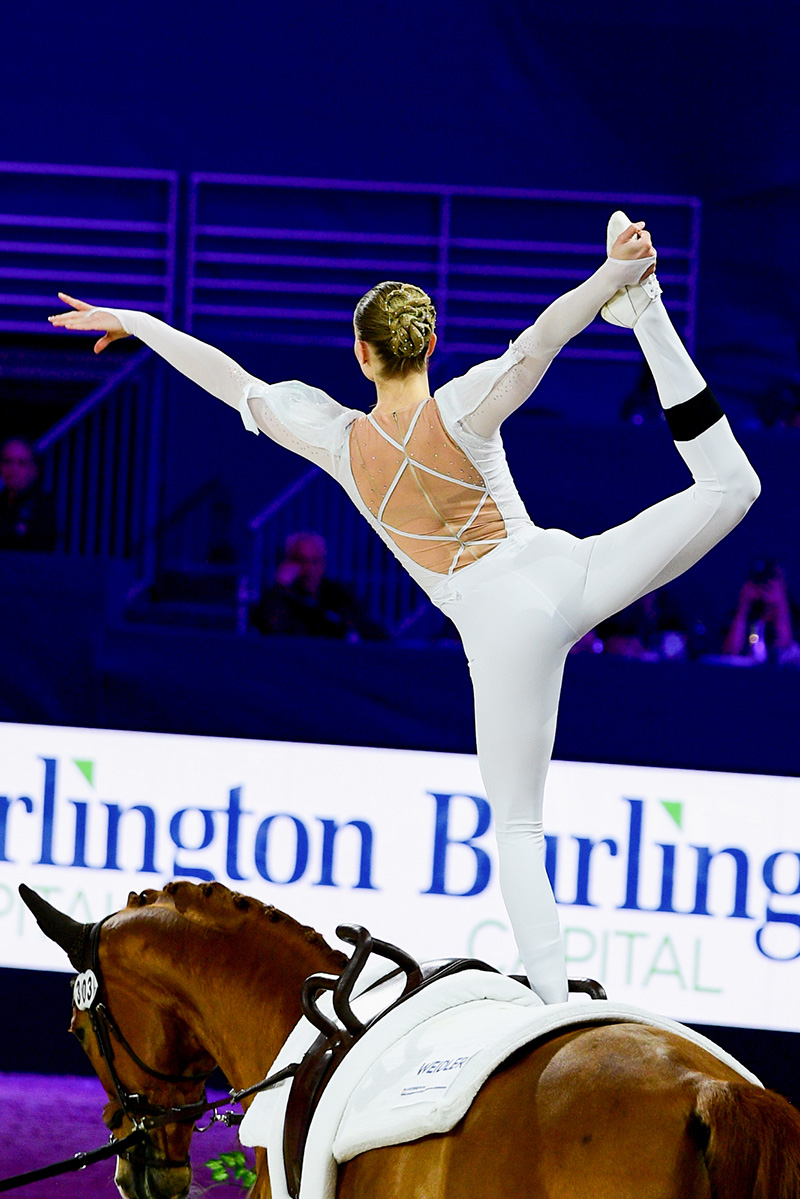 Taking 3rd place in the female technical was Sophie Julia Wagner, Germany, on DSP Sir Laulau lunged by Hendrik Falk, also from Germany (7.532). Fourth was Hungary's Blanka Németh on Lunar Eclipse lunged by Kimberly Wellmann of the USA (7.519). 
The USA's Kimberly Palmer, vaulting on Romeo lunged by Christoph Lensing of Germany, put in a nice round to finish with a 7.489 for 4th place in the technical test. She talked about Romeo and her test, "I think at first I was pretty nervous. I don't know if anyone could see that, but my horse was a bit more excited than I was hoping for. But then I was able to hold it together and make it through in a good routine. As the routine went on, he started to calm down, but I was so in it that I didn't really notice. I'm glad he was able to relax in. Hopefully in the second round he'll be feeling really good. It was really great. The lights―you just feel famous―everything is dark and you're in the light. It's really empowering and gives you energy."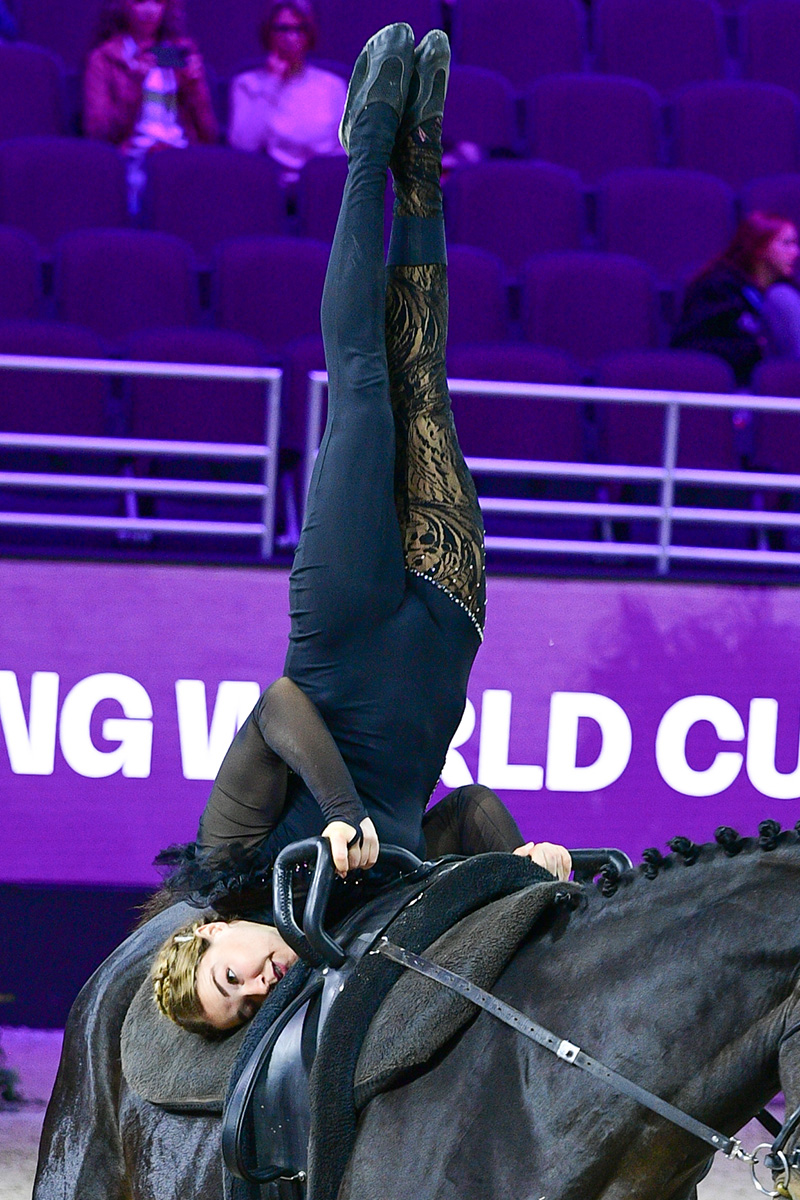 Eva Nagiller from Austria, on Killian lunged by Mary McCormick of the USA, took the 6th spot (7.394). Young Canadian vaulter Averill Saunders entertained the crowd performing on Max lunged by Sarah Krauss earned a 6.597 putting her in 7th. Finishing 8th was Nadja Büttiker (SUI) who vaulted on Garth ISF lunged by Jodi Rinard (USA). View the full vaulting individual female technical test results here.
Individual Male Technical Test
The individual male vaulters were second to compete in the CHI Health arena this afternoon. Once again, a vaulter from Germany topped the rankings after the technical test when Jannik Heiland vaulting from atop the German horse San Classico S lunged by Sonja Meyer scored 8.436. 
Heiland explained that San Classico was not his normal competition horse and talked about his routine, "Honestly this is not my usual team. I had to change the horse short term, so this was my fifth time on the horse. Therefore, I was happy with the round. My horse I trained at home all the time was too old for this big journey, so I decided to use another horse. My first plan was to go with Highlight, but there were some problems and I had to change the horse. I did a few trainings before we left for here. We had two short trainings here in Omaha, and then the technical test. Everything was not perfect, but I think 90% of the technical test was very good. I look forward to the freestyle on Saturday."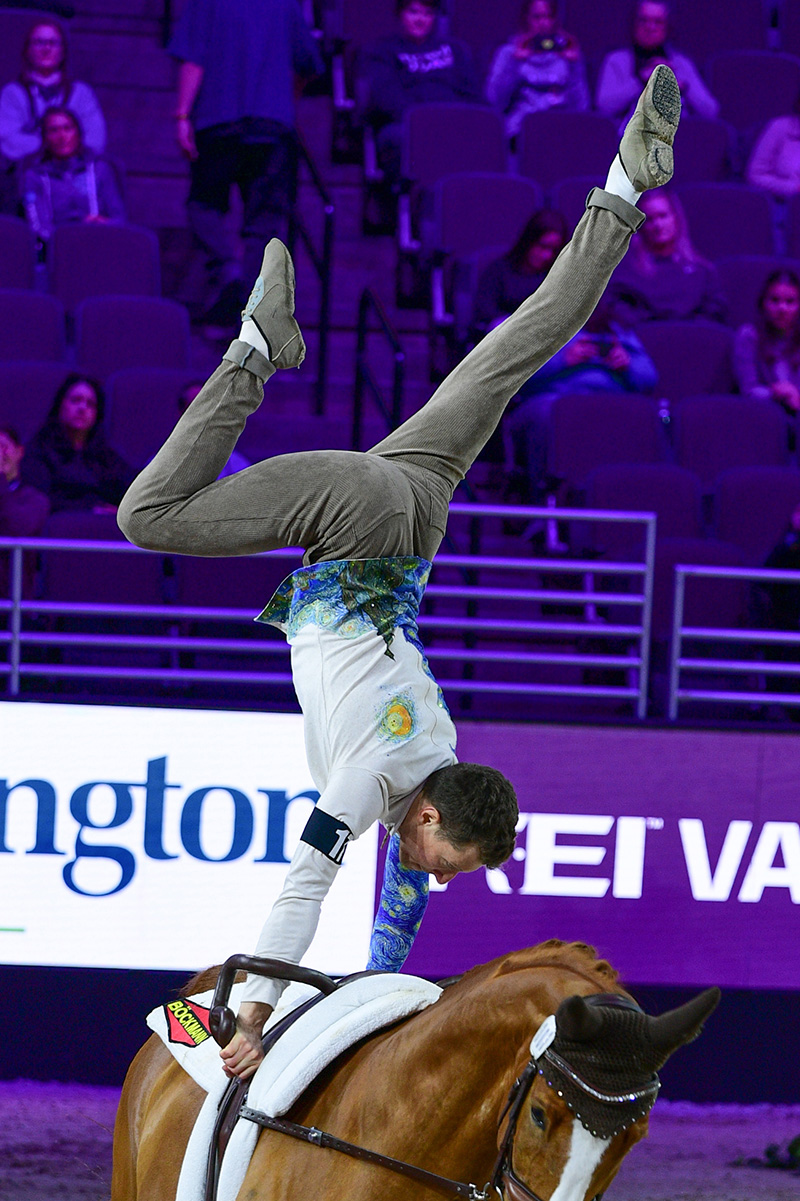 Taking 2nd was the Netherland's Sam Dos Santos who performed on the German horse Max lunged by Krauss (7.952), followed by Andrin Müller from Switzerland who also vaulted on Max in 3rd (7.176). Fourth was another Swiss vaulter Lukas Heppler who performed on US horse Best Brew lunged by Selch with 6.885 and filling the 5th spot was Germany's Julian Wilfling on German horse Aragorn 102 lunged by Alexander Zebrak (6.691). 
US vaulter Daniel Janes, who was in his first World Cup as an individual (he had previously competed as a part of a pas-de-deux), performed on Romeo lunged by Lensing to thunderous applause from the home-country crowd and scored 6.081 for 6th. "I was really proud of the beginning of the routine," exclaimed Janes, "We had a really strong start and hit the full range of movements. Things got a little bumpy here and there in the middle, but I'm also proud that Romeo and I kept it together. I pushed through to the end even though there was one mistake. He [Romeo] had more energy for sure, but was still very smooth and professional in the ring. So, that was nice."
Janes also said he really enjoys performing to music while vaulting and said the day's music was written by Son Lux. Son Lux also wrote the music Janes will use for his freestyle on Saturday, but Janes explained the music has a contrasting vibe to Saturday's song, "This is the part that's most special to me, performing well with the music. I can feel that and try to transfer it to the audience. I try to set up my routine to reflect that, although it's not the easiest to set up in the technical test with the prescribed movements. I don't always know why I'm drawn to a song, but I was drawn to this song. I'm a freestyle vaulter, so I'm a really looking forward Saturday."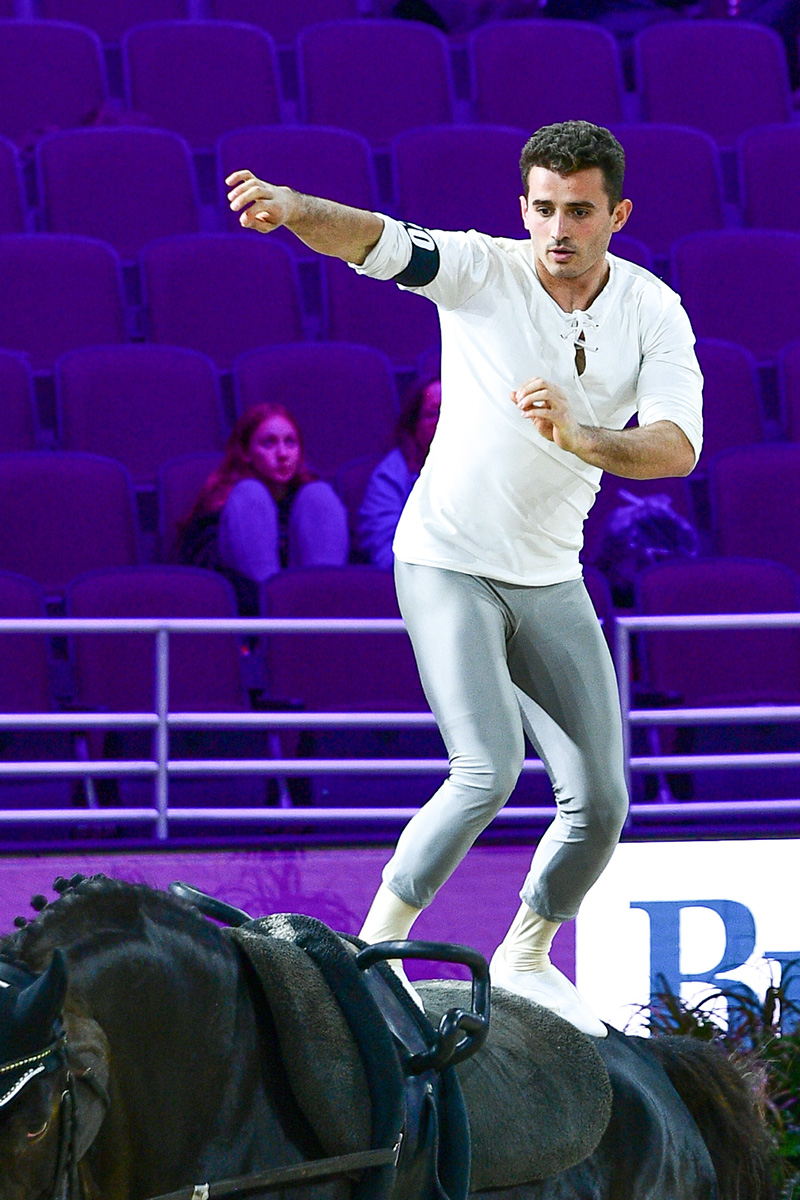 View the full vaulting individual male technical test results here.
Pas-de-Deux Free Test #1
The final vaulting class of the afternoon was the pas-de-deux. The two German pairs were expected to lead the pack, but with spirited competition from the Austrian and Danish vaulters to make it interesting. For the most part that was what played out, but when German vaulter Diana Harwardt had a fall from their horse (DSP Sir Laulau lunged by Falk) during the routine with partner Peter Kunne, they dropped to finish 4th (7.236). She was OK, but it interrupted the flow of the test and affected their score Thursday; they will have a chance to redeem themselves on Saturday, however.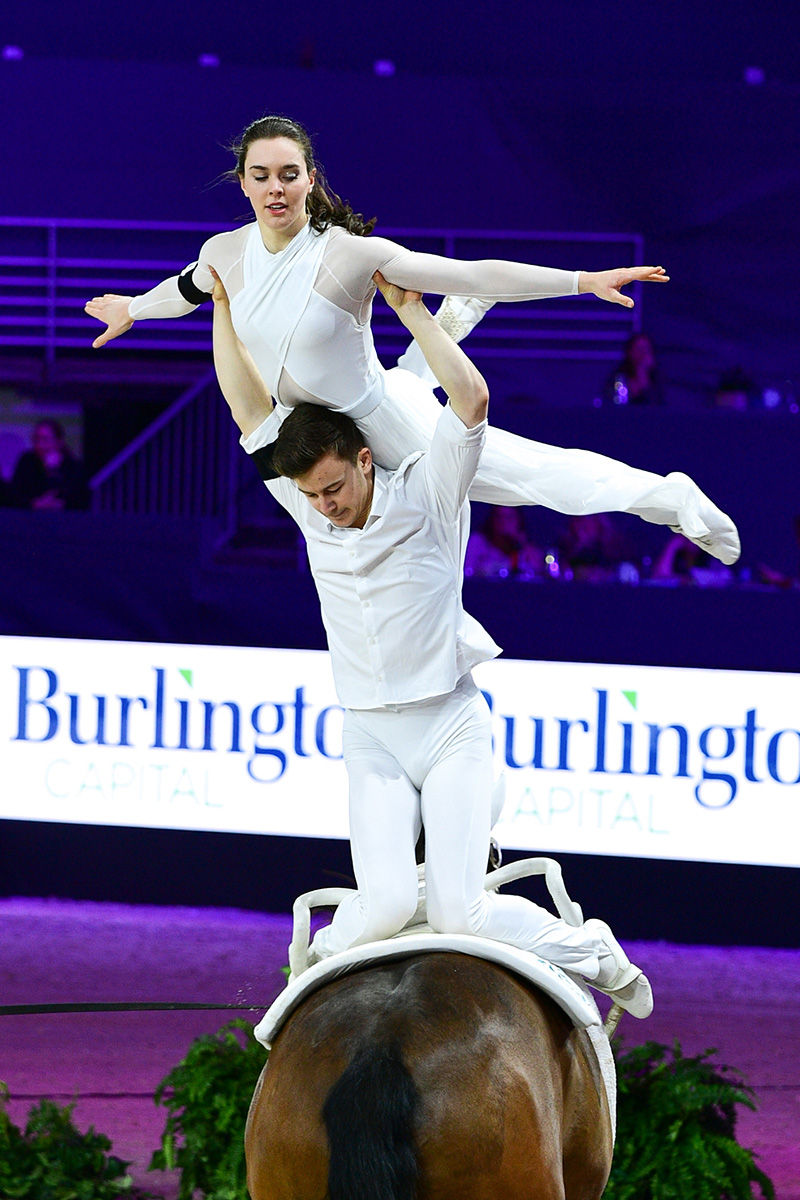 As predicted by those in the know, the other German pair, Chiara Congia and Justin van Gerven who vaulted on German horse Max (lunged by Alexandra Knauf), topped the results list for Thursday's pas-de-deux with 8.370. They were followed by the Austrian pair Romana Hinter and Eva Negiller on Killian lunged by McCormick in 2nd (7.657) with Danish vaulters Freja Linde and Maria Thinggaard Sorensen on Lunar Eclipse lunged by Wellmann in 3rd (7.267). 
Congia and van Gerven explained that they were supposed to vault on their own horse Highlight FRH who had passed the first horse inspection on Tuesday, but then had slightly injured herself in a subsequent practice session, so they were switched to competing on Max. "We are lucky enough to be able to compete on him [Max]. We know him because he's from our stable, but we haven't trained really on him. He did an amazing job. It's amazing [here in the CHI Health Arena]. The arena is huge and it's so special for us to compete here. We're not really used to this big of an arena," said Congia.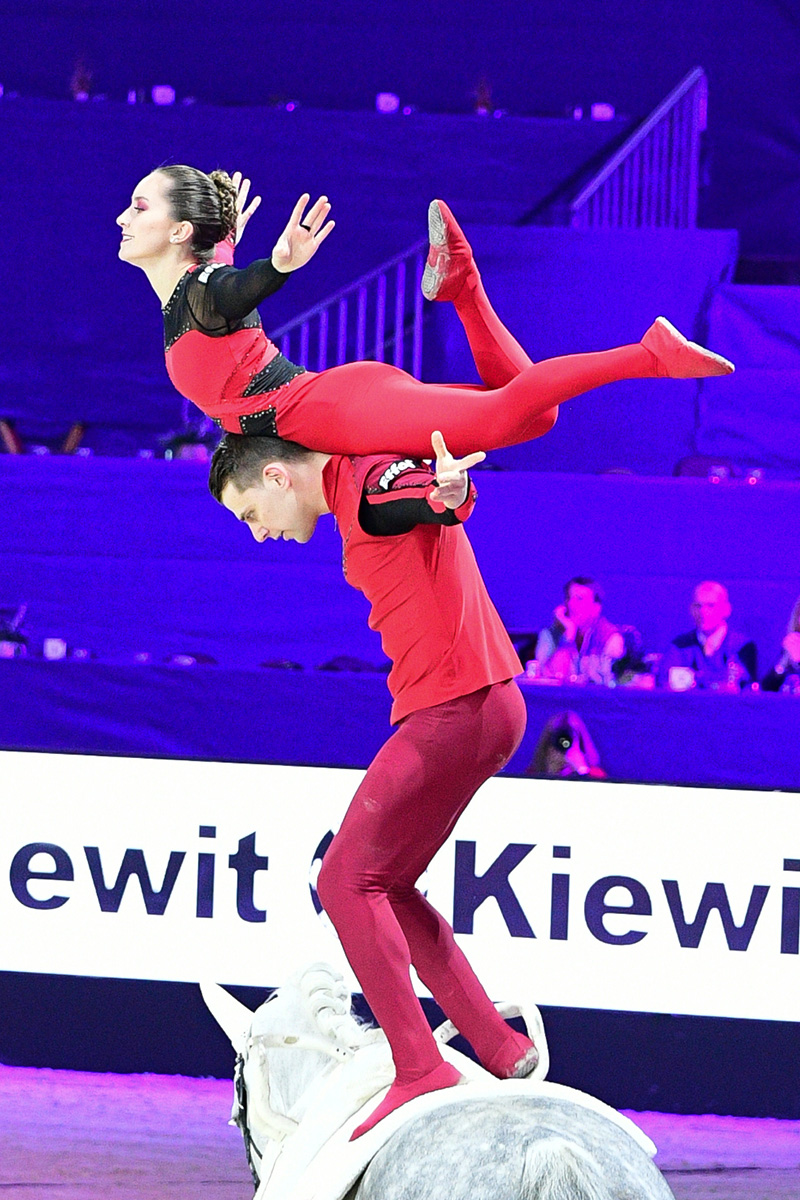 Van Gerven agreed that they were lucky to do well on Max with little time to prepare and shared that Omaha is the last competition for him and Congia as a pair. He previewed their plans for Saturday's free test, "On Saturday we will show the World Championship Freestyle from last year [Herning, Denmark]. Mostly it's contemporary and we dance together. We want to bring this to the audience and show them a good feeling. It's always good to have a good first round. We know now what to do and where are some difficult parts and we can work on those for the freestyle. Max will get a lot of care so he can relax before Saturday." 
View the full vaulting individual pas-de-deux free test 1 results here.
The vaulters will return on Saturday afternoon, April 8, at 1:15 p.m. Central US time for their final tests to determine the winners in each division. 
Jumpers Day Two
After an exciting jumper speed round Wednesday, 39 of the 40 original starters from 19 different countries returned to compete in the second day of the Longines FEI World Cup Finals. The class was a Table A, 1.60-meter competition with jump off over course designer Bernardo Costa Cabral's track with 14 numbered obstacles and a total of 17 jumping efforts. The competitors jumped in reverse order of their results from Wednesday. 
Nine combinations jumped the first round cleanly and returned for the jump off which featured two tight roll-back turns followed by longer lines across the arena. The nine pairs who returned for the jump-off were:  Julien Epaillard with Donatello d'Auge (FRA); Victoria Gulliksen and Equine America Papa Roach (NOR); Devin Ryan and Eddie Blue (USA); Harry Charles and Balou du Reventon (GBR); Richard Vogel and United Touch S (GER); Yuri Mansur and Vitiki (BRA); Hunter Holloway and Pepita Con Spita (USA); Andreas Schou and Darc de Lux (DEN), and Pius Schwizer and Vancouver de Lanlore (SUI).  
Gulliksen, Charles, Vogel, Schou and Schwizer all produced clear rounds in the jump-off, but Vogel's time was a sizzling 35.11 seconds, 0.14 seconds faster than Charles' for the win and 34,500 Euros in prize money. Third was Schou, 4th was Schwizer, 5th was Gulliksen and 6th was Mansur. The USA's Holloway placed 7th and Ryan 8th. View full results from Thursday's jumper class here.
Vogel talked about his horse and the course in the press conference following the class, "I think everyone can see how amazing this horse is. He has such a big stride and that doesn't necessarily make it easy in such a small and delicate indoor. But, he just gives his best and tries his heart out and in such a jump-off I was lucky enough to leave a stride out here and there and that suited us."  
"The first round was pretty technical," he continued, "There were enough short lines, especially for my horse, so I was very delighted with how my horse handled it. Also in the results I think you could see it was a tough enough class. Not too easy, not too soft. I think the course builder did a good job."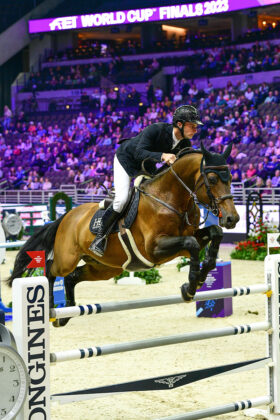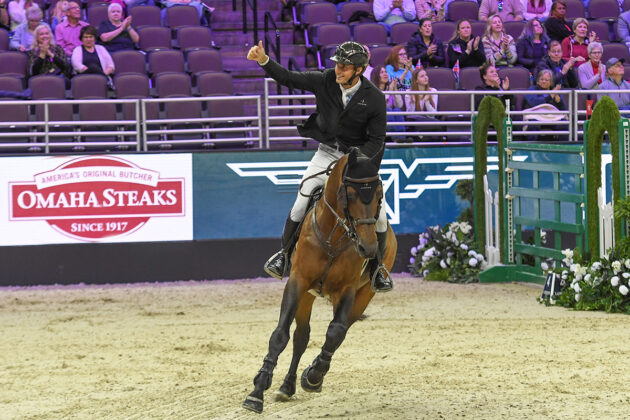 Holloway was also in the press conference as the top-placed American rider and she was thrilled with how her mare Pepita con Spita had gone over the last two days, "She's very clever and smart. She's stronger than ever and has really come this week to play. She's definitely top of her game and I'm just trying to keep up with her. Round one was super today and she jumped great again and fought hard for me. We had an unlucky rail when I was a little deep in the jump-off, but she was excellent."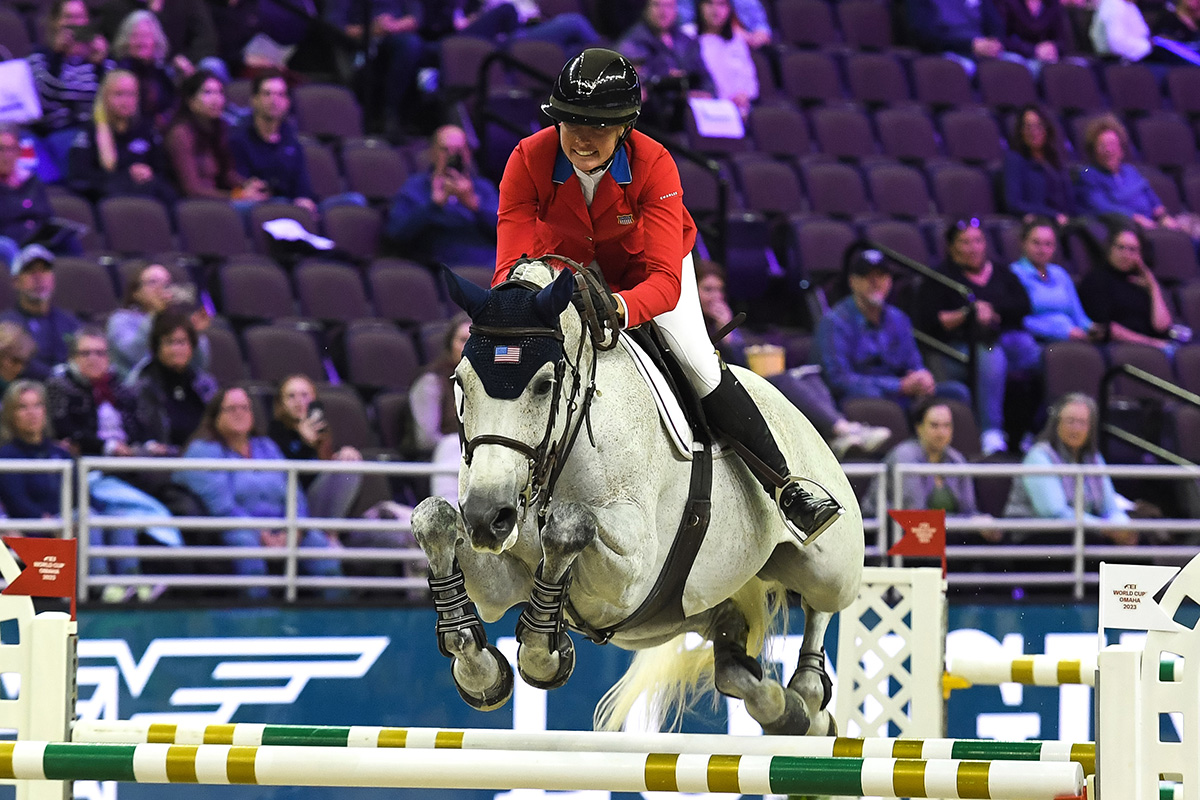 The jumpers also had a day off Thursday, but will return for their third and final day of competition on Saturday evening, April 8, at 7:15 p.m. Central, when they will jump two rounds (A and B). The top 30 from Thursday's competition will return for Round A and then the field will be further whittled down to 20 for Round B. The rider's scores from each class are added to together for a cumulative score to determine the overall winner on Saturday evening. 
Around the FEI World Cup Venue
The demonstration ring had a full schedule of breed appearances and educational events Thursday. Dressage, vaulting and horsemanship were featured along with an equine nutrition lecture and in-hand jumping. Breeds showcased included Akhal-Tekes, Fell Ponies, Foxtrotters, Friesians, Highland Ponies, Paint Horses and Saddlebreds. US Dressage Team Technical Advisor Debbie McDonald gave a presentation and the equine charity Brooke USA was spotlighted too. There were also many hands-on kids' learning activities including how to braid a horse's tail or wrap a bandage around a leg, among others. And, Native Americans from the Bluebird Cultural Initiative performed traditional dance and music.
Thursday's World Cup Wows
For our crew member Michelle Downey, Thursday's "World Cup Wow" was the poetry of the vaulting pas-de-deux competitors as the performed their intricate, artistic and athletic routines. She was also in awe meeting Germany's dressage and event rider Ingrid Klimke and her daughter Greta at the Trakehner Initiative Olympia reception Thursday evening. 
For me, the wows from Thursday evening were the nine clear first rounds over a very challenging show jumping course and the lightening-fast jump-off that gave Richard Vogel and United Touch S the win. And, seeing Hunter Holloway of Topeka, Kansas, a fellow Midwestern girl, shine in the jumper class was absolutely great!
For all articles about the 2023 FEI World Cup in Omaha, click here.
Watch the FEI World Cup On Demand
Fans can relive all of the action by replaying all sessions of the 2023 Omaha FEI World Cup Finals on demand on FEI TV via the Clip My Horse service which requires a paid subscription; sign up here.
This recap of day two of competition at the 2023 FEI World Cup Finals is a web exclusive for Horse Illustrated magazine. Click here to subscribe!