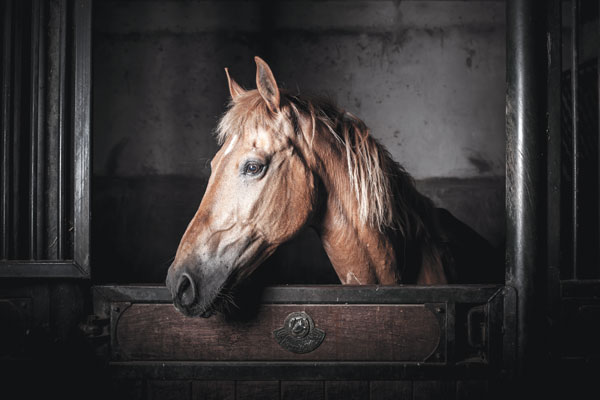 Emergencies are a normal way of life for a mobile equine vet, but after 20 years of getting yanked away from things that I loved and activities that I looked forward to, it was getting a bit old. Earlier in my career, I was always running out on my beloved pets. Then it was my group of friends and a fun evening or weekend activity that I was missing. Next I was regularly ditching my fiancé at the time, who is now my husband, for various vet adventures and emergency calls.
Then it was my first baby. All the years of training to drop everything important in my life and rush out the door did not prepare me for abruptly handing off each of my infant daughters who'd been snuggled in my arms moments earlier. Those years were by far the hardest.
Now, my half-grown children barely blink when I rush from my bedroom in work clothing at 8 p.m. and hastily tell them goodnight. I tiptoe home to a silent house and a sleeping family and debate on whether or not to shower. Unless the call was unusually disgusting, I often just crawl into bed to grab whatever remnant of sleep I can, resolving to change the sheets later.
The worst nights are when the calls come in back to back. I'm still recovering from a miserable trifecta last week that probably took several years off my life.
Calling on Colic
It started with a late evening colic that had me out the door at 7:30 p.m. and home around 11. I'd seen some weird colics over the years, but this one was exceptionally strange.
The mare had torn badly during a rough foaling when she was young, and her insides were badly scarred. A portion of her large colon was actually adhered to the inside of her pelvis, and it took me a long time to figure out what on earth I was feeling in the rectal exam.
Needless to say, she survived, but I had to get creative with my treatment plan, and it took a long time.
A Mysterious Mare
At 1:15 a.m., the phone blared in my ear and another client's name came up on the screen. I clutched the phone as my brain struggled to make sense of what she was saying. Her mare was apparently freaking out in her open-air stall, frantically biting and kicking the walls and running backwards into the doorway. She kept saying over and over, "Dr. Diehl, I've never seen a horse act like this!"
I figured I'd better quit talking and get out the door fast, because it didn't sound good. It was a 45-minute drive to her place, and my brain was frantically running through and discarding all of the possible reasons for this frightening event as I stared blearily at the dim road lit by my headlights. Long drives usually gave me time to think, but when I pulled into her driveway, I still had absolutely no idea what was wrong with the horse.
I drove up to the barn to see the mare quietly eating hay in her stall. My client was apologetic.
"Dr. Diehl, I swear up until 10 minutes ago, this mare was trying to tear her stall apart!"
I studied the walls of the stall that were scored deeply with fresh toothmarks and deep kicks, and the mare's hind legs had bloody scrapes on them. A thorough exam didn't find much: no real signs of a seizure, and her vitals and color were mostly normal, but there were wood fragments in her mouth, and her temperature was elevated. I walked the run outside the stall, which had been wide open during the ordeal and studied the ground for any clues—lion or bear tracks, maybe—but found nothing.
When I rechecked my patient, I could see a faint outline of hives forming all over her torso and neck. By the time I had gotten a dose of antihistamine from my truck, they were even more pronounced, the hair starting to rise up in tufts.
I couldn't see how hives and the violent behavior could be connected unless she'd been attacked by a late-night swarm of bloodthirsty insects, but I had no better ideas. I treated the hives, gave her some pain meds, drew a bunch of blood, and finally left, scratching my head.
A Sad Morning
After that vet adventure, I returned home close to 4 a.m. and fell asleep quickly, only to be woken again at 6:30 a.m. by another of the dreaded emergency calls. This time it was a good friend of my family and she was hysterical, having just found her son's beloved pony standing on a shattered hind leg when she went down to feed.
I made it to her place in record time. When I saw the pony's destroyed leg, I knew there was nothing that I could do except put him down quickly.
Whether it was because I knew the pony and the family so well, or that I couldn't help picturing their little son receiving the awful news, or the fact that I was on no sleep and my defenses were completely down, I was a sobbing mess when I left their farm. I had to reassure myself over and over that I wasn't the bad guy and it wasn't my fault, which is an irrational brain hijack that sometimes hits after a rough situation.
As I was pulling into my driveway, my daughters rushed out to hug me tight. I didn't yet trust myself to tell them about our friend's pony, so I hugged them back, grabbed a travel mug of coffee and loaded the truck for the day's calls.
My youngest looked at me sternly and shook a finger at me.
"You stayed up too late last night, young lady! You make sure you eat and drink plenty today, and tonight you're coming home and going to bed early!"
After consuming an entire therapeutic pint of Ben and Jerry's ice cream that evening, I did just that.
This Vet Adventures column on emergency calls appeared in the September 2020 issue of Horse Illustrated magazine. Click here to subscribe!