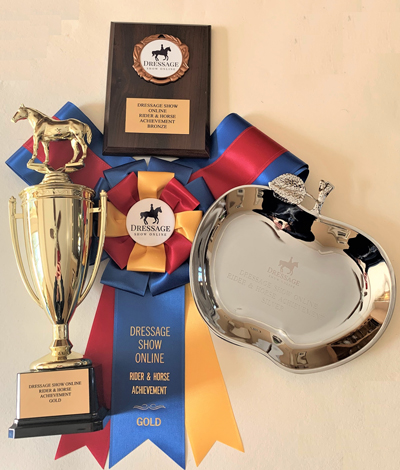 Although not a new concept, virtual horse shows are quickly popping up all over social media as more and more events are cancelled due to the worldwide COVID-19 pandemic. Innovative show organizers are giving us something to do with our horses—in-hand or in the saddle—while helping them re-coup some of the money lost from cancelled shows. It's a win-win.
Another positive to virtual horse shows is that equestrians can compete in events and against people that normally would never happen. For example, the
Traditional Gypsy Cob Association
is having a worldwide virtual show where the champions and reserve champions will get to compete for virtual champion at Traditional of the Year Show (
TOYS 2020
)—a unique opportunity for international Gypsies that cannot attend TOYS.
It also makes showing more affordable, as you don't have to pay for stalls, haul-ins, gas, hotels, etc. Dressage Show Online was started by Vicki Treverton when a friend of hers complained about not being able to show due to her horse not being able to travel. "Initially I thought about having riders email videos, and I could get someone to judge," she says, "but to me, that would not give the same experience. So, I went bigger. I started Dressage Show Online to deliver the same experience as a recognized show. I wanted competitors to feel this was as real an experience as they could get.  For this reason, we only use USDF [United States Dressage Federation] 'L' Graduates with Distinction and WDAA [Western Dressage Association of America] 'R' and 'r' judges."
Treverton's shows have grown over the years to include leagues, western dressage, and Host A Show where riding groups can have their own private shows, which they can use as a fundraiser.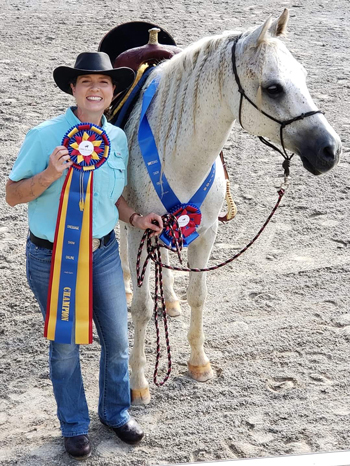 Emma Lord of Horse Shows Online (HSO) has been running virtual horse shows for nine years, since her competition horse suffered a serious tendon injury. "I decided to set up an online horse showing competition that would be open to entrants worldwide," she says. "Over the nine years that I've run HSO, I've learned that competitors gain a lot from online horse showing. Many find it easier to enter online due to lack of transport, loss of showing due to injury, mental health issues, lack of funds, etc."
Other groups are just now jumping into online shows. Freedom Hill Farms went virtual when they realized they may not have a summer show season due to the coronavirus (COVID-19) pandemic. "I had scheduled a series for summer with the same classes, and since I don't know how much we will be able to get out to show, I thought this would be a fun alternative," says Jessica Pelissier, owner of Freedom Hill Farms. "I also compete in the open show series for Open Show Association and Morgan Horse Club of Washington State and still want to be able to at least earn a few points before we are allowed to show again."
Many associations are allowing virtual shows to count toward year-end high-point and ambassador awards due to the stay-at-home orders. Pellissier's first show is running now through June 15.
"There is a place for every rider and every horse at a dressage competition," she says. "Everyone is on their own journey with their own challenges, and it has been wonderful to provide a program that has helped riders show when they were not able to before."
There are virtual shows for all types of disciplines—from dressage to agility. NavaRio Ranch held a Cyber Ranch Horse show in March. "We decided to do a virtual show early in January as an educational way for competitors of our 2020 Ranch Horse Series to receive feedback from the judge before going to compete in front of them later that month," explains Amanda Driewer, owner and founder of NavaRio Ranch. "Although our in-person series accommodates a wide-range of competitor skill and experience, we strive to benefit our beginning riders with as many learning opportunities as possible. It was a complete fluke that we began doing this right before the 'shelter in places' began occurring!"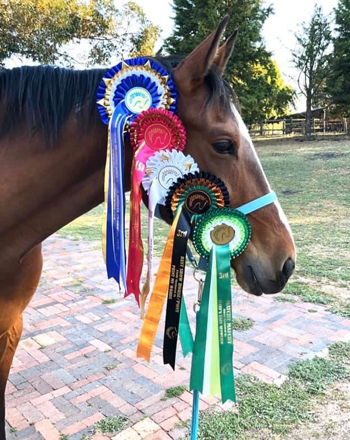 Just like a real show, she said weather was definitely a challenge since people needed dry spots to film their runs.
Driewer said the show was very successful, with 37 total entries, and it won't be the last. "Our original cyber show series was designed to be one class per month (March–Ranch Riding, April–Reining, and May–Showmanship)," she explains. "We chose classes and designed patterns that were easy for anyone to set up at home. We are currently working with a software developer to bring our competitors one of the most innovative and educational cyber showing experiences available! Once it has been developed, we are planning to do an open show series with a focus on ranch horse events!"­ ­­
Charlie Musgrave of The Virtual Horse Show said he has never organized a show before, though he has been around shows most of his life. "I'm doing it by myself," she shares. "The judging part is easy. It's all the paperwork that's hard."
Jasmine Powell of Online Horse Showing agrees that it's hard work, but extremely rewarding. "I love seeing happy, smiling photos from all over the globe. "Our shows are always very busy, but we have certainly seen even more entries now that offline competitions are on hold. I think we are allowing everyone to still enjoy the excitement of showing by bringing the competition to them. With more entries coming in, we've expanded our rosette placings and number of classes, which means more chances to earn a gorgeous frilly!"
Most shows have a combination of photo and video classes. Halter and costume classes are often photo entries, and usually can be a past photo. For video entries, each show has their own rules about how to take and submit them. Low-key shows do not require you to be in show clothes or perform in an arena, where others ask that you treat it like a real show, including tack, attire and a polished horse. You will get some lovely awards and some, like the American Paint Horse Association and The Virtual Horse Show, even have cash prizes.
Below is a list of a few virtual shows to get you started. Good luck and have fun!