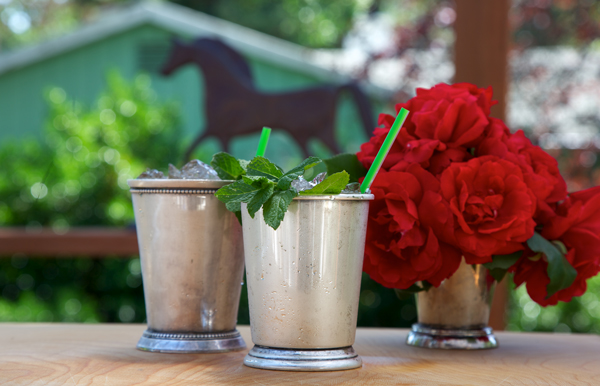 Churchill Downs announced plans to celebrate the first Saturday in May, the traditional date of the annual Kentucky Derby, by hosting a day-long at-home Kentucky Derby party—including a virtual Kentucky Derby horse race among the Triple Crown winners—to raise $2 million for COVID-19 emergency relief efforts. Though the 146th Kentucky Derby Presented by Woodford Reserve was postponed until Sept. 5 this year due to public health concerns related to the spread of COVID-19, Churchill Downs invites fans to honor the annual tradition while staying "Healthy at Home."
Fans can tune in to a special broadcast on NBC on May 2, from 3 to 6 p.m. EST, which will feature the 2015 Kentucky Derby that began the legendary American Pharoah's historic Triple Crown run. In addition, the NBC broadcast will highlight Churchill Downs' first ever virtual horse race—"The Kentucky Derby: Triple Crown Showdown," a computer-simulated version of a race under the historic Twin Spires of Churchill Downs.
The virtual race, created by Inspired Entertainment, will feature the 13 past Triple Crown winners and use data algorithms, including historical handicapping information about each horse, which helps to determine the probability of their potential finishing positions. Inspired offers an expanding portfolio of content, technology, hardware and services for regulated gaming, betting, lottery, and leisure operators across retail and mobile channels around the world.
Beginning on April 30, fans will be able to visit www.KentuckyDerby.com to choose their favorite horse to win the virtual race and also join Churchill Downs in making a charitable donation to COVID-19 emergency relief efforts. All participants who select the winning horse will be entered to win the ultimate Kentucky Derby 146 VIP Experience. Churchill Downs has pledged to match up to $1 million of donations with funds to be directed to the Team Kentucky Fund and Direct Relief.
The Team Kentucky Fund was initiated by Kentucky Governor Andy Beshear to provide assistance to Kentuckians who have been severely financially impacted by the COVID-19 emergency. Direct Relief's COVID-19 Fund for Community Health supports healthcare workers' safety and essential services they provide at America's safety-net community and health centers and clinics. The funds will be disbursed to community health centers, free and charitable clinics and pharmacies, and other non-profit health providers in Direct Relief's partner network, which includes thousands of community-run nonprofit health facilities in all 50 states and U.S. territories.
A small percentage will be earmarked for the Relief for Equine Industry Needs (R.E.I.N.) Fund. R.E.I.N. was established by the Churchill Downs Foundation in response to the growing needs in the racing industry as a result of the COVID-19 pandemic and the subsequent interruption of customary racing operations. The emergency relief fund specifically addresses the needs of backside communities by providing meals, micro-grants and financial assistance with emergency needs as well as the fulfillment of essential care for horses. The Churchill Downs Foundation was established to support industry charitable initiatives such as Thoroughbred aftercare and health and education opportunities for the valued backside community.
A full day of online festivities is planned on May 2, designed to encourage the perfect interactive Kentucky Derby party at home. Churchill Downs will join the Kentucky Derby Museum and other partners to offer virtual tours, Derby cocktail and fascinator-making instructions, ideas for party decorations, kids' crafts, Derby-inspired recipes, an at-home Derby fashion contest and much more.
"For many fans around the country, the first Saturday in May has become a part of their family's yearly traditions," said Kevin Flanery, President of Churchill Downs Racetrack. "While we eagerly look forward to the 146th Kentucky Derby this year on the first Saturday in September, we will celebrate the annual excitement of our traditional date with our fans and community by offering ways for us to join together for a great cause. Our fans will be captivated by the realistic view of the virtual race, and we can debate, as we do each year, our favorite to win."
"The anticipation of which Triple Crown winner will emerge as the ultimate champion is thrilling," said Bill Carstanjen, CEO of Churchill Downs Incorporated, "but most importantly, we are proud to use this platform as a force for good by raising money for these worthy COVID-19 emergency initiatives. We urge fans to join us by donating and celebrating with us from home."
Join the virtual party by posting your home Derby Party experience using #KyDerbyAtHome on Saturday, May 2, and follow @KentuckyDerby on Facebook, Twitter and Instagram on the first Saturday in May to engage with a full day of exciting content and other at-home Derby parties from across the country. Visit www.KentuckyDerbyParty.com regularly for an updated schedule of activities, recipes, ingredient lists, style tips and decorating ideas so that Kentucky Derby fans can be ready to celebrate the first Saturday in May together from home.