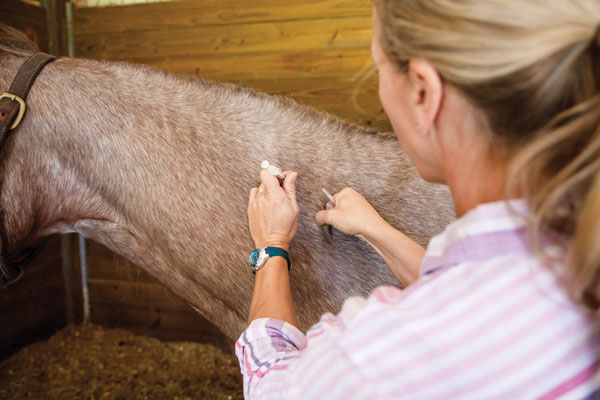 Vaccines for horses are a cornerstone of good health and horse owner responsibility. A robust vaccination program can reliably prevent numerous deadly and highly contagious diseases, offering convenient and safe protection for your horse, and in some cases, you as well.
However, deciding what vaccines to give your horse can feel daunting at times, given the numerous options and their relative dependence on your horse's age, location, and activities. Fortunately, the American Association of Equine Practitioners (AAEP) publishes authoritative guidelines covering what they've determined to be the four "core" vaccines for all horses in the U.S. Let's take a closer look at these guidelines and what they mean for your horse.
First, it helps to understand what is meant by the term "core." The AAEP refers to the American Veterinary Medical Association for a working definition, which is that core vaccines are those that "protect from diseases that are endemic to a region, those with potential public health significance, required by law, virulent/highly infectious, and/or those posing a risk of severe disease. Core vaccines have clearly demonstrated efficacy and safety, and thus exhibit a high enough level of patient benefit and low enough level of risk to justify their use in the majority of patients."
Based on this definition, AAEP classifies four horse vaccines to be core in the U.S. Let's take a closer look at each one.
1. EEE and WEE
Transmitted primarily by mosquitoes, Eastern Equine Encephalitis (EEE) and Western Equine Encephalitis (WEE) are considered endemic to the United States, although WEE tends to occur more commonly, typically west of the Mississippi River as its name suggests.
These viruses are neurotropic, meaning they prefer to localize specifically in brain tissue. In fact, an older layman's term for these diseases used to be "brain fever." Sometimes even now they are colloquially referred to as "sleeping sickness."
Signs of infection include fever and lethargy in addition to neurological signs, such as a wobbly gait, head-pressing, circling, and recumbency. EEE is the more deadly, with a mortality rate of 90 percent. WEE causes death in up to 40 percent of cases.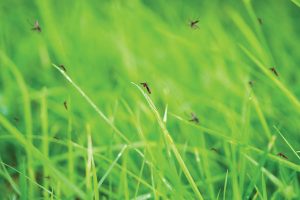 Both diseases are also zoonotic, meaning they can be passed to humans. Although human cases are very rare, when they occur, they are severe to fatal.
Because mosquitoes spread these viruses, there's little chance of eradication. Additionally, given there is no cure and the possibility of permanent neurological damage or death, vaccines for horses against these two viruses are a simple way to remain worry-free.
While there is a third virus in this family, Venezuelan Equine Encephalitis (VEE), this is considered a risk-based vaccine (see "RiskBased Vaccines," pg. 44) due to its geographical limitations within Central and South America, with occasional cases in southern states. Discuss with your veterinarian whether your horse is at risk for VEE.
2. West Nile Virus
It seems over the past 20 years that horse owners are more familiar with West Nile virus (WNV) than EEE and WEE, given WNV's rapid and dramatic expansion across the U.S. and its greater impact on human health.
West Nile Virus, like EEE and WEE, is spread by mosquitoes and targets the brain, resulting in neurologic signs, such as gait and behavioral changes. With an equine mortality rate of about 35 percent, it's not as deadly as EEE, but data have shown horses that survive the acute infection can have a roughly 40 percent chance of residual neurological damage.
Because this virus has been identified in all 48 contiguous states, infection remains a seasonal threat to U.S. horses. Mosquito control is only that—control, and not eradication. Vaccination against WNV is the best way to prevent this disease.
3. Rabies
Rabies is perhaps the quintessential vaccine for numerous domestic species for many reasons, from cultural (Old Yeller, anyone?) to epidemiological, making it the one most people are familiar with, and rightly so.
Rabies is fatal. Period. Additionally, the course of the disease is highly unpleasant and extremely dangerous to others, as, unlike with the viral encephalitis diseases, it is spread through contact with an infected animal.
For these reasons alone, it is the only vaccine for horses that is technically required by law and must be administered by a United States Department of Agriculture (USDA)-accredited veterinarian.
4. Tetanus
Like rabies, tetanus also has a presence in our everyday vernacular, likely due to the fact that humans have been contracting (and dying from) tetanus for millennia. Images of rusty nails or the term "lockjaw" come to most minds when discussing this disease.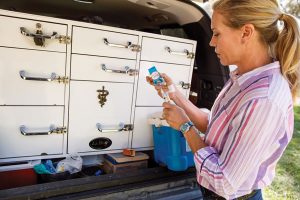 Caused by the bacteria Clostridium tetani, which is ubiquitous in soil, this fatal disease causes skeletal muscle paralysis; death occurs due to the eventual paralysis of the muscle in the diaphragm, which is required for breathing.
Any open wound, from a puncture or laceration to a surgical incision or traumatic foaling can be sources of C. tetani infection in horses. An ounce of prevention really is worth a pound of cure—yearly boosters with a tetanus toxoid will help bolster immunity in your horse.
Make a Plan
Horse owners should be aware that different vaccine companies typically market combination horse vaccines. It's common to find various "three-way" or more combinations, depending on the manufacturer.
For this reason, if you're not sure what the right vaccines for horses, be sure to talk with your vet. This helps ensure your horse receives the most efficient protection for his health and your pocketbook.
This article about vaccines for horses appeared in the March 2021 issue of Horse Illustrated magazine. Click here to subscribe!
Risk-Based Vaccines
In addition to the four core vaccines, the American Association of Equine Practitioners (AAEP) considers all other available U.S. equine vaccines as "risk-based." This means your horse's age, health, travel plans/history, and current location should dictate whether your horse receives such vaccines.
For example, anthrax is an extremely dangerous, lethal disease caused by sporeforming bacteria in the ground. However, there are very limited areas where anthrax is known to be a problem in this country. Most horses in the U.S. therefore do not need to receive this vaccine.
Based on your horse's history and your immediate future plans (shows, travel, boarding, et cetera), your vet will be able to help you assess your horse's risk level to each disease and advise you on what risk-based vaccines, other than the four core ones, your horse should receive.
For reference, the list of risk-based vaccines according to the AAEP includes the following: anthrax, botulism, equine herpesvirus (typically called "rhino"), equine influenza ("flu"), equine viral arteritis, leptospirosis, Potomac Horse Fever, rotaviral diarrhea, snake bite (for the Western Diamondback rattlesnake) and strangles.