If anyone could be labeled a hunter princess, it was me. For nearly four decades I strove for the perfect hunter round and learned to maintain a semblance of grace during an equitation class. Yet I would eventually end up embracing the world of western dressage, all thanks to my Paint Horse gelding, Wally.
With his looks and breeding, Wally should've been a champion something-or-other, but he hated being a show horse. When I plucked him from an auction, he was a ring-sour beast. Since I'd recently retired from showing hunters, I didn't care. I just wanted a flashy trail mount. Wally's distaste for group activities was fine by me.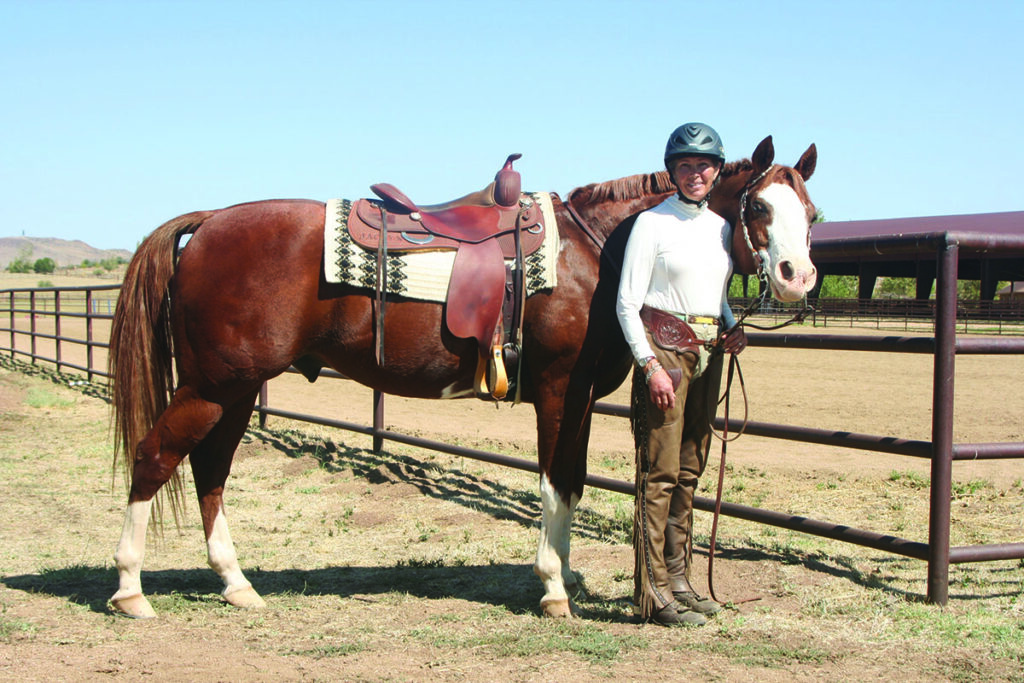 A Door Opens for Western Dressage
Yet after several months of trail riding, I felt lured back to arena work. I devised ways to cajole Wally into compliance. Most involved peppermints. To keep him interested, we worked on lateral movements and transitions, and I taught him flying lead changes. His resentment abated and soon he'd amassed a notable skill set.
A few years down the road, my husband and I moved from Southern California to the high country of Arizona with Wally in tow. The trail riding was spectacular, but about once a week I schooled Wally in the community arena. One day I was joined by a local dressage rider aboard her Andalusian. She watched Wally and me practice shoulder-ins and leg-yields.
Finally, she said, "You really should do western dressage on that horse."
"Is that a thing up here?" I asked. Most competitions in this part of Arizona seemed concerned with barrel racing or roping cows.
She explained that, yes, there was a local dressage club that sponsored clinics and shows. "They always have western dressage classes."
I felt a spark of adrenaline when she uttered those words. Did I still harbor some yearning to compete? Could Wally actually hold it together for an entire dressage test?
Learning the Ins and Outs
I immediately went home and researched everything I could about western dressage, from tack requirements to the various levels and tests. I watched countless online videos of high-scoring rides. As a final sign of commitment, I joined the dressage club and set my sights on their upcoming shows.
Unfortunately, in my zeal for this newfound pursuit, I'd forgotten that I'd never ridden an actual dressage test. While hunter courses had a natural flow from one obstacle to another, dressage relied on letters set around the arena to mark where each movement was to happen.
Quite frankly, the placement of those letters made no sense to me. They weren't in alphabetical order, and I couldn't figure out why several letters (like I and P) were invisible. So as the shows approached, I resorted to tactics my husband found confusing.
I went into our kitchen armed with a stack of sticky notes bearing the letters and stuck them onto the tiled floor. Then I "rode" my test. About the time I was cantering a 10-meter circle next to the dishwasher, he called to me from the living room.
"What the heck are you doing?"
"I'm practicing western dressage."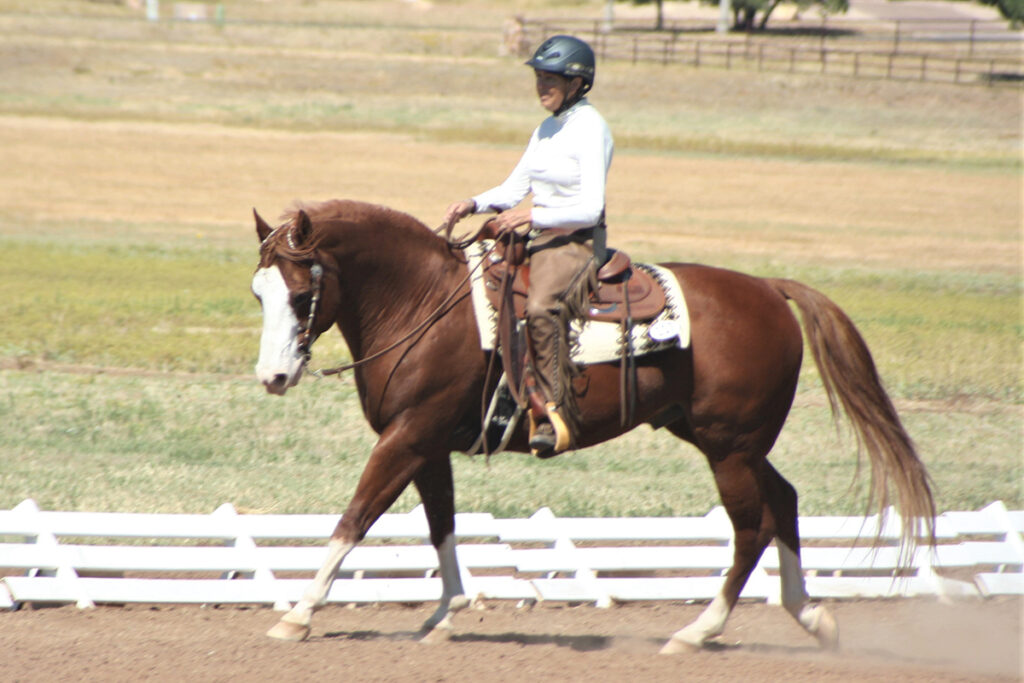 Long since indoctrinated to the silliness that's associated with horse-crazy women, my husband shook his head and went back to watching TV.
Scraps of paper, book margins and a whiteboard we used for leaving notes to each other were soon besmirched with my dressage test doodles. I drew rectangles, added those confounded letters and then traced the loops, lines and circles of my tests.
Once I had them memorized, I practiced aboard Wally in my neighbor's makeshift dressage arena. Occasionally I'd go off course, curse, and then ride back to X and start again.
The Ultimate Reward
By the time the show series rolled around, I was confident I knew my tests by heart. I was less confident predicting Wally's behavior. I was worried he'd succumb to horse show PTSD and become completely unhinged amid the hoopla.
Thankfully, that never happened. Wally trotted up the centerline in both of his tests with an air of relaxed bravado. He was alert, responsive, and—dare I say it—happy to perform.
Our scores from that show, and the ones later that summer, were consistently in the 70s (dressage is scored as a percentage, with most winning tests in the 60s and 70s). By season's end, we had an armful of blue ribbons, one tri-color championship, and a western dressage high-point award.
The ultimate reward, however, was reading the comments from the judges.
"You and your horse obviously have a special relationship," one wrote. "The two of you are a joy to watch."
Those were words I'd never seen on a hunter scorecard. I knew I would treasure them—and Wally, my western dressage horse—forever.
To learn more about western dressage, visit the Western Dressage Association of America's website.