Beauty and bling won't sway the judges in the ranch pleasure class. It's all about how well your horse performs the necessary tasks with natural, forward movement; cadence; willingness; and smoothness. At each gait, he should move freely with ground-covering strides. Overall manners and responsiveness are also considered. In other words, he should look like a horse you'd want to ride for a day's work.
Your horse should have good conformation that lends to natural athleticism. He must also be very responsive and well-trained. Smooth, consistent transitions are a crucial part of the class, as is the ability to vary the speed of the walk, jog and lope while keeping a good cadence. Other important skills include walking and jogging over poles, serpentines, 360-degree turns, sidepassing, lead changes (flying or simple), and turn-arounds.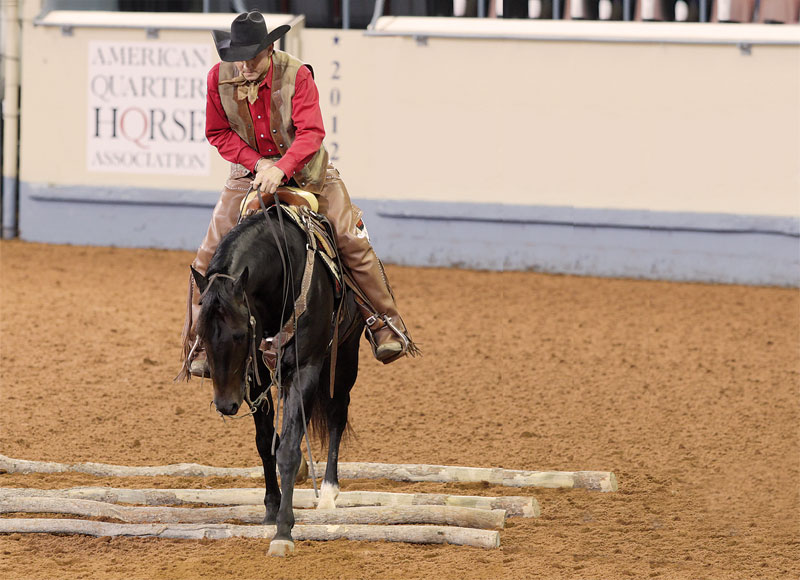 Photo courtesy American Quarter Horse Journal
What Judges Want
For those just starting out, it will help greatly to work with a trainer familiar with ranch pleasure who can help with the horse you own, or find you a suitable horse. A trainer can also help you understand what the judges are looking for.
Whether or not you work with a trainer, get as familiar as possible with the class.
"I encourage people to become educated on how a typical ranch horse moves and what is required so that they can meet the standards the judges rule on as this class moves forward," notes Alex Ross, AQHA senior director of judges. "Check out DVDs and watch online videos of top ranch horses competing to see how they move. If you go to the AQHA website (www.aqha.com), you can download score sheets from judges to see how they score ranch pleasure classes."
What to Wear
Tack should be clean and in good repair, but you don't need a show saddle; in fact, silver on saddles and bridles is discouraged. A back cinch is preferred but not mandatory. Either split reins or romal reins are accepted. If you ride in a snaffle or hackamore, you're allowed to have both hands on the reins; if you're showing in a bridle with any bit other than a snaffle, you must ride with one hand.
Skip the hoof polish—it's not allowed. Ditto for tail extensions and braided or banded manes. Trimming inside the horse's ears is discouraged.
As for your own attire, go for a clean ranch look rather than show-pen glam. Opt for starched jeans, a starched long-sleeved shirt, western boots and a well-shaped hat. Chaps aren't required, but you can wear them (or chinks) if you'd like to.
---
This article originally appeared in the June 2014 issue of Horse Illustrated magazine. Click here to subscribe!