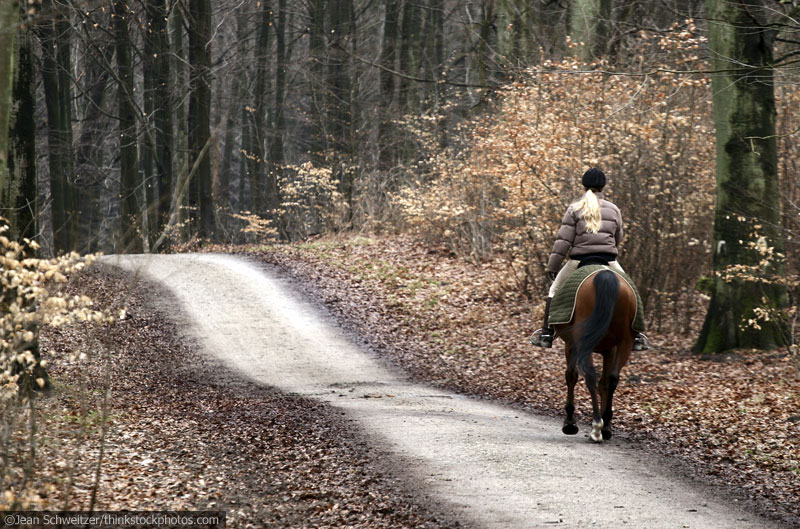 As the heat of summer is pushed out by the gentle fall winds, deer and elk hunters are checking their gear and getting ready for the first hunt of the season. At the same time, those gentle winds and the beautiful fall colors beckon to trail riders. Growing up in the farmlands of southern Michigan, I was an avid hunter and trail rider. Additionally, my father was a gunsmith, hunter and accomplished horseman. So much of what I know about safely navigating horses during hunting season I learned from my dad, and I have added to it over the years as a hunter, horseman and outfitter. Here are the three simple R's that all trail riders should abide by during hunting season.
1. Responsibility
Always take responsibility for your actions and have full knowledge of where you are riding. Don't ride alone, and take a cellphone if there is service. Make sure others know where you are going. Know the main trail routes and stick to them. Hunting season is not a time to explore off-trail areas. Don't assume that because you have permission to ride on private land, there aren't hunters there too. Know all the allowed uses of public lands, and be aware of possible trespassers. Just because there shouldn't be hunters there doesn't mean there aren't.
2. Respect
When riding on public lands that permit both hunting and riding, be respectful of hunters and their rights to be there. Avoid the prime hunting times of dawn and dusk hours, for your safety and out of respect for hunters. When you notice someone in a stand or blind, try to move through as quickly as possible. Everyone who enjoys the outdoors needs to continue to work together to maintain all uses of public and private lands.
3. Reflectivity
Be visible! You want to be seen from far away. I strongly recommend wearing reflective "hunter's orange." There are other colors that make you visible, but hunters train themselves to see that bright orange. You can get fairly inexpensive safety vests at a hunting store. You can also purchase orange stirrups, helmet covers and hat bands. Make sure your horse is visible too; there are reflective halters, browbands and breast collars on the market today. Additionally, reflective gear that can keep your horse from being mistaken as a deer or elk when turned out in the pasture is available.
The purpose of the Certified Horsemanship Association (CHA) is to promote excellence in safety and education for the benefit of the horse industry. The CHA certifies instructors and trail guides, accredits equestrian facilities, publishes educational manuals, produces educational horsemanship DVDs, and hosts regional and international conferences. For more information, visit www.cha-ahse.org or call 859-259-3399. To find a certified horseback riding instructor or accredited equine facility near you, visit www.chainstructors.com.
Further Reading
Safety on the Trail
Fall Riding and Horse Care
CHAD COPPESS currently serves as the program administrator at Grace Adventures in Mears, Mich. His 20 years of professional horse experience include training, serving as a mounted police officer, leading and participating in outfitting opportunities, and leading and developing Christian ranch camps. Chad has served on the CHA Board of Directors as vice president and is a certified wilderness guide and CHA assistant trail clinic instructor. He has also published numerous articles and conducted clinics, and currently presents at various conferences, workshops and trade shows.
---
This article originally appeared in the November 2013 issue of Horse Illustrated. Click here to subscribe.