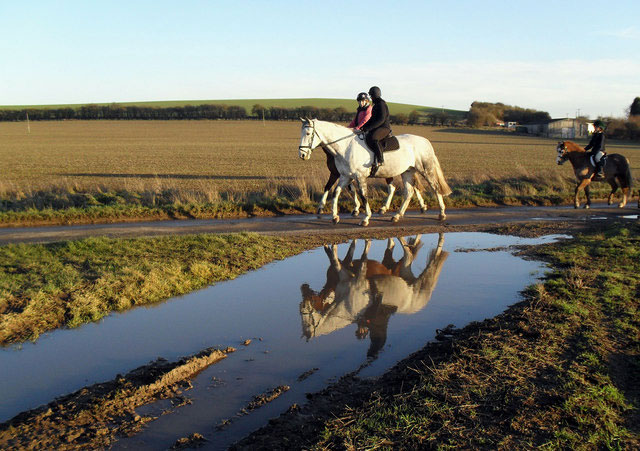 Photo: Des Blenkinsopp/
CC BY SA 2.0
A trail ride with friends is one of the most relaxing activities you can do on horseback. But that is only if you and your friends observe good trail manners while you are out and about.
Following good trail manners is vital to having a safe, fun and relaxing ride. Riders who ignore or are not aware of the rules of trail etiquette not only jeopardize the safety of other riders, but also become unpopular trail partners.
Here is a list of basic trail manners and the reasons they are important:
Keep at least one horse's length between and you and the horse in front of you. Many horses don't appreciate having another horse's nose in their rump, and some will kick in retaliation. Staying one length back keeps horses safe and happy.
Don't trot or gallop past another rider. Horses have a strong herd instinct, and if you speed past the horse in front of you, odds are that horse is going to bolt and take off after you in an attempt to keep up. Slow to a walk when passing other trail users. Also, ask fellow trail riders if they want to trot or canter before doing so.
Don't leave a water source until all the horses are finished drinking. The equine herd instinct dictates that when one horse leaves the drinking area, the other horses follow. In trail riding situations, it's vital that horses drink all the water they can, especially if the weather is hot. Don't disturb another horse's drink by leaving the water before he's finished.
Make sure you have complete control of your horse before you go out on a trail ride. If you have a nervous, hard-to-handle horse, learn how to control him before you expose him to other horses. A spooky horse often spreads his anxiety to other horses on the ride.
On multi-use trails livestock traditionally have the right of way, but don't assume that this is always the case. Courtesy, common sense and good judgment are essential to safely sharing the trail. Use care approaching hikers or bikers—and remember they may not be familiar with horses. If there's any doubt, communicate to them about the safest way to pass, and be friendly and considerate.
As a final note, always thank a fellow trail user who yields the right of way.
Audrey Pavia is the author of "Horses for Dummies." She has enjoyed many trail rides.