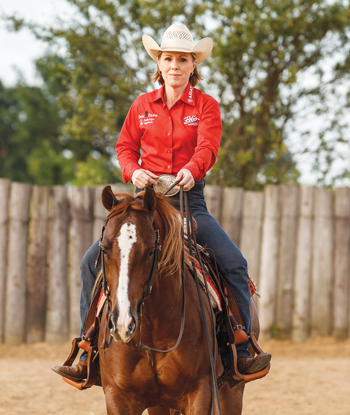 Reins are the key to communicating with your horse from the saddle. Used to cue and control direction and speed, the right set of reins can make the difference between a good ride and a disaster. American Quarter Horse Association (AQHA) Professional Horsewoman Carol Metcalf breaks down the four most commonly used types of reins in western disciplines—split, romal, mecate, and roping, with tips on proper usage and how to find a pair made with lasting quality.
Split Western Reins
What they are:
Although typically made from two strips of leather, split reins can also be made of braided cotton rope. Widths vary. Metcalf prefers a width of 3/4-inch for most riding and 5/8-inch with a snaffle bit.
Used for: The current trend sees split reins used in most western events, particularly western pleasure, horsemanship, reining and cutting.
Pros: Split reins allow you to make tiny adjustments to one rein or the other, direct your horse with one rein, apply a neck rein and/or a number of other cues using one or both hands with the option to hold the reins in several different positions. This is the most versatile type of reins.
Cons: Adjusting your rein length in one hand can be more challenging than other types of reins. It's also easy to drop one while riding, which is a safety hazard. And Metcalf says sometimes riders sneak extra cues in that can hamper good training in the long run.
"You need to be aware of your rein length, and practice so you're using them correctly," she says.
Selection tip: Look for good-quality leather, a substantial thickness and no stretch. Make sure the attachments to the bit are in good working order. Metcalf avoids snaps or Chicago screws in favor of leather ties for safety.
"I always check the leather every time I use a pair of reins," she says. "I've had snaps come open or screws come unscrewed, and leather can wear out. I replace those leathers if there's any sign of wear."
Romal Reins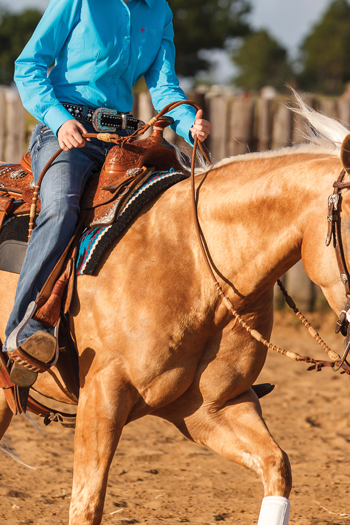 What they are: Derived from the traditional Spanish vaquero methods, romal reins are comprised of two parts: the reins and the romal, which is one piece connected to the reins. The romal usually has a strip of leather on the end, called a popper. Today they're usually made out of rawhide.
Used for: Particularly on the West Coast, many bridled reined cow horses (versus one in a hackamore) are ridden in competition using a romal. Some riders use a romal in trail and other all-around events, but the romal is useful for a variety of disciplines. Metcalf says they're also helpful for training a horse.
"When I start putting my 3-year-old horses in the bridle, I'll ride them in split reins," she says. "But when I go to one hand, 98 percent of the time within a few weeks I'm using romal reins to polish up the steering."
Pros: You'll hold the reins in one hand and the tail in the other. When held correctly, it's easier to keep your reins even and at the correct length versus split reins. They are helpful for keeping your horse upright and between your reins. Romal reins are also a great way to find out how trained your horse is to rein cues, says Metcalf.
"You can't slip a finger or hand in the reins to steer with romal reins like you can with split reins," she says.
Cons: Holding and using a romal incorrectly can get points deducted from your score in the show pen. Check your association's rule book for specifics. They're not to be used with a bit without a shank, like an O-ring snaffle.
Selection tip: Metcalf says a good rawhide set of romal reins is not cheap. Inexpensive reins may wear out quickly. Look for quality materials and workmanship.
Roping Reins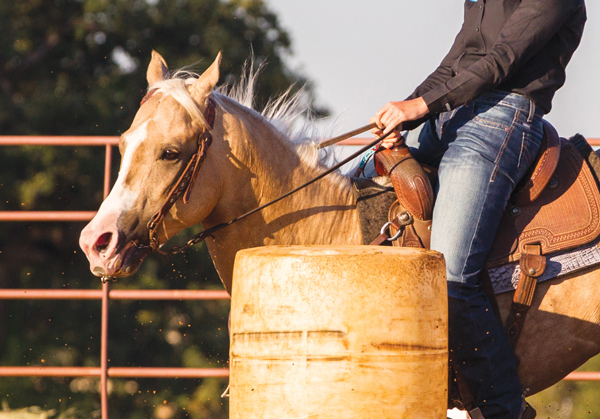 What they are: Roping reins are attached to the bit in a loop around the horse's neck and are made from a single length of leather, braided nylon or cotton. There is usually a snap on one end.
Used for: These western reins are used for roping and speed events, such as barrel racing.
Pros: Metcalf says roping reins are easy to manage for a beginner or a rider using one hand-like a roper-or if the rider needs to grab the saddle horn with the other hand.
Cons: If your reins are too short, you'll be limited on the maneuvers you can ask of your horse. They are considered illegal equipment in some classes, like western pleasure, so check your association rule book before using them.
Selection tip: Make sure that your reins are the right length for you, the snaps are in good working order and the rein material is good quality.
Mecate Reins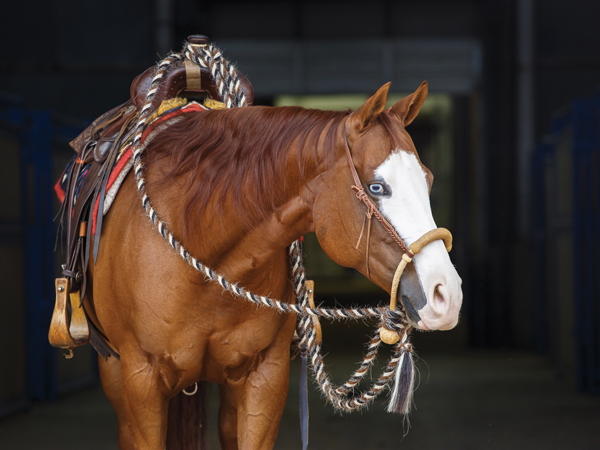 What they are: Mecate reins are typically used with a bosal, also known as a hackamore. Made of horse mane or tail hair, mohair, or nylon in several thickness options, mecate reins include one length of rope attached to the bosal to make a loop around the horse's neck, with the remainder used as a lead rope that is tied around the saddle horn. The bosal and mecate are another derivative of Spanish vaquero training.
Used for: Horses are usually outfitted with a bosal and mecate during the early days of training; they can be shown in this tack as long as they're under the designated age limit. Check your rule book for specifics. They're suitable for most events except horsemanship and speed events. You'll usually ride with a rein in each hand.
Pros: Metcalf says that a bosal can be a helpful tool in the course of training a horse, and the mecate reins are designed to facilitate that training. They can deliver subtle cues thanks to the rough texture and weight of the rein.
Cons: If your horse doesn't know how to work in a bosal, or you're inexperienced with this piece of equipment, you may not be able to properly cue and control your horse.
Selection tip: Metcalf prefers mane hair instead of tail hair, which tends to be too stiff, or mohair, which tends to be too smooth. She recommends looking for a quality bosal and mecate set over one that is inexpensive.
"Mane hair won't tear your hands up," Metcalf says. "I feel like my horses respect a mane hair hackamore rein more than mohair."

This article on western reins originally appeared in the January 2020 issue of Horse Illustrated magazine. Click here to subscribe!