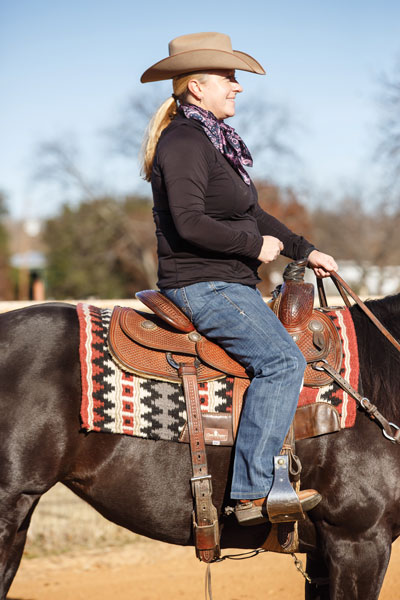 Riding your horse in a saddle that doesn't fit you is at best uncomfortable and at worst dangerous for both you and your horse. While a properly fitted saddle for your horse is crucial, it's also important to make sure that it fits you as well. AQHA Professional Horseman Allen Walton shares several checkpoints to make sure you're sitting pretty in your well-fitting western saddle.
Why is Saddle Fit Important?
Walton says your saddle needs to fit you correctly so you can be balanced and ride with precision. A too-small saddle will hamper your movement.
"As you ride, you're trying to move with your horse all the time," Walton says. "It would be just like an adult sitting in a child's chair."
Conversely, Walton says a saddle that is too big will put your feet too far in front of you, causing you to be off balance.
Finding Your Fit
Lots of factors play into a saddle fitting you correctly: your height, length of leg, torso and weight. The type of saddle and events in which you participate are also factors. Walton uses roping saddles as an example.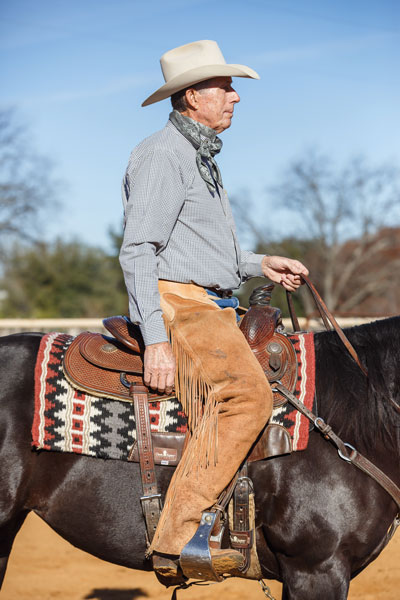 "Ropers nowadays typically ride in saddles that are very short-seated so they can get their feet behind them to stand up when they leave the box," says Walton. "But when it comes to riding for a few hours at a time or doing different events, a saddle with a seat that's too short is terribly uncomfortable. And when it's uncomfortable for the rider, and the rider's not in position, it's uncomfortable for the horse."
If you want to do more than one event, generally you'll want to ride in a medium-fitting saddle, which Walton says is most often a 15-inch or 16-inch seat, unless you're doing an event like cutting, where you'll need a longer seat.
"If your seat is too short, it's going to be uncomfortable because your legs are going to be too far back, pressing into the swells of the saddle," Walton says. "And if the seat is too long, you'll be in a stretched-out position, with your feet out in front of you, and you'll be sitting too far back on your seat bones."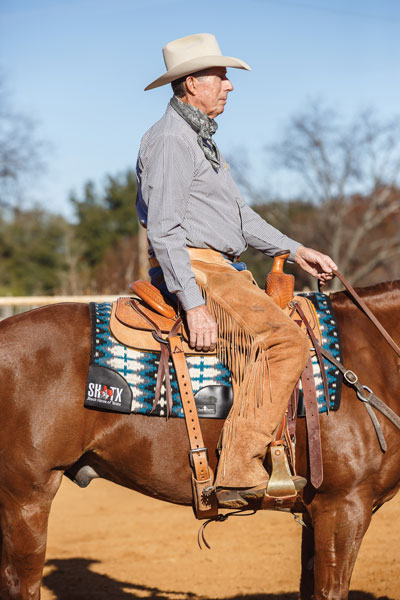 The shape of the seat also depends on your sport. Riders doing cutting look for a flat seat, which leaves room for movement without hampering the horse as he makes quick turns. Reining or western pleasure riders prefer a saddle with a rise in the front of the seat.
Getting the Right Stirrup Length
Your stirrup length should be adjustable so the fenders won't place your feet too far forward or back. Lengthwise, your goal should be alignment, no matter what event you're pursuing.
"You want a line from your shoulder through your hips to your heels, in most cases," Walton says. "If your stirrups are too long, your center of gravity—your base and your support—will be off, because you can tip forward and backward more easily than if your stirrups were a little shorter."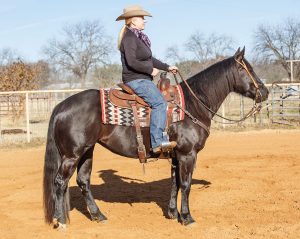 If your stirrups are too short, they can inhibit leg movement and your cues. You'll also find yourself off balance, and your legs will be cramped.
When your foot is in the stirrup, Walton says your ankle and knee shouldn't feel cramped if you're accustomed to riding regularly.
Saddle fit, saddles and people have many variations. But the ultimate goal for saddle fit for you, as the rider, is balance. The saddle should allow you to ride the horse, not just the saddle.
Meet the Expert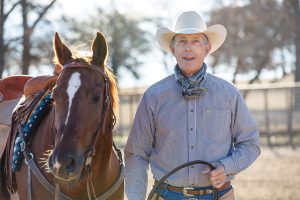 Allen Walton is an American Quarter Horse Association (AQHA) Professional Horseman located in Bluff Dale, Texas, with his wife, Bobbie, who is the director of the Tarleton State University Equine Center.
Well-versed in many events, Walton trains and rides in cutting, reining, reined cow horse, roping, and ranch and stock horse classes. He's competed at events such as the National Cutting Horse Association Futurity, the AQHA World Championship Show, the National Reined Cow Horse Association's (NRCHA) World's Greatest Horseman competition and Senior Steer Roping Finals.
Walton holds judges' cards for AQHA, the NRCHA and the American Paint Horse Association. He has judged the AQHA World Championship Show several times, as well as the AQHA Versatility Ranch Horse World Show, the Stock Horse of Texas Championships and the American Stock Horse Association National Championship.
This article on western saddle fit appeared in the March 2020 issue of Horse Illustrated magazine. Click here to subscribe!