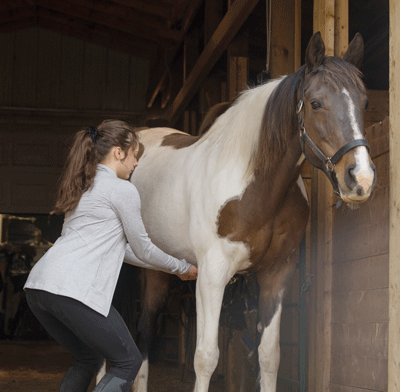 Ann Wallin, a certified neuromovement practitioner trained in the Anat Baniel Method, lives to improve riders and horses using Feldenkrais movements. Feldenkrais is a practice involving very tiny movements of the skeletal areas of the body, most importantly the pelvis, and strives to connect brain to bone. Through slow and mindful movements, the brain learns to communicate to certain parts of the skeleton while relieving muscle tension in the process.
Through this method, Wallin details three exercises you can do to attempt to alleviate pain and stress in certain areas of your horse.
"All of these movements need to be done very slowly," says Wallin. "Small and gradual movements are performed mindfully, with a very gentle touch. You should take the time to feel and sense what is going on in your horse's body and make subtle adjustments as needed."
Sternum Lift Exercise For Girthy Horses Suffering from Sore Shoulders
If you have ruled out ulcers, one of the most effective things to try is a sternum lift.
"To perform this exercise, stand at the girth facing the side of your horse," says Wallin. "Cup both your hands like you would to fill them with water. With slightly bent knees, gently touch the girth area of your horse's sternum with cupped hands and hold for a count of three or four."
Practicing this exercise with my equine massage therapist, Laurie Rusk of Gentle Persuasions, she demonstrated the intensity of the touch.
"It is almost like a feather touching your skin," Rusk described, while glancing her fingers over the hairs of my arm. The intensity of the touch is important. Your horse will most likely move if the touch is too intense, so try to move with him, slowly decreasing the touch and energy until he stands still.
Retaining the same amount of contact with your hands, as slowly as you can, start to exhale while allowing the intent of your hands to draw the sternum down. At the same time, draw the rear of your pelvis toward the floor. You should notice your horse's sternum start to move toward your fingers. Repeat.
A variation of this is to stand at the girth and put one hand, with the same intensity, cupped on your horse's sternum at the girth and your other (front) hand wrapped around his chest, gently touching the front of his sternum in the divot.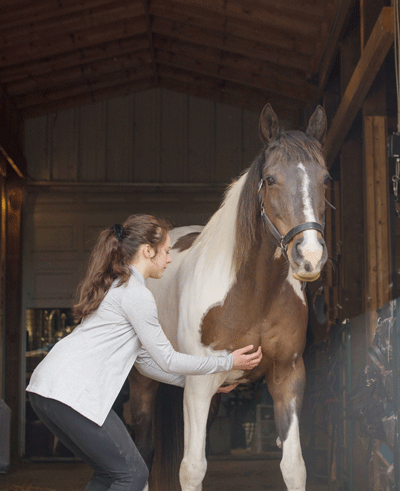 As you exhale slowly and with intent, push your front hand toward your girth hand, and then the girth hand toward the front hand, simultaneously moving your pelvis to mimic the hands. Your left pelvis follows your left hand, and your right pelvis follows your right hand. Notice if one way is easier to move.
Wallin recommends doing these exercises before every ride for approximately five minutes. 
Hoof Circle Exercise for Sore or Stiff Back Legs
To help alleviate pain in back legs, stand at the side of your horse facing backward as if you were going to pick up his hoof for cleaning. Slowly and carefully run your hand down one of your horse's back legs and raise it. Hold the hoof off the floor only an inch.
With your pelvis leading the movement, start to take the hoof in small circles as if there was a pencil hanging from the toe of the foot and you were drawing a small circle with the pencil on the floor. Move very, very slowly so you can feel what is easy or hard in the circle.
Be mindful to use your pelvis to make the circles, not your arms, as it is a completely different feel to the horse. Notice which quadrant of the circle is easy and which is flat. Go slower on the "flat" part of the circle, and repeat this part several times.
Reverse the direction of the circle and see if that is easier. Compare the ease of the circles on the right leg and the left leg. Which one seems to move more symmetrically and smoothly?
Perform this exercise three or four times a week and do five circles in each direction.
The Feldenkrias method developed by Moshe Feldenkrias uses gentle movement and directed attention to increase and ease range of motion and improve flexibility and coordination. Not only can it help your horse, but can help to realign your spine as a rider and teach you how to move with greater efficiency. Special thanks to Ann Wallin for introducing me to this amazing science and Laurie Rusk for walking me through it. For more information on Feldenkrias, visit feldenkrais.com. Give a lesson a try—there are many classes on YouTube; I recommend Stewart Hamblin from the U.K.