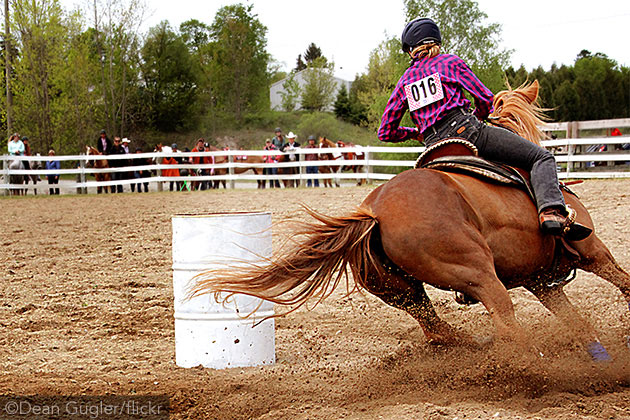 A lot of work goes on behind the scenes before you gallop toward your first barrel. If you haven't done the proper preparation before the rodeo, you're not going to get fast barrel times. Kelly Murphy, a barrel racing competitor and trainer in Kentucky, came up with 10 tips to help you get the best performance out of your games horse.
Maintenance of Your Horse
You must take good care of your horse so he can perform at his best.
"Many games horses need regular chiropractic care," says Kelly. "And having the equine dentist visit your horse twice a year is a good idea," says Kelly. "You must also work with your farrier to make sure your horse's feet are in good shape.
"Consider putting aluminum shoes on your horse because they're lighter."
Kelly thinks that games horses can benefit from joint supplements.
"I give my horses a supplement that contains glucosamine, and if your vet recommends joint injections, think about doing them to increase the fluid in your horse's joints," says Kelly. "Arthritis can be a problem with horses that work hard in the show pen."
Fitness is also key to running faster times.
"You have to build up your horse's muscles by doing hill work, long trots and trail rides," advises Kelly.
Correct Equipment
"It's essential that your saddle, bridle, bit and saddle pad fit your horse properly," says Kelly. "If you're not sure if the bit is fitted correctly, ask your trainer to check it.
"Your horse won't perform at his best if his saddle is pinching him or if the bit is too low in his mouth."
If you use a tie-down, make sure it's not too tight or too loose. Test it by lifting it up as shown in the picture. It should touch your horse's throat as shown.
"I tend to use a tie down when I'm training my horses," says Kelly. "But I take it off when competing so my horses can really stretch out their necks and gallop."
Dedication
Kelly says you need to need to be focused on the task at hand. When you're schooling your horse, don't talk to people in the ring or text on your phone.
"Don't be distracted when you're working your horse" says Kelly. "Focus on what you're doing when you're at home or at a show."
Forgive and Forget
"When something goes wrong during a run, take 15 minutes to think about it," says Kelly. "Get off your horse if you're angry. Too many people come out of the pen and beat on their horse. 90 percent of the time, what went wrong was rider error. Think about what went wrong and how you can fix it before your next run.
Safe and Reliable Transport
Kelly thinks a lot of showing stress can be avoided if riders make sure that their trailers are a safe place for their horses to be.
"If your horse has a relaxing trip to a show, he'll perform better in the pen," says Kelly.
Daily Workouts
Kelly thinks riding your horse every day, even for a short while, is better than riding several times a week.
"Even if you just walk around for 30 minutes or go on a trail ride," explains Kelly. "Riding your horse every day keeps him fit and supple.
"You don't have to always think about running barrels!"
Personal Fitness
"How fit are you?" asks Kelly. "It's so important that you are mentally and physically sharp. You expect your horse to be fit, so you need to be in shape."
"As for being mentally sharp, when you hit that first barrel, you need to think be thinking about the second barrel. You should always be a step ahead of your horse!"
Calm, Smooth Riding Style
Try to use smooth moves with your hands and feet when running barrels.
"Your horse will respond better if you use quiet cues, rather than jerking him around and kicking him," says Kelly. "If you are always kicking and jerking on your horse, he'll soon start ignoring your cues."
Slow Work is Huge!
Real barrel racing training happens when you ride around the pattern at the walk and jog.
"Horses are creatures of habit," says Kelly. "Try to give your horse the same cues at the same place every time you ride around the barrels and he'll learn his job faster. He'll learn where to bend and you'll learn where to lift him up and to help him around the barrel.
"Walk and jog the barrels more than you gallop them."
Have Fun!
"When you have fun, you have the best runs," says Kelly. "If you enjoy riding your horse, you'll be more confident, and you'll make your horse feel more confident too."