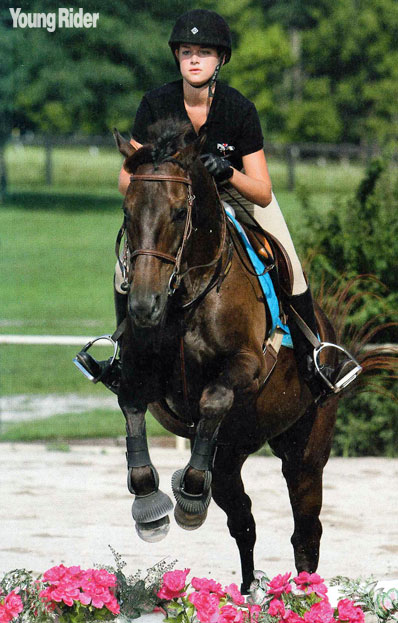 Jumping can be fun and exhilarating—especially if you have a talented, willing horse to ride. Crossing the finish flags after jumping a clear round or popping perfectly down a tricky grid is guaranteed to make you feel great!
But, there are a lot of things to think about when jumping.
Getting the right pace, steering correctly to the fence, taking off in the right place and maintaining control of your horse after you land. And as we all know, riding becomes a lot more dangerous when we start jumping. If you're like most of us, you fall off a lot more when jumping than you do when schooling on the flat.
Falling off can sometimes make you feel a bit nervous the next time you approach a fence. Your confidence can also take a hit if you've
had problems jumping a difficult horse. Run outs and stops can set you back.
If you have lost some of your confidence when jumping, we've come up with a few suggestions that will have you flying over fences again with a smile on your face.
1. Have Complete Control on the Flat
Never jump a horse if you can't control him at the walk, trot and canter on the flat. You must also be able to steer and stop him and control his pace within each gait. If a horse isn't calm, obedient and well balanced when you ride him on the flat, it's probably not a good idea to point him at a fence!
2. Keep it Small at First
Jumping a fence that's too big for you is a mistake a lot of young riders make when they first start jumping. When you're learning how to jump or if you've been jumping a while but still feel nervous, stick to small fences—no bigger than two feet. Don't move up to bigger fences until you can confidently jump a two-foot course.
3. Take Lessons with an Experienced Trainer
It's not a great idea to try to teach yourself how to jump. Sign up for jumping lessons with a good trainer. A trainer will explain about proper jumping position and set up jumping exercises that will make you a better rider. She should be able to provide a secure arena and safe fences to jump over. Even top showjumpers take lessons once in a while, and you should too!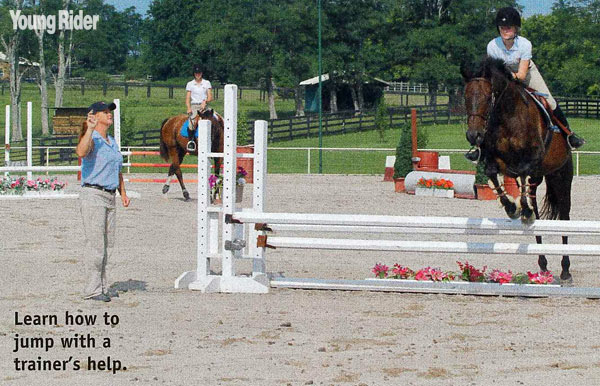 4. Follow a Friend
If you ride a horse that can be a bit wishy-washy about jumping, follow a friend who is riding an experienced jumper over a few fences. Leave at least three horse lengths between you for safety purposes. If your horse flies over a few fences happily, try following your friend around a whole course.
5. Decorate Fences
Decorate some very small fences with some scary, but safe, items. Buy some colorful plastic flowers at a craft store or the dollar shop and stick them in the ground in front of a fence. Place a colorful saddle pad on the top rail of the fence. The first time you jump the fence, your horse may spook a little or jump it big. If you keep the fence small though, it shouldn't be too traumatic for either of you. Let your horse have a look at the scary item before you jump it if you want. By the second or third time you pop over the item, your horse will be jumping it like a pro.
6. Don't Overface your Horse
If your horse has only jumped tiny fences, you're asking for a stop or refusal if you aim him at a 3 foot fence. Consider your horse's experience before you ask him to jump larger obstacles and raise fences gradually and under the guidance of your trainer. Like you, your horse needs to build his jumping confidence over time.
7. Experience Counts
If your horse is green or having jumping issues, take a few lessons on an experienced jumping horse. As you head toward a fence, you can think about your position and pace, not whether or not the horse is going to actually jump the fence! It's a great confidence booster to ride a seasoned, willing jumper, and you'll feel more capable when it comes to jumping your own horse.
8. Great Grids
Grids are a great way to build jumping confidence in both horse and rider—and they're so much fun when jumped properly! Set up a small grid of three or four cross rails with enough room between each fence for one stride (about 17 feet.) Trot in the grid and canter out. If a small grid is measured out properly, most horses jump them easily.
9. Hang On
Use an old stirrup leather as a neck strap on your horse when you jump and remember to hold on to it as you head toward a fence. Holding the strap lessens the chance that you will get left behind over the fence and bounce around in the saddle and on your horse's back. You may have to cut the leather if it's too long and flaps on your horse's neck.
10. Have Some Fun!
Set up some small jumps and try these exercises:
Hold the reins with one hand and hold out your arm as you jump a fence. This is a good exercise to improve your balance.
Hold the reins in one hand and hold a plastic mug half-filled with water in the other hand. Can you jump a small fence without spilling any water?
Leave your saddle in the tack room and jump some fences bareback!
---
This article originally appeared in the November/December 2011 issue of Young Rider. Click here to subscribe!