Are you a western rider who thought dressage was just for beautifully braided horses and riders in black jackets and white breeches? Well, think again. Western dressage is a cool new equestrian sport, and, if you ride an obedient horse that doesn't get grumpy doing flatwork, you should give it a go! After all, dressage is just the French word for training, and we all need to train our horses if we're going to have fun with them.
Western dressage is pretty much like traditional dressage. There are tests to learn, and you're judged on things like straightness, impulsion, the quality of your horse's gaits, transitions, roundness of circles and submission—which assesses whether your horse accepts the bridle and how light he is on the forehand. Your riding skills are judged too. How correct is your seat, and are you using the aids effectively?
The Western Dressage Association of America (WDAA), North American Western Dressage (NAWD) and the United States Equestrian Federation (USEF) offer free downloadable tests that range from Intro to Third Level. There are also freestyle tests for every level. NAWD actually holds virtual western dressage shows that you can enter without leaving your own arena!
Western dressage is designed for western horses, so your horse doesn't have to be a flashy mover. The judge isn't expecting to see the extravagant movement of, say, an Olympic star like Valegro. She just wants to see a loose, swinging stride that is natural to your horse's breed or type. Gaited horses can do western dressage too, but instead of jogging, your horse should perform his saddle gait.
In fact, any horse can do western dressage. We chatted with Gabby Watson, a western dressage rider from Ohio who competes a Fjord Horse, and Ivy Reed, Penn., who rides an Arabian-cross.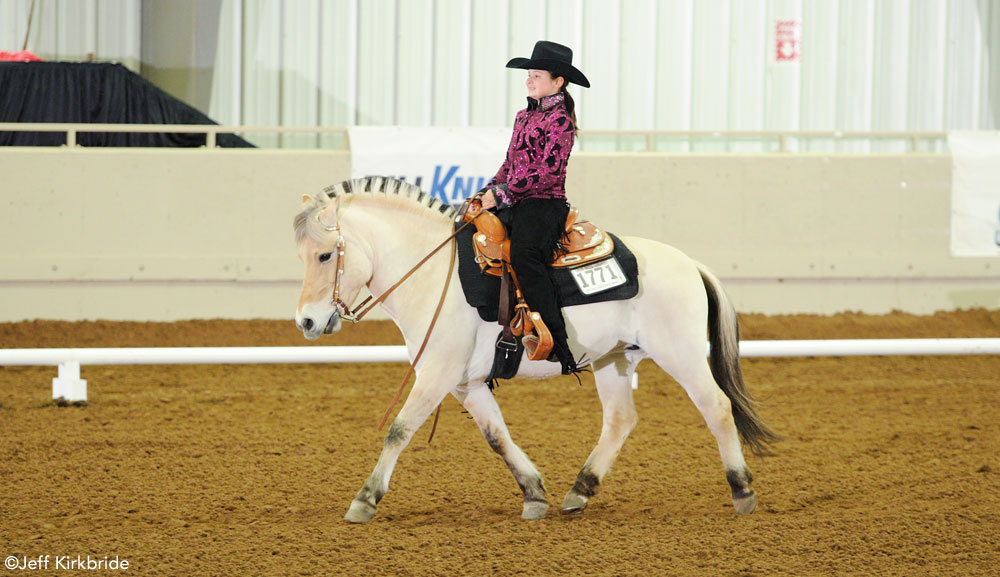 Gabby and Winnie

Gabby and Winnie
Gabby, 12, learned about western dressage from her trainer, Leah Wilson of the Western Dressage Riding Center.
"Leah has a lot of western dressage experience," says Gabby. "When a local dressage show added western dressage classes in 2012, I jumped right in. I'm now a member of the WDAA and the Ohio Dressage Society."
Gabby began doing western dressage on her sorrel Quarter Pony mare, Lola.
I started out by showing her at my county fair and took home a lot of trophies," remembers Gabby. "Then we went to the WDAA World Show and won a World Grand Champion title."
Sadly, Lola had to be retired soon after, but it wasn't long before Gabby found a new mount, Init 2 Winit (Winnie), a super-cute 13.2-hand Norwegian Fjord mare.
"Winnie came to me barely green broke," remembers Gabby. "But with the help of Leah, we're turning her into a wonder pony. Last year at the WDAA World Show, we placed in the top five in three classes, the top ten in two, and I even beat a top western trainer in the Open Intro class!
"Winnie and I compete in just about every discipline we can, and we plan to try side saddle soon—and maybe some trick riding!"
Gabby takes weekly dressage lessons.
"We work on bending, transitions, suppleness, frame, speed, my position, lateral work, riding down the centerline, and straightness. I also memorize the tests I'll ride during the year," says Gabby.
Gabby thinks that western dressage helps her with other riding activities.
"Western dressage teaches me how to use my aids for the best results with my horse," says Gabby. "When my tests come back, the judges' comments help me know what I've done well and what I need to improve.
"I think that other young riders should try western dressage because it will improve their riding skills and take them and their horses to the next level. These are not classes where you can just sit on a push-button horse and ride the rail. You have to be in the moment and as one with your horse."
So do you need any extra equipment or show gear to do western dressage?
"Yes and no," explains Gabby. "If you're coming from a western pleasure background, you should know that dressage judges don't want to see a lot of bling. A show saddle, breastplate and bridle are OK as long as they don't have a ton of silver on them. I show in a Billy Cook show saddle that has a little bit of silver. A plain bridle and saddle are fine, and you'll be OK in a button-down shirt, jeans, chaps and a helmet or cowboy hat."
According to WDAA rules, a standard stock saddle, pad and breastplate are fine for western dressage. What kind of bridle should your horse wear? A snaffle, bosal or curb bridle. The WDAA strongly recommends that you use a snaffle bridle on a junior horse aged 5 years old or under, and all curb bits must be free of mechanical devices, including extensions, rivets or prongs.
When you decide what tests you'd like to do, it's a good idea to read the organization's rules before you jog down the centerline at your first western dressage show!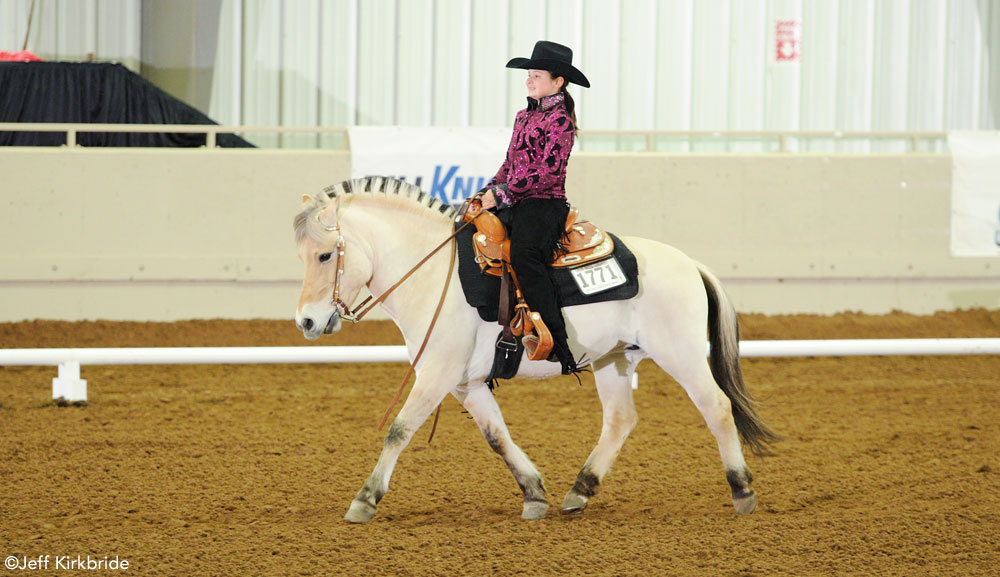 Ivy and Malachi

Ivy and Malachi
Ivy, 10, competes in both English and western dressage on her Arabian-cross, Malachi.
"Malachi is a sweet pony," says Ivy. "But he has lots of energy! He's very spunky. We're learning together."
Ivy was the first student at her barn, Let's Dance Dressage in Clearfield, Penn., to try western dressage, and it wasn't long before she was winning lots of blue ribbons.
"Western dressage is so much fun!" says Ivy. "I really enjoy wearing the western clothes, and I love competing. When I ride my test, I like having the ring all to myself."
Ivy, a member of NAWD, also enjoys preparing for shows.
"I practice my tests, clean my tack and groom my horse," she says. I also walk the test out in the arena a few times without Malachi."
---
This article originally appeared in the May/June 2015 issue of Young Rider magazine. Click here to subscribe!