Although I'm in Florida for winter training and riding, I'm doing more than just riding. Being a working student involves feeding, mucking, cleaning tack, and other miscellaneous chores around the barn. I've learned that a truly comfortable and clean stall can take up to half an hour to clean because it involves sifting through the bedding and flipping it to the bottom side. The preparation for a sport horses' feed can become very complex, too. Every horse has different supplements and some of them are given an oral paste every morning. Because we're all riding 5-6 days a week, I have to make sure my tack and the other horses' tack stays very clean so no one gets sores. Water has to be fresh every day and hay needs to be regulated since the horses are being fed alfalfa hay, which is very rich. We keep our tack and feed area very neat and always swept because it helps prevent dust build-ups and discourages wild animals from trying to make themselves comfortable near our horses.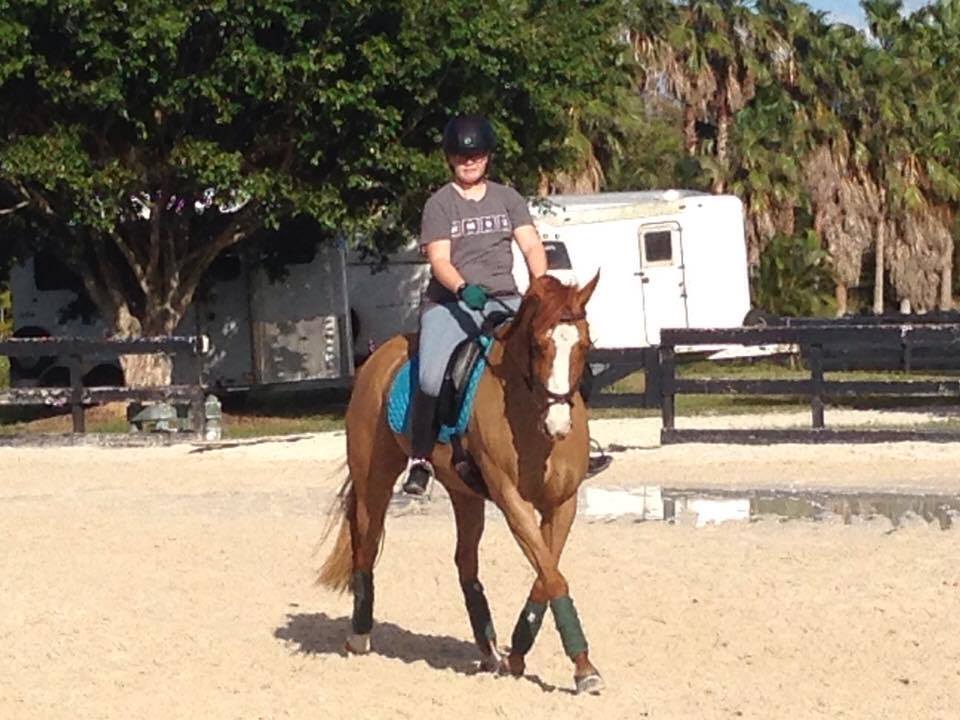 Emma knows that for Brumby to perform her best, she must be taken care of perfectly.
Education is Not Only in the Saddle
One of the biggest benefits of being in Florida for the winter season is being able to go to the Global Dressage Festival and the Winter Equestrian Festival every weekend. I was at the Eventing Showcase and saw a lot of the big-name riders there. I also attended the Friday Night Stars Dressage CDI five star competition. It was amazing to watch the warm-up of these riders and then watch their finished product in the show ring. I couldn't believe how close I was to Laura Graves, Jan Ebeling, Boyd Martin, William Fox-Pitt, and Steffen Peters, to name a few. It was also cool to see how many people come and watch our sport. The Friday Night Stars competition is always full and every seat was taken nearly an hour before the show started! The Eventing Showcase was packed during the cross-country portion. Not many eventing competitions happen this far south and I think it is awesome that the owners of the Global facility are promoting all equestrian sports.
A Snag in Training
Brumby and I have hit a snag in our riding. In the 3rd level tests, the new movements required are half-passes and flying lead changes. Brumby has her canter and trot half-passes already. We've worked very hard developing our shoulder-in, then our haunches-in, and then sending a slight haunches-in across the diagonal while her shoulders are still in a shoulder-in position. Having her haunches and her shoulders curved around my inside leg creates the bend for the half-pass. Learning the flying changes has been the hardest part for us. For starters, I have horrible timing and I can't find the right spot to ask forher to switch her lead. Added to that, Brumby has a slow hind end, meaning it's hard for her to switch her front legs and her hind legs at the same time. My trainer, Meghan, has ridden Brumby and gotten a few clean changes. Meghan's skill and timing are a lot better than mine. All of that work is very strenuous on my mustang mare so on Thursday I didn't ride her and we had a massage day. Meghan showed me different points and places on Brumby's body that I could work on to loosen or relax her muscles. There are basic stretches to loosen up her shoulders and stretch her legs, and there are stretches that will pop her poll or get her to release the tension in thebase of her neck. My favorite stretches are finding two spots near her hips and when you push on them, Brumby will flatten her croup all the way down, or rotate her pelvis and tuck her butt.These sorts of exercises are critical to maintaining a sport horse, and although I know I'm having trouble with the change now, we know she can do it. We still have 4 more weeks here in Florida and I know with a lot of hard work and determination, we can accomplish our goal together.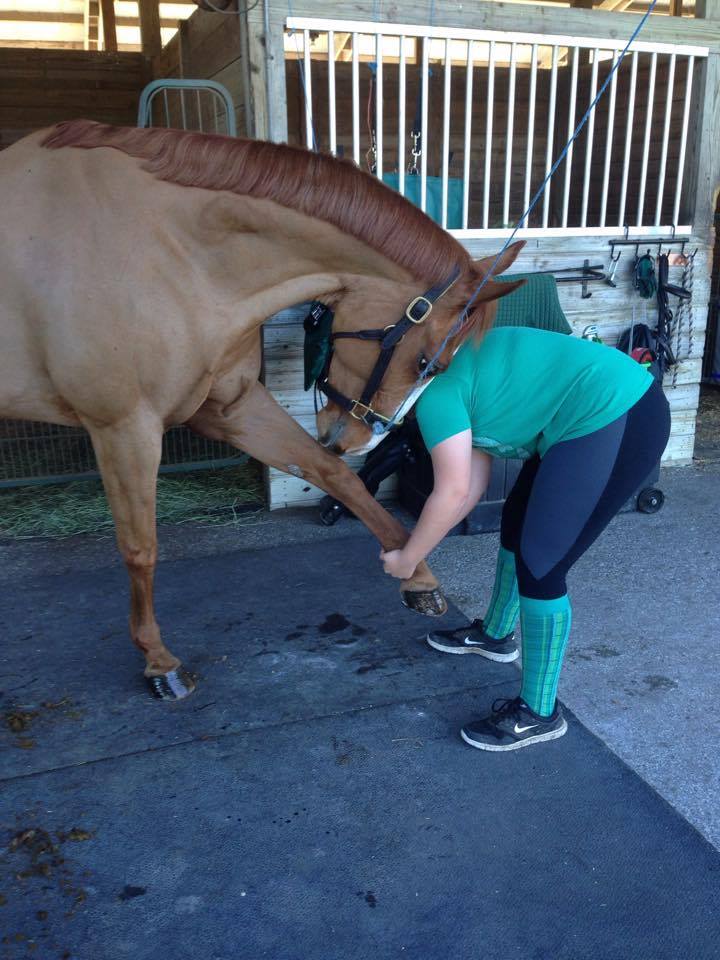 Stretches are an important part of Brumby's routine.