If you watched the show jumping in the 2013 London Olympics, you're sure to know who Reed Kessler is! Reed was in the spotlight during the event because at 18, she was the youngest person in show jumping history to compete at the Olympics. Reed and her gorgeous chestnut mare Cylana helped the American team, including Beezie Madden, Mclain Ward and Rich Fellers, to a sixth place finish.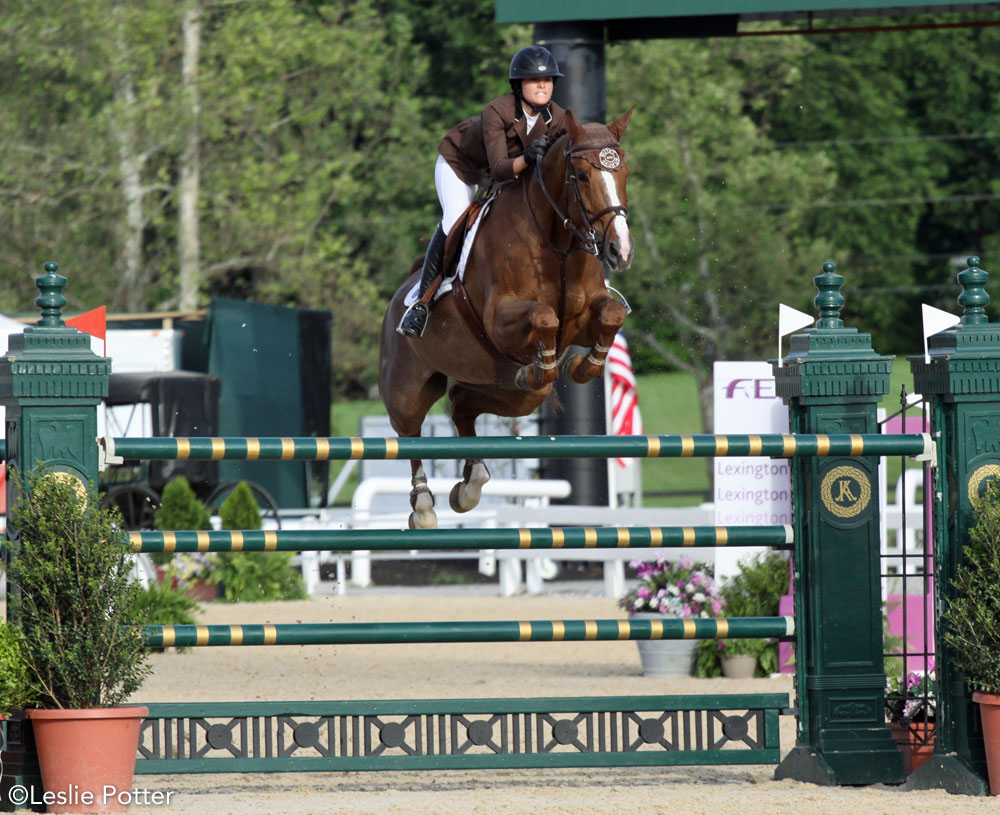 Now 19, Reed has been on the international show jumping circuit for several years, and she's currently at the top of the United States Equestrian Federation's ranking list. (Check!) She and her family moved recently to a big farm in Lexington, Ky., and when she's not on the road competing, Reed spends time there schooling her horses and working around the farm. The Kentucky Horse Park is only a mile or so down the road and Reed can be spotted showing her horses there.
Reed took five minutes out of her day to answer some questions for Young Rider.
Did you start riding at a lesson barn? Tell us about your first horse or pony.
My parents taught me until I was around 5. They were my trainer Katie Monahan-Prudent's first students over 30 years ago and although they are technically amateurs they are more knowledgeable than a lot of professionals I know!
When I was little, I took some lessons at Oxridge Hunt Club and Lionshare Farm. When I was about 7, I moved to Heritage Farm and stayed until I was 15. We paid $100 for my first pony. She was tied to a fruit stand in Texas. I named her Sha Sha. Sha Sha had no teeth and was about as sweet as a pony can be. My first show pony was Farnley Private Eye and he took very good care of me. We've had him quite a long time—he just passed away this time last year and he was about 36 years old!
Tell us about the first time you competed abroad. Where were you?
I was 13 and I competed at a small national show called St. Cecile in southern France. I rode my first high junior horse Jewel and I also rode a sales horse that belonged to Katie called Glorioso in a 1.30 meter class. I also showed in Austria at a junior/young rider show called Maria Worth and a national show in Switzerland where I did my first Grand Prix.
What's the most helpful advice your coach, Katie, has given you?
That's a really tricky question. I think it's to always push yourself to do something more difficult. If you're winning consistently in a division, try to move up. Don't worry about not being able to win immediately or maybe even looking silly—that's what the sport is about; trying to move up and become the best rider you can be.
When is the last time you mucked out?
Today actually! We just built a turnout shed for our retired horses and they made a complete mess of it–despite the fact that they have three massive fields to themselves!
What's the last song you downloaded or bought on CD?
When I was in the Bahamas I met the DJ at the Cain resort and he shared some really cool mixes with me. Frank Delour's mix of "Coming Home/Don't You Worry Child" is very cool.
I've gotten really into country music since I've been back home in Kentucky, so I've recently downloaded Summertime, Hey Girl, Honey Bee and Country Girl.
What's the last movie you saw? Why did you go see it?
I saw "The Great Gatsby" last night and it was possibly one of the best movies I've ever seen. I love all of director Baz Luhrmann's work, including "Romeo & Juliet" and "Moulin Rouge," but I think this was his best.
I'm not afraid to say that I'm in love with Leo DiCaprio! I've adored him since he was teenaged Romeo and I'm still with him as Gatsby.
When's the last time you fell off?
I was just jumping a little grid with Mika at home and he stumbled on landing and kind of fell to his knees. It wasn't a big deal but he sort of nosedived and I plopped off. I tend to get great results after I fall off and it was no different that day!
Describe Cylana's personality
Cylana has multiple personality disorder. When I ride her she's the happiest girl in the world. Her ears are forward the entire time. She has fun and loves to work and jump. But, when you're on the ground next to her she's demonic and can be borderline dangerous. She's a chestnut mare with an attitude!
How was competing at the Olympics different than any other foreign show?
Well, not every foreign show has the best athletes from every sport! And I don't normally spend that much time preparing for one show!
How do you keep friends when you travel so much?
I like to maintain a small group of close friends. Of course, I have friends at every show I go to now because I've been over to Europe so many times. I'm grateful for the whole experience I had over the past year because it really revealed who has been there for me all the way and who were sort of "accessory" friends.
What do you like to do when you're not riding?
When I'm in Florida, I play a little tennis with friends like Charlie Jayne and Marky Bluman. I love going to watch the Miami Heat basketball games. My family has become more into basketball since we moved to Lexington. The University of Kentucky Wildcats basketball team is huge here!
Do you plan to go to college at some point?
No college for me, I'm already buying and selling horses as a professional.
---
This article originally appeared in the November/December issue of Young Rider magazine. Click here to subscribe!