In 2017, when Kerrits asked Young Rider readers to submit their dream design for fashionable, functional riding tights, a whole lot of you sent in your sketches. Kerrits chose two awesome designs from the 2017 Kerrits Kid Designer Breeches Contest to make into one-of-a-kind, custom tights for each of the winners. Check out their super cool creations!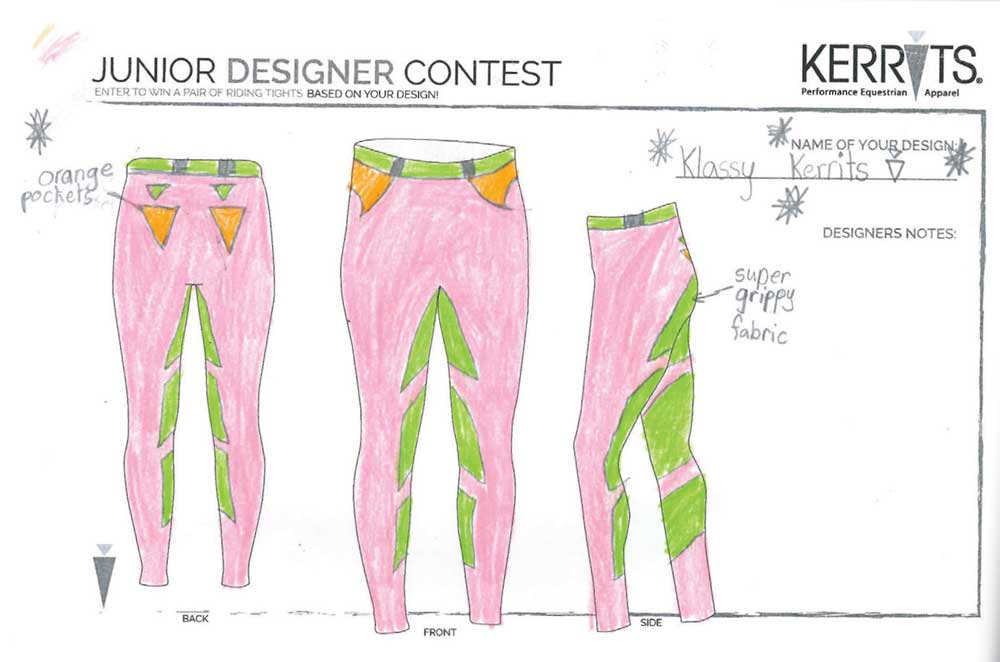 Klassy Kerrits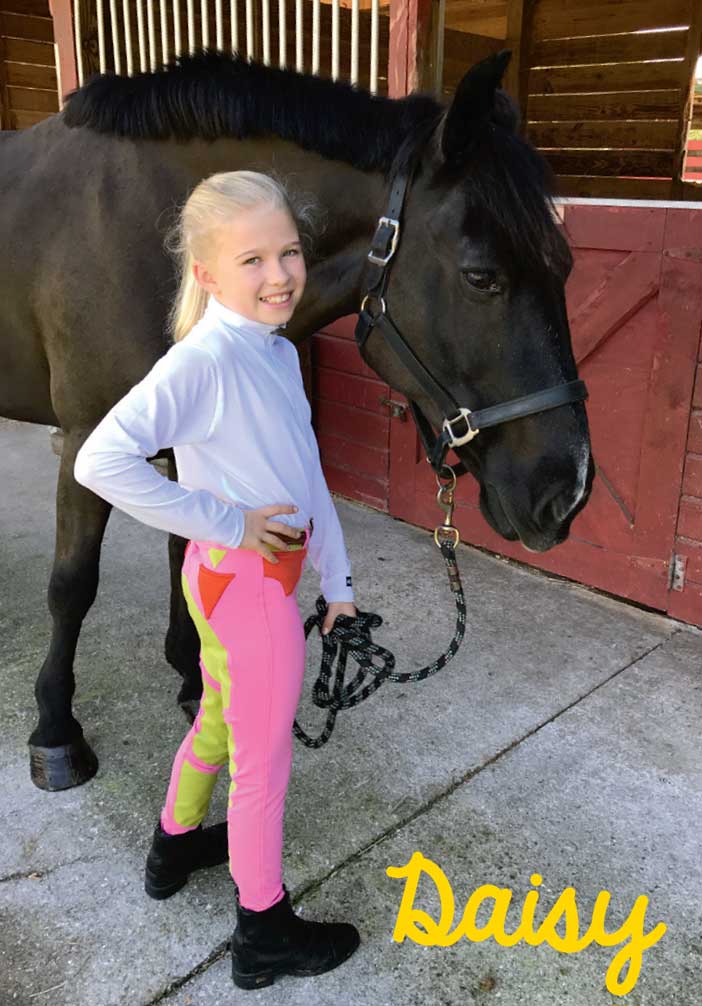 The first winner of the 2017 Kerrits Kid Designer Breeches Contest is Daisy Erhard and her Klassy Kerrits design. Daisy Erhard, 10, has been riding since she was 6 years old and currently does hunter/jumpers. Her horse's name is Maisy, and she's a black Percheron/Pony of the Americas-cross. Daisy says that Maisy looks a little different than most of the ponies in her classes, but she's fast and jumps high. She loves cuddles and the homemade horse treats that Daisy's sister makes. Daisy's winning design I called "Klassy Kerrits."
"I thought of carrots because of the name Kerrits, and because horses love them, of course!" she says. "I made my pants pink and green because those are my two favorite colors."
When she saw her breeches for the first time, Daisy says she was amazed that the breeches were exactly how she wanted them. "I put them on right away and showed them to my whole family. I have already worn them many times and everybody at the barn loves them. They all want a pair too!"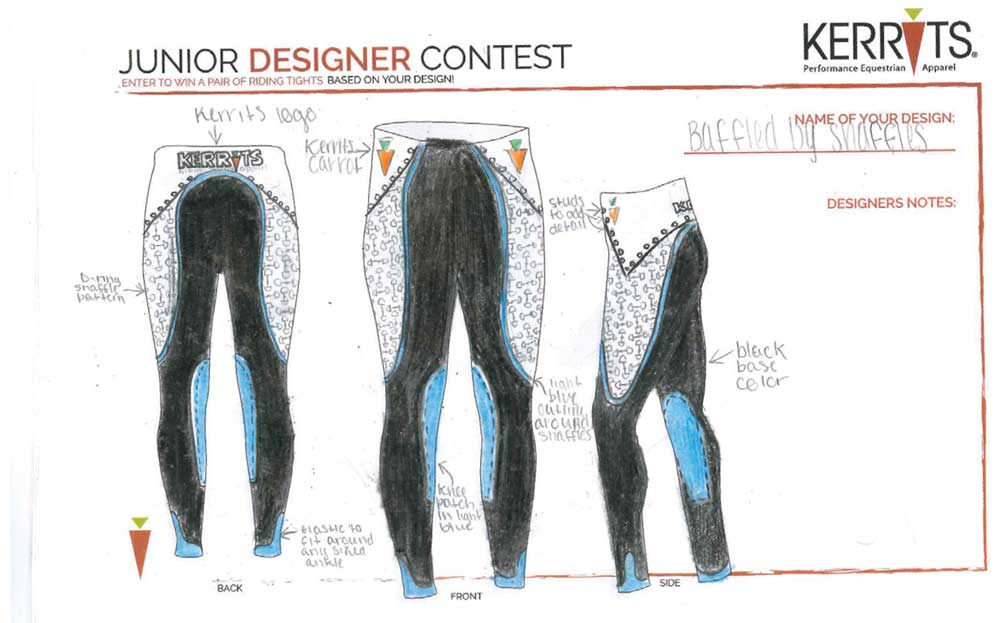 Baffled by Snaffles
Lia Quinn, 13, has always ridden and competed in hunter/jumpers, but she's also done some dres- sage. She says the pony that taught her the most was a chestnut named Louie. "I jumped up to 3 feet on him, went on my first fox hunt, did trail rides, and even rode him without tack," she says.
For her inspiration, Lia went straight to the horse's mouth for a classic equestrian look.
"I included snaffle bits because those are the bits that I've used the most, and they made a great design," she says.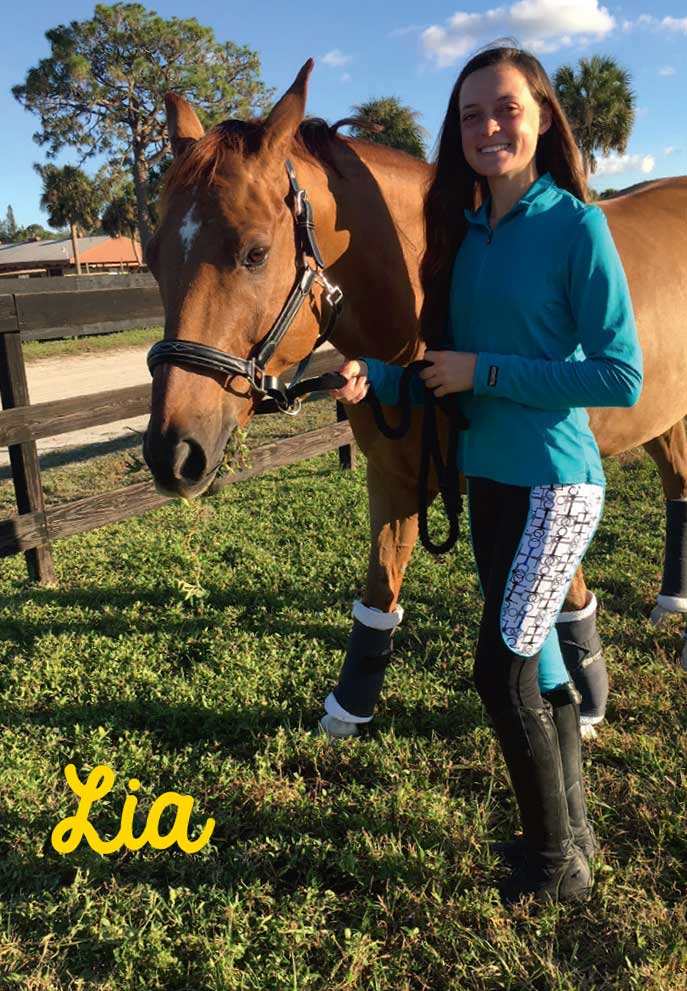 Lia also added some great details, including stud accents and a Kerrits logo.
"I was so happy when I found out I had won the competition, and I loved the tights that were made from my design," she says.
Want to enter this year's contest? Visit kerrits.com/pages/junior-designer-contest for details and an entry form. This year, designers will create breeches and a T-shirt for a #KerritsROOTD (Ride Outfit of the Day). Deadline for entries is July 1, 2019!
---
This article originally appeared in the January/February 2018 issue of Young Rider magazine. Click here to subscribe!