Bidding on a barely-touched, wild Mustang at an auction might seem an unusual way for a young rider to buy a horse, but we meet three readers who did just that!
Erica Milbourn, Ga., adopted her Mustang mare, Sunni Side Up, in 2012 when she entered the Youth and Yearling Mustang Challenge, a program run by the Mustang Heritage Foundation, whose motto is "Mustangs make better kids. Kids make better Mustangs."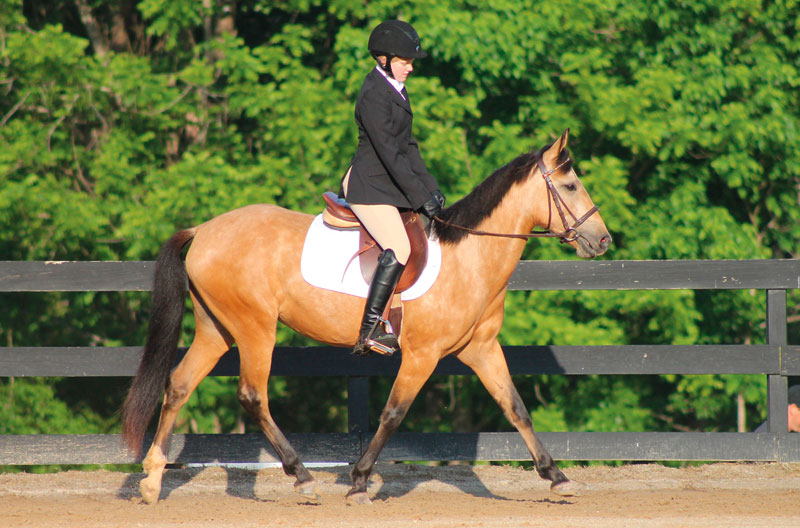 The Makeover is held in several locations around the United States. Will there be one near you in 2015? Visit the Mustang Heritage Foundation's website to find out.
When you enter the Makeover, you adopt a Mustang yearling, and then you have approximately 90 days to train him or her before heading to an event where you compete in a variety of classes, including conditioning, in-hand trail, showmanship, costume and freestyle. Fun!
It's been two years since the Makeover, and today Erica and her beautiful buckskin mare can be seen competing on the local show circuit, and the pair recently won their first combined training event!
Kirsten Mews, S.C. and Bobbie Wiersema, Texas, adopted their young Mustangs through the Mustang Million event. The Mustang Million is a partnership between the Mustang Heritage Foundation and the Bureau of Land Management's (BLM) Wild Horse and Burro Program. Mustangs rounded up by the BLM are made available at seven adoption locations around the United States and wild horse lovers can adopt the Mustang of their choice.
The BLM removes the Mustangs from the range to protect resources such as grass and water, necessary for horses, cattle and other wildlife to survive on the public land, but it can cost taxpayers more than $10,000 a year to keep one horse in a holding facility!
Approximately 42,000 Mustangs live in long-term and short-term holding corrals, so it's really important that adoptable horses find new homes.
In 2013, 562 Mustangs, yearlings to 6 years old, were placed in adoptive homes because of the Mustang Million. The adopters had just over 120 days to gentle and train their Mustangs, before heading to Fort Worth, Texas, to compete for one million dollars of prize money in a variety of events including cow work, dressage, hunter hack and walk-trot classes. The youth division offered four classes: handling, trail, pattern and overall.
Let's find out what it's like to adopt a Mustang!
Erica and Sunni
Erica Milbourn became interested in training a Mustang after watching her instructor, Rebecca Bowman, train Mustangs for several Mustang Makeover competitions. In 2012, Erica and several other girls at her barn decided to adopt horses and to enter the Youth and Yearling Mustang Makeover.
Erica adopted Sunni from a TV auction.
"I picked her from a picture and short video," says Erica. "I thought she was the prettiest yearling."
Sunni, now three years old, was born in a BLM facility in Nevada.
When Sunni arrived at Erica's barn, it took time for her to settle in.
"At first I thought she was mean, but I'm sure she was only scared," says Erica. "She tried to kick me a couple times. It took time to earn her trust.
"Sunni is sweet and kind, but she also has a determined look in her eyes."
The first time Erica rode Sunni, she hopped on bareback.
"I only started riding her with a saddle around the beginning of this year," says Erica. "I think Mustangs are very smart horses and they learn quickly."
So how did Erica and Sunni do at the Supreme Mustang Makeover?
"We placed third in my age division," says Erica. "Sunni and I were both nervous but Sunni did great."
Erica and Sunni recently competed in their first combined test.
"We placed first in the Amoeba division." says Erica. "We also competed in a dressage show recently, and we did the Intro B test and a dressage equitation class." Erica and Sunni won ribbons in both classes!
Erica plans to take Sunni to more shows this year, and she also wants to try horse agility training with her versatile Mustang mare.
Bobbie & Zeke
Bobbie's first lesson horse was a Mustang, and after working with a Mustang named Winchester, she decided that she was ready to adopt one of her own.
"I wanted to have a go at gentling one myself," says 17-year-old Bobbie, Texas.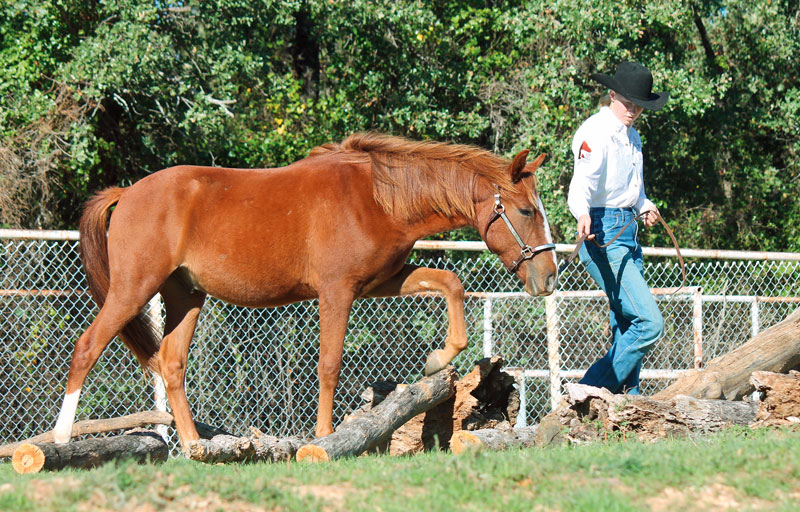 "I had been riding for seven years and was working at a training barn when I adopted Zeke," says Bobbie. "Before adopting a Mustang, it's good to know basic safety rules around a horse. Mustangs can be flighty in the beginning and it's good to know how to handle them."
So why did Bobbie enter the Mustang Million?
"I wanted to give a big competition like it a try," admits Bobbie. "I enjoy working with horses and showing them. There was no entry fee, so I signed up.
"To be eligible to compete in the Mustang Million, I had to adopt a horse at one of several live auctions. I paid $400 for Zeke brought him home the same day."
Bobbie soon noticed that Zeke was different than domesticated horses.
"Wild horses seem to have a better sense of herd dynamics and respect for the leader," explains Bobbie. "You have to establish yourself as the herd boss. Mustangs seem to have a higher degree of curiosity—everything to do with people and barn life is new to them. I think this makes them easier to work with as they are interested in what's going on around them."
"Zeke is a very loving horse. He follows me around the pasture, and he likes being scratched. The more I do with him the happier he is. He loves to interact with other horses and doesn't mind kids petting him."
Bobbie says Zeke wasn't difficult to train.
"He was fun to gentle," remembers Bobbie. "He seemed to enjoy learning new things."
Haltering Zeke was a challenge at first.
"When I got him, his halter wasn't fastened properly and it fell off," says Bobbie. "I spent a week teaching him to be haltered before I could do anything else with him."
"I trained him by myself. We attended one clinic about in-hand showing in-hand because I had never done it before and I was going to have to do it at the Mustang Million event. I taught Zeke lots of skills, including leading, jumping in-hand and side passing on the ground.
After four months, it was time for Bobbie and Zeke to head to the Mustang Million in Fort Worth to strut their stuff.
"There were almost 600 horses there," says Bobbie. "We were there for five days and competed for three days. There was a very big show feel to the event, and it was fun to watch other horses competing when I wasn't showing.
"We competed in three different classes: conditioning and handling, pattern and trail. We placed in the top 15 in all three classes and were only a few points away from making finals. There were almost 70 total youth competing.
"Zeke was a dream the whole week. The excitement never went to his head and he was so solid through all our classes. I couldn't be more proud of the way he acted and how good he was in the competitions."
Bobbie currently shows Zeke in 4-H halter, showmanship and in-hand classes.
"He also helps me, as a Texas 4H Equine Ambassador, with educational presentations," says Bobbie.
Kirsten & Angus
Kirsten Mew, 15, became interested in adopting a Mustang after watching some videos on YouTube about training wild horses.
"I've always been intrigued by Mustangs," admits Kirsten. "That they are part of our American heritage makes them even more interesting to me."
She applied for a BLM Mustang through the Mustang Heritage Foundation, and then attended an auction in Murfreesboro, Tenn. After watching 150 Mustangs in their holding pens for two days, Kirsten felt a connection with Angus.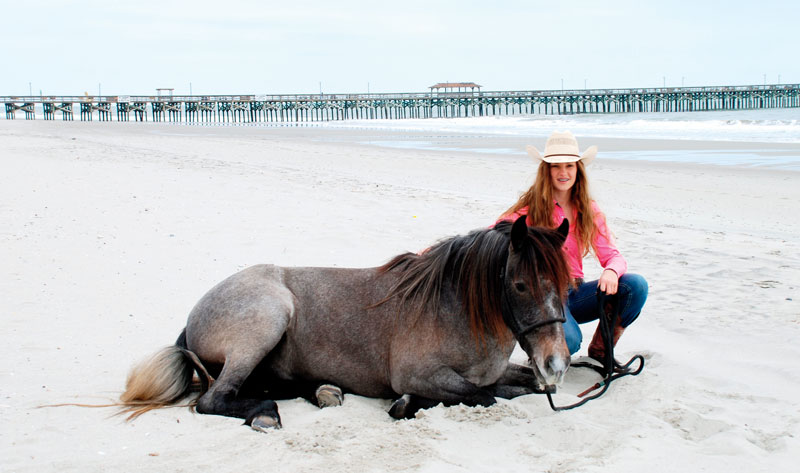 "He was always watching me," remembers Kirsten. "He was afraid, yet curious."
Angus was born in the wild and rounded up in Jerita Mesa, N.M.
Kirsten had just over four months to work with Angus before the pair headed to the Mustang Million. Kirsten used natural horsemanship techniques to gentle Angus.
"Angus has taught me more than any other horse I have worked with," says Kirsten. "He was a very reactive horse, and he was afraid of everything. It took a lot of time to gain his trust and build his confidence. As he began to trust me, our relationship grew rapidly. We now have a very special bond.
So what was it like competing at the Mustang Million?
"It was the experience of a lifetime," says Kirsten. "I saw some amazing horses and met some of the best people I have ever known. The experience made a huge impact on my life.
"I was very pleased with Angus and the way he performed after being out of the wild for just four months. We finished 13th out of 67 entries.
"Angus has a huge personality. He is the most loving horse I have ever had. He's always in my pocket wanting attention. At the Mustang Million, he was nicknamed Famous Angus!"
Kirsten and 2-year-old Angus travel to clinics and exhibitions to help promote awareness of the challenges facing wild Mustangs.
You can follow them on Facebook at Just Believe Horsemanship.
More Info!
www.mustangheritagefoundation.org
www.mustangmillion.com
www.blm.gov
---
This article originally appeared in the September/October 2014 issue of Young Rider. Click here to subscribe.