Have you ever spotted a chocolate brown horse with a beautiful flaxen mane and tail on your horsey adventures? If you have, it was probably a Rocky Mountain Horse.
This gaited breed originated in the hills of Eastern Kentucky in the late 1800s, and today these surefooted stars are more popular than ever. Registered Rockies can come in any solid color, and because they're sized between 14.2 to 16 hands, they can be great rides for all ages.
You'll spot them in perfect formation on drill teams, stepping out on the trail and competing in trail classes. Rockies are real all-round horses. They are also known for their gentle temperaments and their calm personalities. We talked to two young riders who ride and compete Rocky Mountain Horses.
Carrie says Sydney is smooth to ride

Carrie & Sydney
Carrie Cockerham lives in Kentucky, and she rides several Rocky Mountain Horses.
How did she get so lucky? Her uncle and aunt, Robert and Lyngle Lawson, operate Stoner Ridge Farm in Paris, Ky., and they ride and train Rocky Mountain Horses. Thirteen-year-old Carrie stays busy riding many of the farm's horses, but her main ride is My Sweet Sydney, a 9-year-old mare.
"Sydney is calm and quiet, and very smooth to ride," says Carrie. "She is used to showing, competing in trail classes and trail riding."
Earlier this year, Carrie rode Sydney in a Rocky Mountain Horse trail clinic, and the chocolate mare was good as gold.
"We had to walk through sparklers," says Carrie. "I also popped balloons while riding Sydney, and I had to put hula hoops around her neck!"
Carrie shows Sydney in trail obstacle and country trail pleasure classes.
"She's very smooth to ride," says Carrie. "Because Rocky Mountain Horses are gaited, I find it easier to stay balanced on them."
Carrie rides another mare, Pepper's Just Plain Pretty, a dark bay Rocky Mountain Horse with no markings.
"Pepper's favorite gait is the canter," says Carrie. "She's a really fast horse and is great in western and trail classes. I ride her for all of my 4-H activities, including showing and drill team."
So, does Carrie think Rockies are great horses for kids?
"Yes! They have such gentle natures and are intelligent and willing to learn," says Carrie. "And they're such a smooth ride because of their four-beat gait. You don't have to post at all."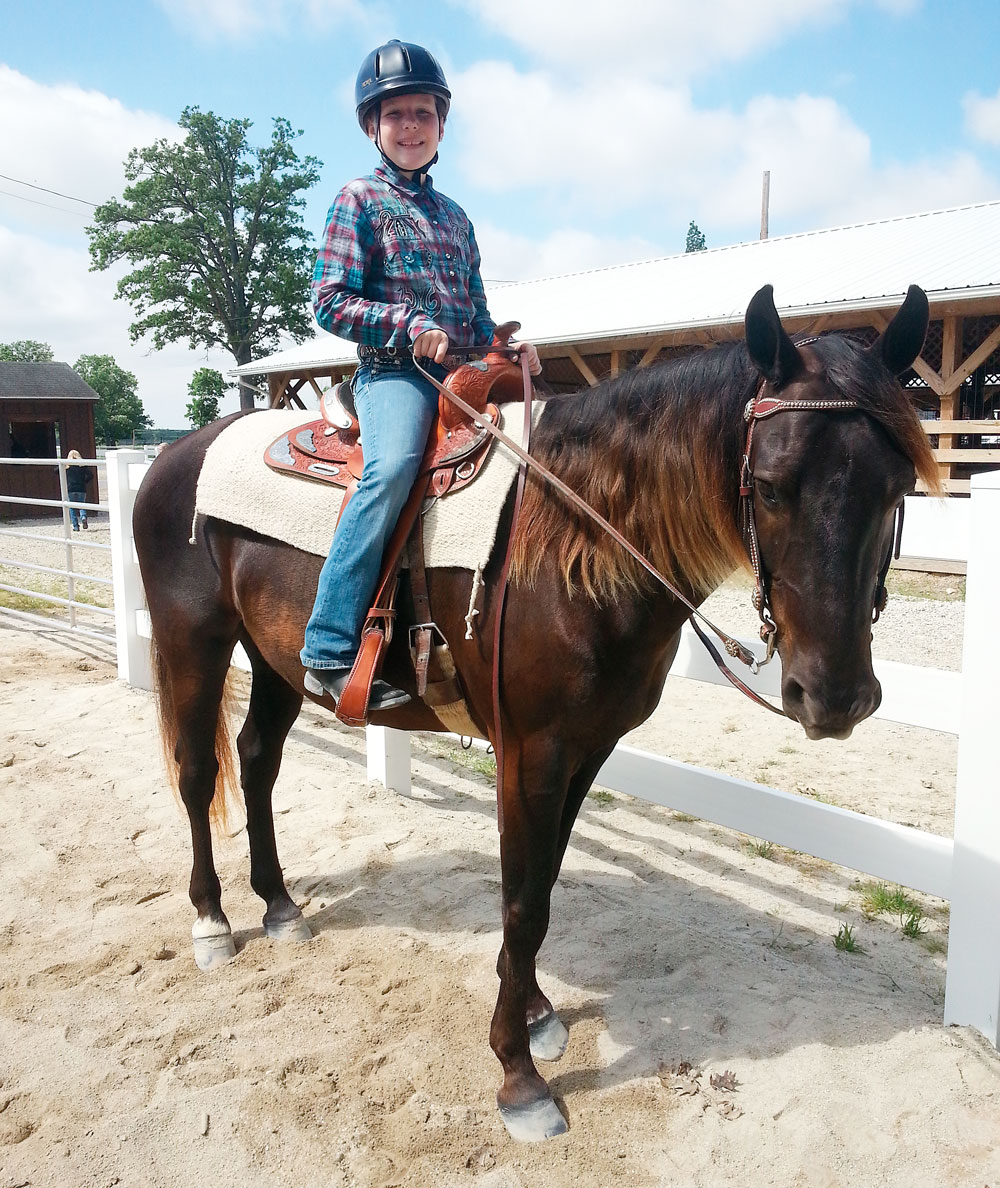 Hemy and Shilo compete in ranch horse pleasure classes. Photo courtesy Hemy Parker

Hemy & Shilo
Hemy Parker of Ohio began riding Rocky Mountain Horses during a lesson.
"Shilo was my first lesson horse when I was 5," says 11-year-old Hemy. "And I began leasing him from my trainer, Mary Ann, three years ago."
Hemy quickly fell in love with the chocolate gelding.
"Shilo is very relaxed," says Hemy. "He's the leader of the herd out in the field though."
Hemy and Shilo compete in English showmanship, trail in hand, ranch horse pleasure and horsemanship classes.
"Ranch horse pleasure is my favorite class," she admits. "It's a fun challenge to perform the different speeds and gaits correctly."
Hemy and Shilo recently qualified for the state fair.
"If we do well at a show, Shilo and I celebrate by eating ice cream or going for a swim in the pond on the farm where we ride," says Hemy.
Hemy has two younger sisters, Abby (8) and Charlee (2), who also ride Shilo.
"He's used to having lots of kids on his back," says Hemy. "And he's very good when Abby rides him. Although when she's leading him around, he sometimes sneaks off to eat some hay!"
Hemy also thinks Rockies are great for young riders.
"They are gentle and easy to train," she explains. "They also have good attitudes and are very willing to please."
---
This article originally appeared in the September/October 2015 issue of Young Rider magazine. Click here to subscribe!