"I certainly dreamed of riding as a career—what girl doesn't dream of going to the Olympics!" says Amy Cairy. Learn what it takes to be involved with marketing in an equine business.
Amy isn't an Olympic rider, but her work helps to support Olympic-level horses: She's the marketing manager for horse products made by W.F. Young. These are the people who make Absorbine liniments, ShowSheen coat conditioner, Ultra Shield fly masks, and more.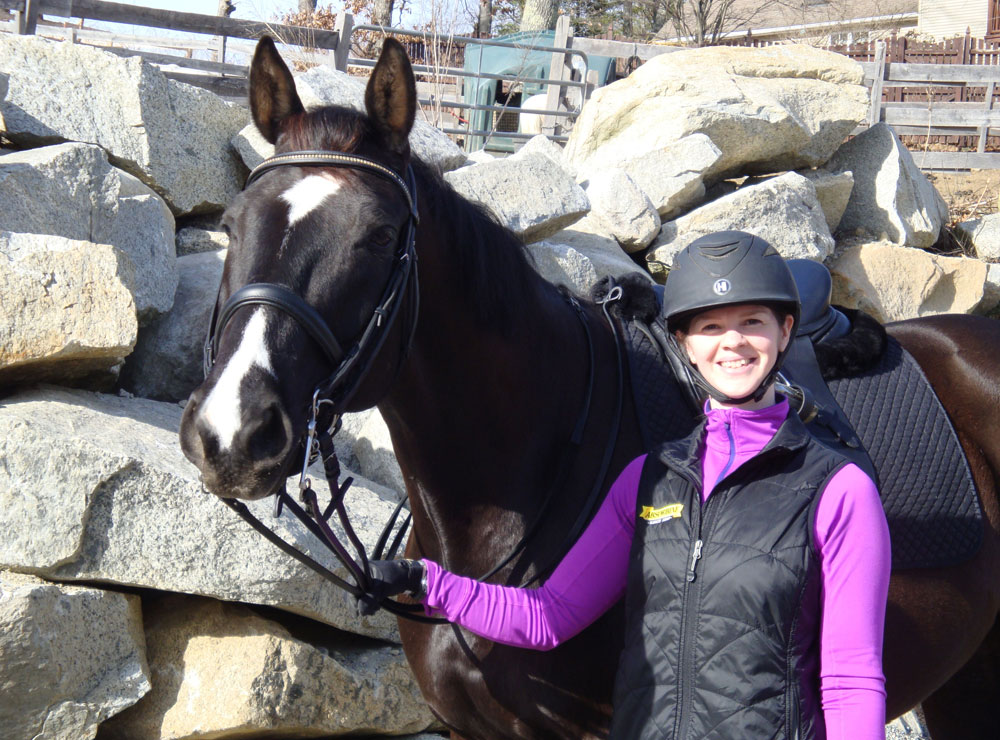 About 60 percent of Amy's work time is spent in the office in Massachusetts, putting together ads (like the ones you see in Young Rider) and other promotions. She works on sponsorships for riders and shows and with others at W.F. Young to introduce new products.
During the rest of her work time, Amy travels to shows and events and meets with customers. "I've had the opportunity to attend events like the FEI World Cup and Rolex Kentucky Three Day Event, and to travel to parts of the country that I would not likely have seen otherwise," she says. "I also get to meet a lot of great people."
Equine Business Marketing – Amy's Career Path
"I was a typical horse-crazy girl and would eagerly accept the chance to ride any horse that friends or family would let me ride," Amy says. She joined 4-H when she was 8 years old and did barn chores in exchange for lessons. She learned about horse care and "everything from dressage and eventing to endurance riding and gymkhana."
Amy knew horses would always be part of her life, but she also liked her business-administration classes in college. "It was important to me to finish college and have a degree so that I had options for my career," she says.
Her marketing job involves the business topics that she's interested in, plus she helps people get products that help their horses at the same time.
Her job is busy, but Amy makes time to ride dressage with Degas ggf, an 11-year-old Zweibrücker gelding owned by Suzanne Markham of Divinity Dressage.
Marketing Jobs
There are jobs similar to Amy's available all over the horse world. Behind everything you buy—from horse feed and stall bedding to riding boots and helmets—there are people working behind the scenes in sales and marketing. These jobs may involve writing, photography, graphic design, social media, event planning and customer service.
If these sound interesting to you, Amy suggests finding someone you can shadow, or better yet, find an internship position so that you can really see what the job you are interested in is all about.
Amy says one of her secrets to success is simple: reading! "You never know when something you read may become relevant to caring for your horse or even helping you land your dream job, so always keep learning."
---
This article originally appeared in the September/October 2017 issue of Young Rider magazine. Click here to subscribe!