A horse has more than 700 muscles in his body. These all have to work together to keep him sound and performing well. This is no small feat, and sometimes horses need a little help. This is where an equine massage therapist comes in. Learn more on the career of an equine massage therapist.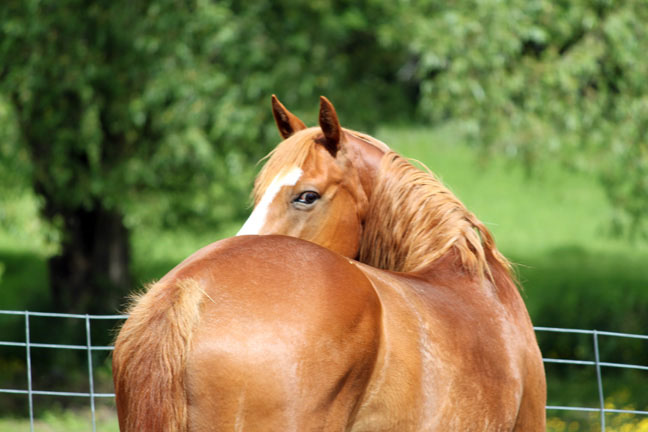 Mary Schreiber has been massaging horses and dogs since 1989. She also started the first equine massage school so others can learn how to properly help horses. This seems like a job for someone who's been around horses from the very beginning, but Mary didn't even start riding until her youngest daughter became interested in horses. "I didn't grow up with horses or dogs, but it's like a switch came on," she says.
Soon, Mary and her daughter were managing a boarding stable. "We were hooked, and it went on from there," she says.
Her first massage client was a German Shepard named Duchess, and her first group of horses were racehorses in Philadelphia. She saw amazing results, including horses suddenly winning races, so she moved on to bring massage's benefits to show horses.
"It can never be a substitute for veterinary medicine, but it's a different approach to well-being," Mary says. "It's an extra step in horse care."
Equine Massage Therapist Career – In Real Life
Massage therapy is a physically demanding, year-round job. (Of course, massage therapists are often busier during the show season.) Therapists manipulate the muscles of these huge animals, who sometimes require a surprisingly light touch, but may also need some elbow grease.
Massage therapy is a mentally challenging job, too, because therapists are required to know the muscles in the body, how they interact, and how to work on them. Plus, you need to know how to handle different horses with sometimes challenging personalities.
"It's a therapy that's designed to be immediate," says Mary. "You come away knowing you've made a difference not just to the horse but also to the owner."
Just like lots of horsey jobs, equine massage therapists don't always get weekends or holidays off. When Mary first started her massage business, she'd take any opportunity to work on horses, including on holidays.
She recalls one Easter meal where she left before dessert was served because she had to work on clients who were leaving town the next day!
Getting Here
The youngest student in Mary's Equissage equine massage therapist training program was 14 years old, and the oldest was 69 years old, proving you can't be too young or too old to learn about bodywork.
Learning proper technique is important; you have to know what you're doing so that you actually help the horse and don't accidentally hurt him. Equissage was the first equine massage school. Now there are in-person and online certification programs across the country.
With certificate in hand, it shouldn't be hard to find horses to practice on, but then the tough part comes in building a business.
When Mary first started out, she declared, "I am going to massage every horse in the world!" This might sound like a crazy idea, but with more than 20,000 people who have gone through Mary's training program, her influence is spreading.
---
This article about the career of an equine massage therapist originally appeared in the November/December 2017 issue of Young Rider magazine. Click here to subscribe!