We've all heard of heroic firefighters stopping the spread of massive wildfires, but did you know that those same men and women rely on equines fighting fires, too?
On August 31, 2020, the Trinity Alps Pack Mules were preparing to hit the trail in Northern California's Six Rivers National Forest when the wind kicked up, spreading a nearby spot fire toward camp. The team, which was scheduled to resupply firefighters battling the Red Salmon Complex, shifted gears. To ensure the safety of equines and packers alike, they quickly broke down their gear and relocated. But within hours, they were back on the trail en route to the fire line.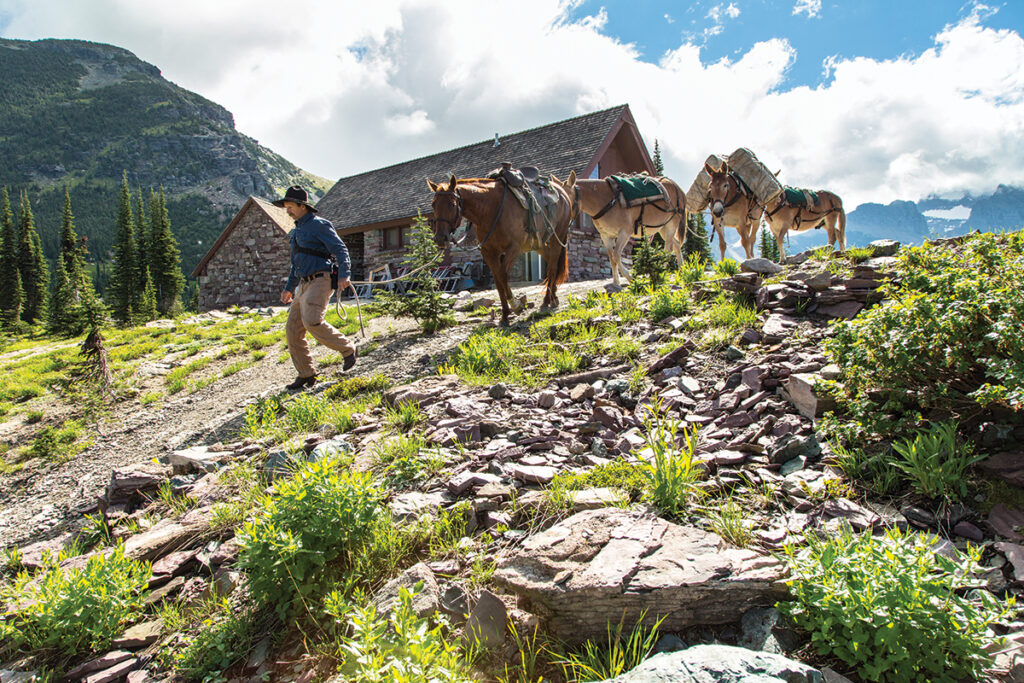 The Forest Service and other agencies have been managing wildfires on federal lands for more than 100 years. For most of that time, horses and especially mules have played an essential role, ferrying everything from food to fuel (for saws) into the wilderness. And while the need for stock animals in these roles is on the rise, their use is declining, notes Guy Zoellner, wilderness trails supervisor for the Spotted Bear Ranger District in the Flathead National Forest.
According to the Pack Stock Center of Excellence, in the early 1900s, the U.S. Forest Service's Southwest Region alone had roughly 2,000 stock animals and more than 100 packers. Today, that number has dwindled to roughly 120 animals, although the designated wilderness land has more than quadrupled.
Not only is there more land, there's more fire. In recent decades, wildfires in the U.S. have been growing, not necessarily in number, but in size. In the two-decade span from 2000 to 2020, fire seasons torched an average of 7.1 million acres annually, more than double the typical 3.3 million acres that burned in the 1990s.
If 2020 is any indication, that trend is unlikely to reverse itself any time soon. It was a record year, with 10.3 million acres affected.
A number of wilderness areas throughout the U.S. continue using equines in fire suppression, mitigation, prevention, and even rehabilitation.
Why Equines Work
In a world in which advanced technology has become ubiquitous, reliance on equines fighting fires may come as a surprise. Surely, trucks or ATVs would be a faster way to deliver supplies? And anybody living near a recent wildfire likely knows that aircraft are frequently made available. The decision—and yes, on many levels, it is a decision—to use animals in fighting wildfires is multifaceted, but it has two key components: wilderness and circumstance.
"The thing about federal wilderness is the emphasis on primitive tools and primitive modes of transport," explains Randy Rasmussen, Backcountry Horsemen of America's director for public lands and recreation. Indeed, the 1964 Wilderness Act prohibits all things mechanized, from bicycles to chainsaws. Although there are provisions that allow exceptions in the case of wildfire, most agencies hesitate to apply for them unless safety is at stake.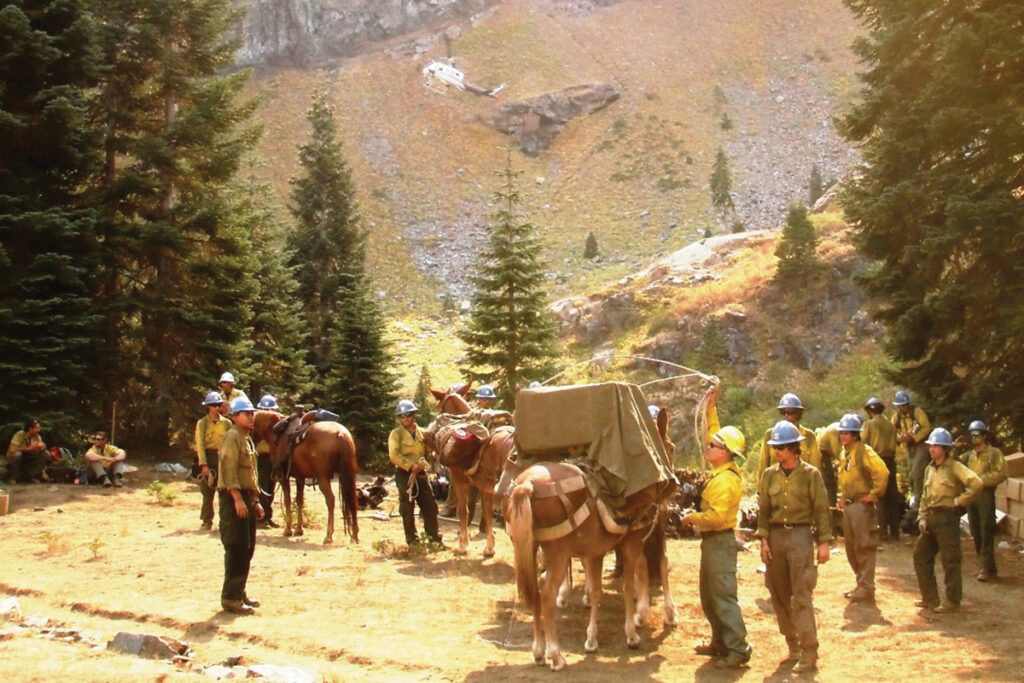 Using mules and horses to support fire crews isn't always just about preserving the character and intent of the wilderness. Often, it's also the most practical choice. Mules, famously surefooted and sensible, can traverse terrain that would be impassable for most motorized vehicles.
In the steep, rugged mountains where the Red Salmon Complex fire burned, they made sense. What's more, when heavy smoke (as often seen in California) or weather conditions hinder flight of planes and helicopters, the equines can still manage. In addition, using the mules frees up helicopters to do other jobs, such as transporting crew or dropping water on the flames.
Ins and Outs of Equines Fighting Fires
Regardless of the wilderness area they serve, most stock teams consist primarily of mules and a handful of horses. The mules are typically, although not always, used only for packing, while packers may ride horses to lead and bring up the back of the string.
When doing fire-related work, at least one person from an official fire crew typically travels with the equines and packers to ensure their safety. Despite the fact that wildfires typically operate under a federal management structure that allows resources to seamlessly go where they're needed most, the work done by the equines is heavily location dependent.
It's key to understand that much wildland firefighting is defensive in nature. Teams spend a lot of time digging fire lines—spaces free of grass, brush or other burnable fuel—and protecting structures with a fire-resistant wrap or cutting down nearby trees to create a "defensible space."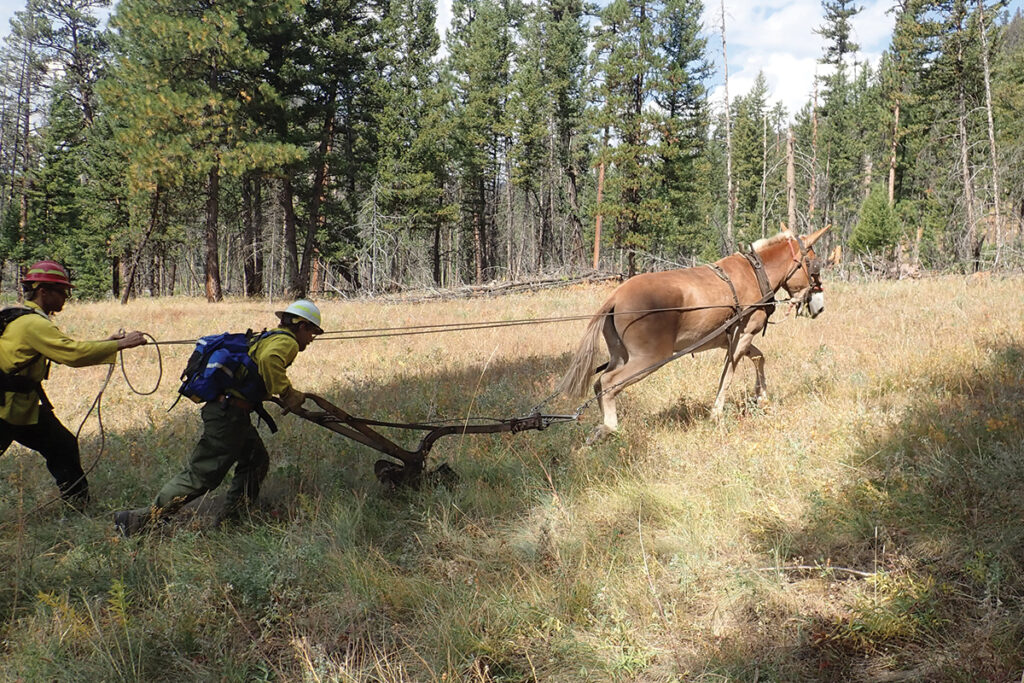 That's not to say that the teams never confront flames—they light fires that could burn back toward the wildfire, stamp out embers, and directly apply water, dirt or retardant to hotspots—but it is highly unlikely that the equines ever would. Their jobs on active fires range from defensive to strictly supportive in nature.
The most obvious job for equines fighting fires is to bring supplies to firefighters camped in the wilderness. This might be as simple as food and fuel. But it could also be pumps or wrap to protect a historic structure.
This is the work that the Trinity Alps Pack Mules were engaged in when their work was delayed. And it is impressive. Each mule typically carries between 120 and 200 pounds; with approximately seven to nine mules on a string, hiring a helicopter to transport the equivalent would cost thousands of dollars.
Digging Trail Lines
In the Flathead National Forest, Zoellner and his team occasionally use their trail plow to help with fire-related efforts, from clearing a line around a prescribed fire to protecting a structure.
"It drops the manpower to make this stuff super easy, and speeds it up," says Zoellner. "We still have crews out there pulling out brush, but the mules smoke the people when it comes to digging trail."
In Montana's Glacier National Park, stock teams only support an active wildfire every three to five years, largely because they rarely see large fires. However, equines fighting fires do support four staffed fire lookouts throughout the summer, hauling supplies in and trash out every two weeks.
"These lookouts have been on these mountains since the 1930s, so we're keeping up those traditions in historic places as part of our fire program," explains the park's Fire Management Officer Jeremy Harker. "We're still using the old methods and the ways that we supply them. We could fly with a helicopter, but it's expensive and it doesn't fit the tradition or the wilderness portion of the business."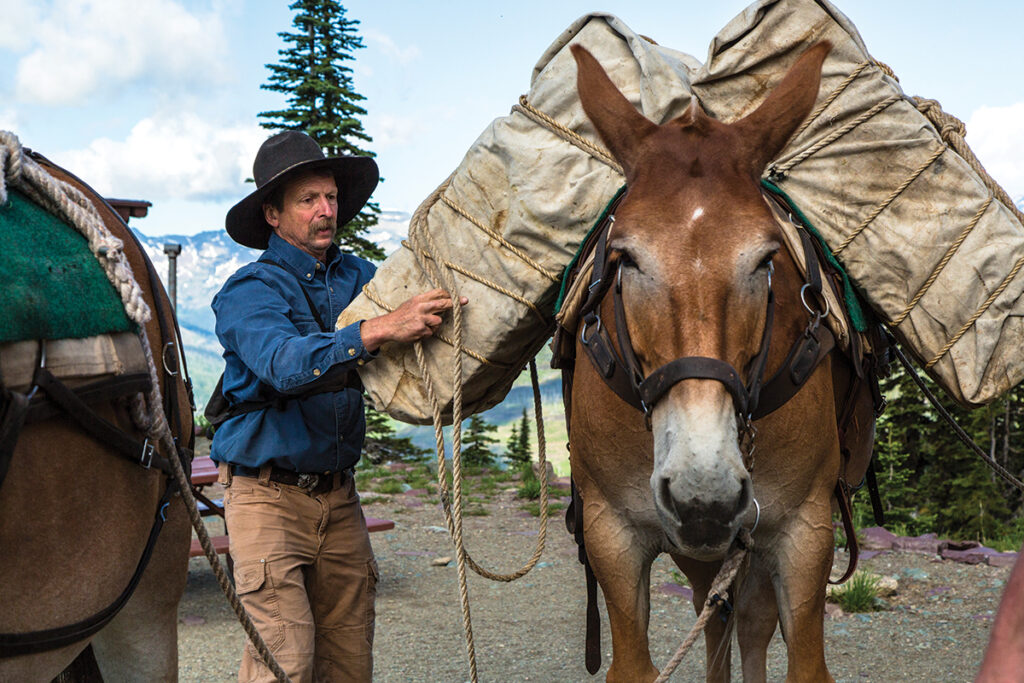 Stock teams' day-to-day routine also looks different depending on the type of wilderness they're protecting. In Flathead, Zoellner's approximately two dozen animals spend the summer in the wilds. When they're not working, most roam free in a 3-mile radius around the main backcountry work center, then pack out for shorter stints in the wilderness, even overnighting at the firecamps.
Others, like the Trinity Alps team or those working in Glacier, are hauled to trailheads and typically complete their supply trips in a single day.
Need for Expansion
Despite the incredible utility of equines for fighting wildfires, and the rising need for them, they remain an understaffed and underused resource. A big part of the challenge is a lack of experienced and willing handlers.
"It's really hard to find folks who want to manage public lands in the wilderness setting who also have the skillset to safely and productively manage horses and mules back there," says Zoellner.
To begin overcoming this challenge, the California-based Pack Stock Center of Excellence supports backcountry fire programs via training and education. In some areas, "fire-use modules" are emerging, in which small, skilled stock crews are dispatched to where they're needed most. For now, these programs are still limited in size and area covered.
Zoellner stresses that growing and supporting stock programs is crucial to protecting and maintaining wilderness areas.
"As the Forest Service starts to address this work, we're going to have to build those resources."