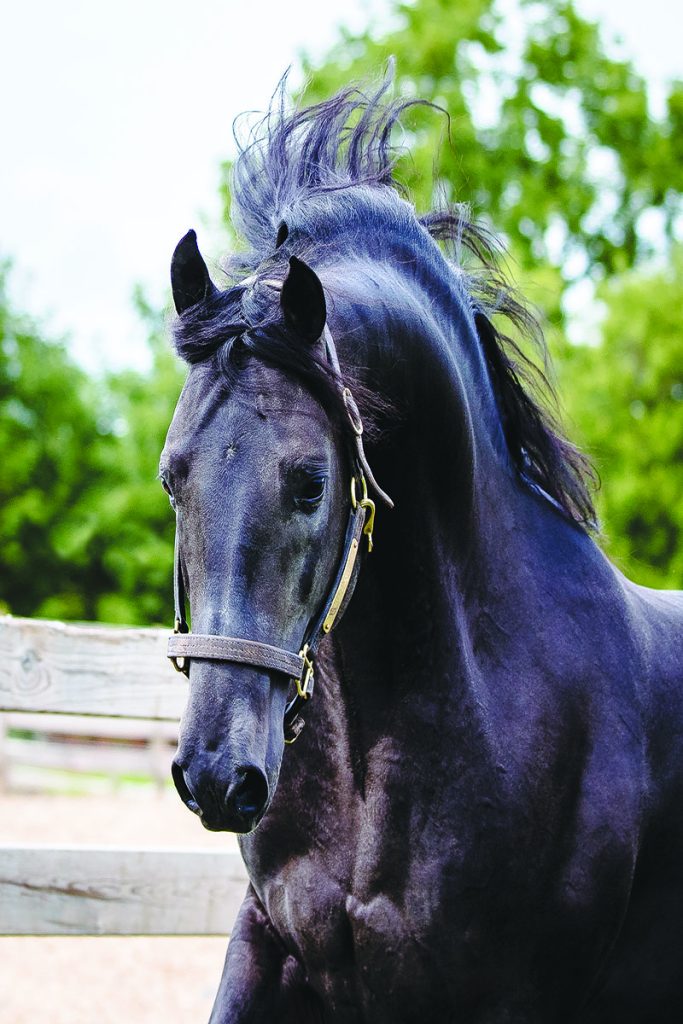 The small town of Weybridge, Vt., is home to a scenic gem for horse lovers and history buffs alike. Known for its picturesque beauty in the Green Mountains, the University of Vermont (UVM) Morgan Horse Farm is a popular stop for leaf-peeping tourists and city dwellers in search of some authentic rural ambience. But the farm is more than a postcard-ready historic landmark.
For the first half of the 20th century, the UVM Morgan Horse Farm was home to a government-run breeding program for U.S. cavalry horses. And while the federal government no longer breeds horses, the farm preserves the bloodlines of those exceptional Morgan horses to this day, producing strong, sound, and versatile Morgan horses that are appreciated by riders and drivers of all disciplines.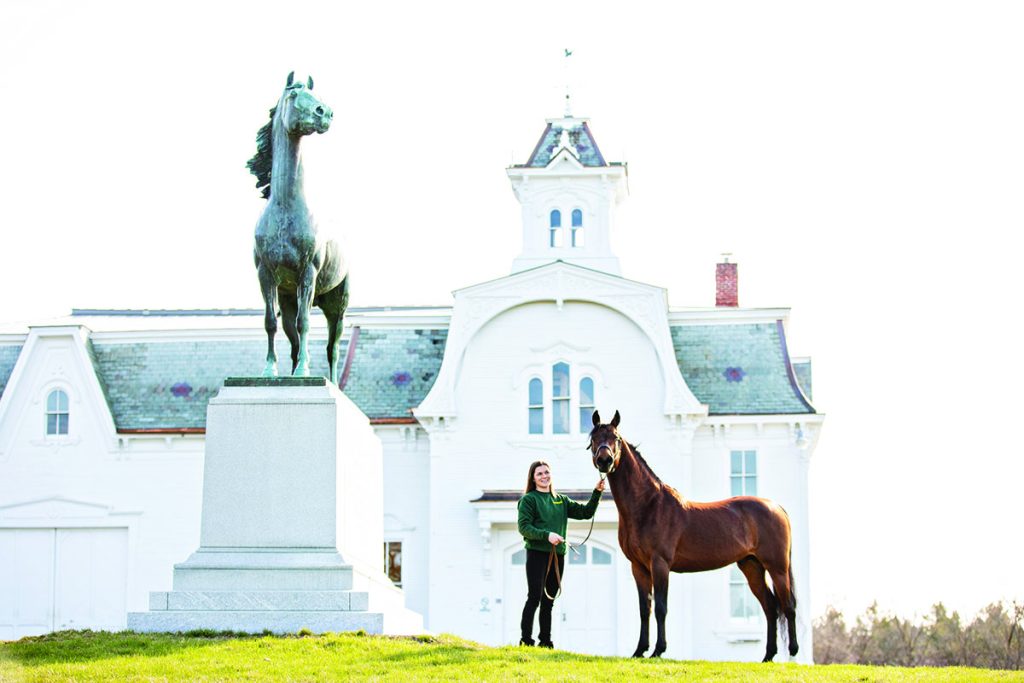 The Morgan Horse as a Versatile Companion
"Tractability is really the No. 1 characteristic we're breeding for in our setting," says Kim Demars, Farm Manager at the UVM Morgan Horse Farm. "They need that positive attitude. Conformation and athleticism are secondary to that. Whether a horse is going to be a dressage horse or a park harness horse, or whatever it goes on to do in its career, it needs to be conformationally correct and have athletic ability. Those are the three most important traits that we try to produce here at the farm."
The qualities that make Morgans a great ambassador at a public-facing program like the UVM farm also make them an ideal fit for riders seeking a truly companionable equine partner.
"Morgans are incredibly versatile. They're truly an all-around family horse," says Demars. "The slogan for the American Morgan Horse Association is 'The horse that chooses you,' and that is so true with our horses here. They really find their person and become part of the family. They're just a really cool breed."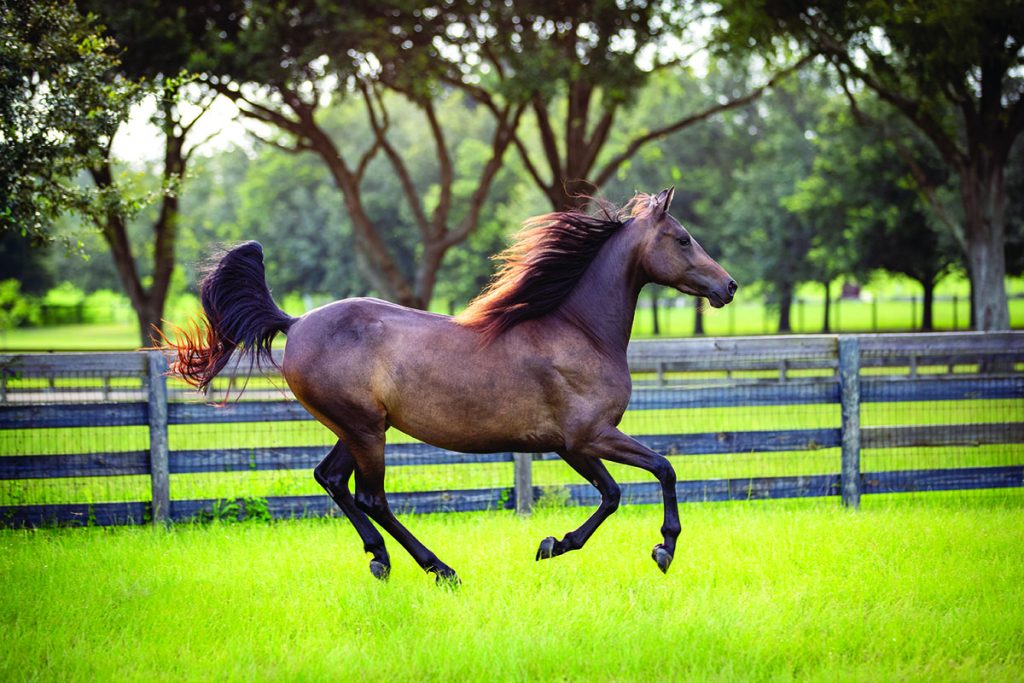 Cavalry History
The property that is now the UVM Morgan Horse Farm was commissioned in 1878 by Col. Joseph Battell, who is recognized as having been instrumental in saving the breed from near extinction at that time.
"Col. Battell created the first Morgan breed registry," says Demars. "He resurrected the Morgan bloodlines and the Morgan breed. From there, the U.S. Government took over the farm as a cavalry remount station."
At first glance, the connection between a breeding program intended to produce battlefield-ready cavalry horses and a modern program known for its personable pleasure horses and show-ring stunners may seem unlikely. But the Morgan's war horse traits from that chapter in its history are part of what makes it a sound, reliable, and athletic partner for riders across many disciplines today.
"[The cavalry] horses needed to have copious amounts of stamina. They had to be very sturdy, very thrifty," says Demars. "They had to have a horse that could carry soldiers for as long as they needed, and the Morgan really fit that bill."
After the government ended its horse breeding programs, the University of Vermont took over the iconic Weybridge farm in 1951, and the University has maintained ownership ever since.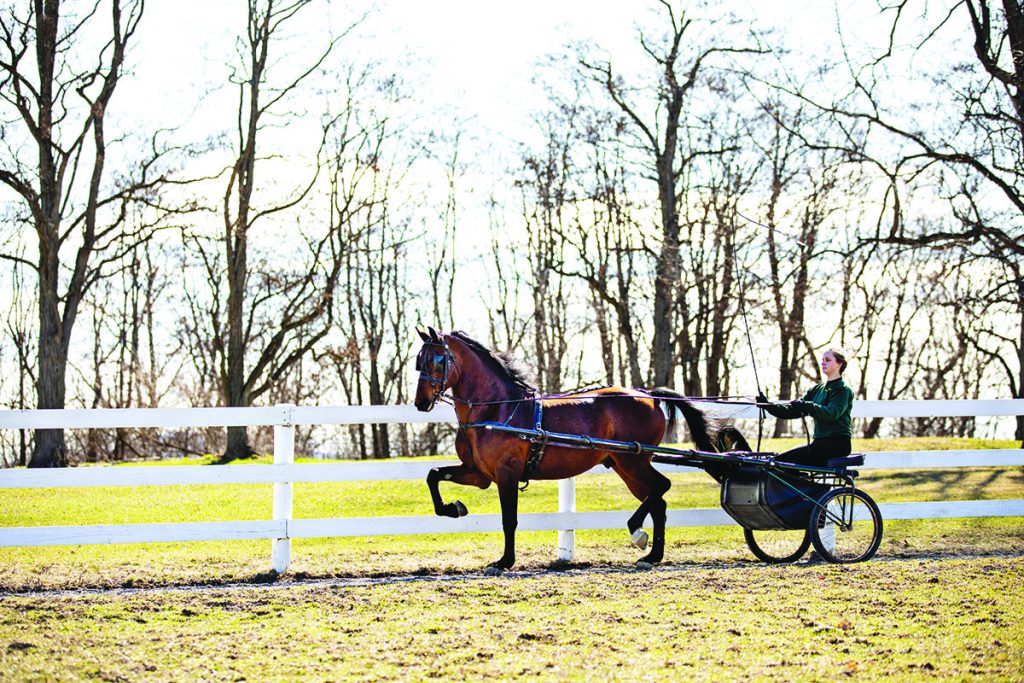 Apprenticeships & Internships
Education is an important part of the UVM Farm's programming, and is achieved through its apprenticeship program, internships, and integration with UVM courses at the University's main campus in Burlington.
"The apprenticeship program is our longest-running educational program with close to 300 graduates," says Dylan Burguard, Equine and Academic Coordinator. "The goal of this program is to allow any individual interested in the equine industry an opportunity to spend a full year immersed in it."
Apprentices are often recent high school or college graduates, although the program is open to all applicants age 18 or over, regardless of their educational status. The Morgans' versatility, along with the expansive nature of the UVM Farm's programs, offer a truly comprehensive experience for aspiring equine professionals that want to determine what aspect of the horse industry they'd like to specialize in.
"Apprentices live on-site and work full-time at the farm," says Burguard. "They assist with every part of the operation, from breeding and foaling to training and sales of horses. They assist with events and demonstrations we put on for the public and for UVM students. They have the opportunity to ride, drive, and train horses and assist with veterinary procedures."
An internship program allows current college students to earn credit while getting hands-on experience at the farm in one of three specialty programs: training and handling; equine sales and marketing; or reproduction and foaling. While these internships are primarily targeted at UVM students, interns are accepted from colleges and universities across the country.
The farm's collaboration with the University extends to coursework, bringing Vermont's official state animal into its state university and introducing more students to this wonderful breed.
Fast Facts
Size: 14.1-15.2 hands on average
Color: There are no color restrictions on registered Morgans. The most common colors are solid bay, black and chestnut.
Country of Origin: USA. The foundation sire of the breed, Figure, was foaled around 1789. The first Morgan breed registry was established in 1909.
Use Today: Morgans are excellent carriage horses and can be found winning combined driving events at the highest level of international competition. At Morgan breed shows, hunter pleasure, western pleasure, classic pleasure (saddle seat), and pleasure driving are among the most popular divisions. The breed has long-established working western lines still found on ranches today. Their hardy composition, stamina, and soundness make them popular trail mounts, both in competition and as pleasure horses.
Learn More: Visit the American Morgan Horse Association at www.morganhorse.com to learn more about the breed and find a farm near you.
This article about the Morgan horse appeared in the July 2021 issue of Horse Illustrated magazine. Click here to subscribe