Sitting squarely in her black dressage saddle, para-equestrian Holly Bergay picks up her reins and prepares to train a young horse at Ambition Equestrian Center in Sedalia, Colo. Holding the soft leather with the fingers of her right hand, she carefully places a loop around her left elbow.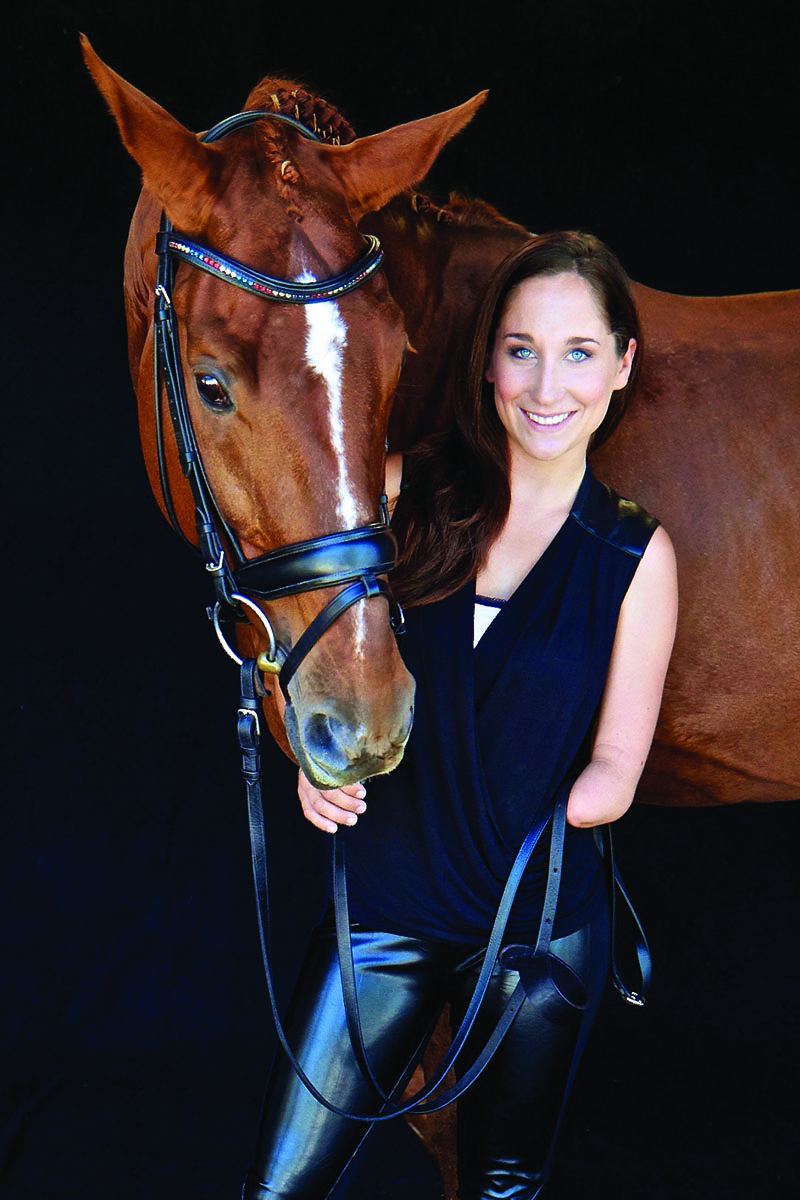 Bergay has achieved world-class riding levels, but not without challenges and the grit to overcome them. Born with her left arm ending just below her elbow, riding could have been too much. Instead, Bergay persisted with the mindset that she must "figure it out." On her para-equestrian journey, she lost a horse to lameness and another beloved mount to cancer. No matter the obstacle, she powers on, knowing that with hard work, you can make your dreams a reality.
"Dressage has taken me all over the world," Bergay says. She lists her many show titles and achievements without bragging and while acknowledging the work—and consistent learning with notable dressage trainers—that it took to reach each milestone.
"I was the first disabled rider to compete in the North American Young Rider Championships and the Festival of Champions, and I have competed on the small tour as a professional against only able-bodied riders," she says. "After moving to Denmark to study with Morten Thomsen, I decided to move home to Colorado and start my own dressage training business. Now, I work with able-bodied riders and, when I can, children with limb differences."
Para-Equestrian Training Quest
Bergay's journey started at age 8, when finding a trainer wasn't easy. Bergay knew she wanted to compete. The dressage trainers her parents approached dismissed her and suggested she try therapeutic riding.
Finally, a family friend helped her get to her first schooling shows. It was then that Bergay found Pat Baker, a dressage judge and trainer who was eager to help.
"After a show, Pat talked to my mom and had some ideas about how I could do the free walk, then pick up the reins again. It was tricky for me to get the reins back onto my arm."
Mary Bergay listened to the suggestion then asked if Baker would teach Holly. She agreed.
"She was the perfect trainer for me," Bergay remembers. "It was never, 'Why can't you do this?' Instead, it was, 'How can we do this?' She would tell me, 'You have to be better than anyone else and we'll figure out how to do that.' She instilled in me that if you work hard and put enough time in, you can get there."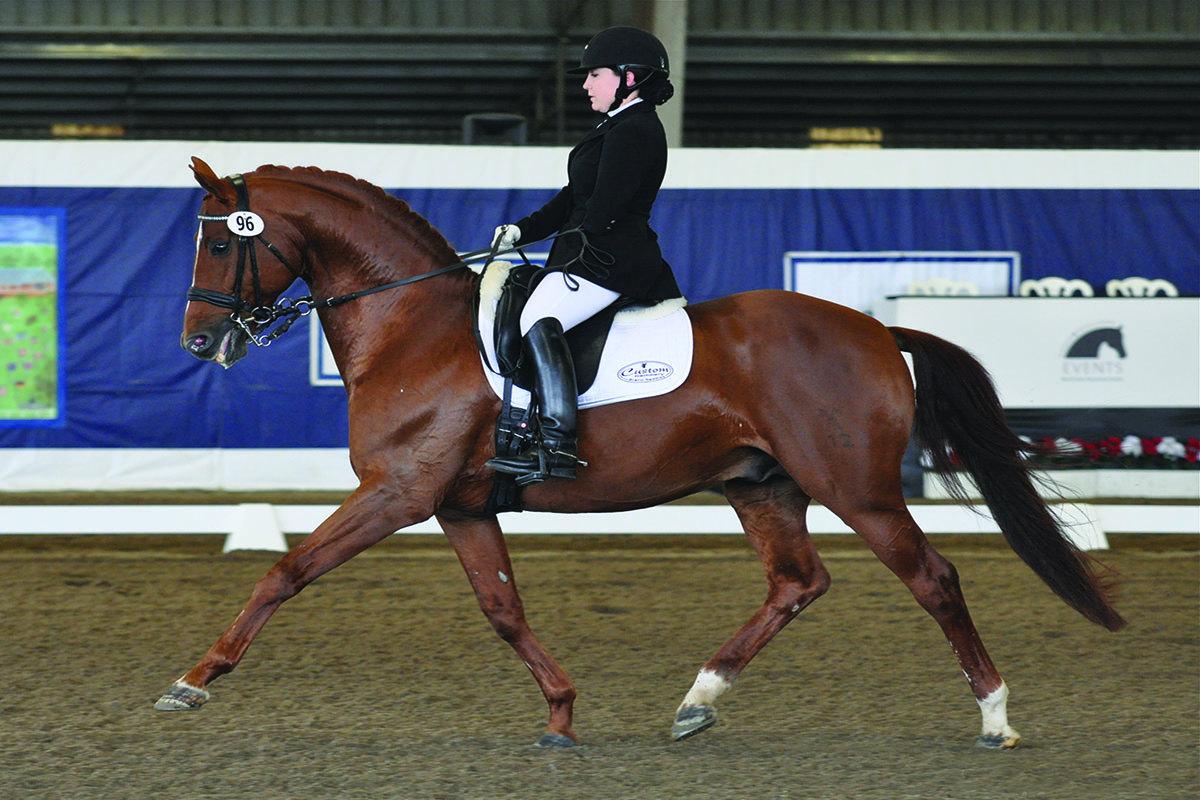 Getting there was the easy part. But Bergay says she attended her first big shows and was overwhelmed—and not just because of her arm difference.
At a Junior Young Rider Championship in Virginia, Bergay saw fancy horses arrive in huge semi trucks.
"Not only was I the only disabled rider, there was a caliber of horse I had never seen before," she says. "Riders were coming with unbelievably expensive equipment. It was so foreign to me, coming from a small program. Others had grooms and teams of people. I had my mom and Pat. I thought, 'Am I supposed to be here?' Pat never coddled that. She just said, 'OK let's ride better.' That was really important."
At that first big show, Bergay placed first on her team and was fifth overall.
"After my ride, Pat said, 'You've proven that you belong here,'" Bergay remembers. "When she said something like that, you knew she meant it."
Setbacks Make You Stronger
Bergay kept proving herself, but setbacks kept popping up. This time, her horse's health thwarted her forward momentum.
"I made the [FEI World Equestrian Games para dressage team] in 2010," Bergay says. "But if you want to talk about setbacks, my horse sustained an injury six weeks before the Games."
Bergay was also a top contender for the 2014 WEG in Normandy, France. After years of work with the Hanoverian stallion Rubino Bellisimo, Bergay could tell that he wasn't feeling well.
"I was competing on the small tour as an able-bodied rider, but also trying for the WEG in para—it was awesome," Bergay remembers. "We flew to the East Coast. After we got there, he was showing signs of neurological problems. You could barely tell that something was wrong, but I could tell because I knew him super well. A veterinarian suggested it was just stress from traveling. But he got worse. They found he had a tumor in his pelvis. It had become inflamed enough to press on his spinal cord and cause neurological problems. The day before the selection trials, I had to put him down."
Bergay was heartbroken.
"Every person who is trying to succeed in this sport is dealing with constant setbacks and challenges," she says. "If you focus on the challenge, you'll have a miserable time. But if you focus on the journey and learning from your horses, this can be a rewarding life. By focusing on growth, I have been able to do a lot and will continue to do more."
Making it Happen as a Para-Equestrian
Bergay was determined to keep going—even through the grief of losing her talented mount.
"I've always had the absolute best support system. If I had doubts, my parents wouldn't let me for long."
Her parents, Mary and Steve Bergay, taught her to have a positive mindset and "figure it out"—whatever "it" was—from an early age.
"They signed me up for all youth sports—softball, rock climbing, swimming. Those are two-handed sports!" she says with a laugh. "I could have just done track, but nope! I was pushed to do what was deemed unrealistic. I'm grateful for that."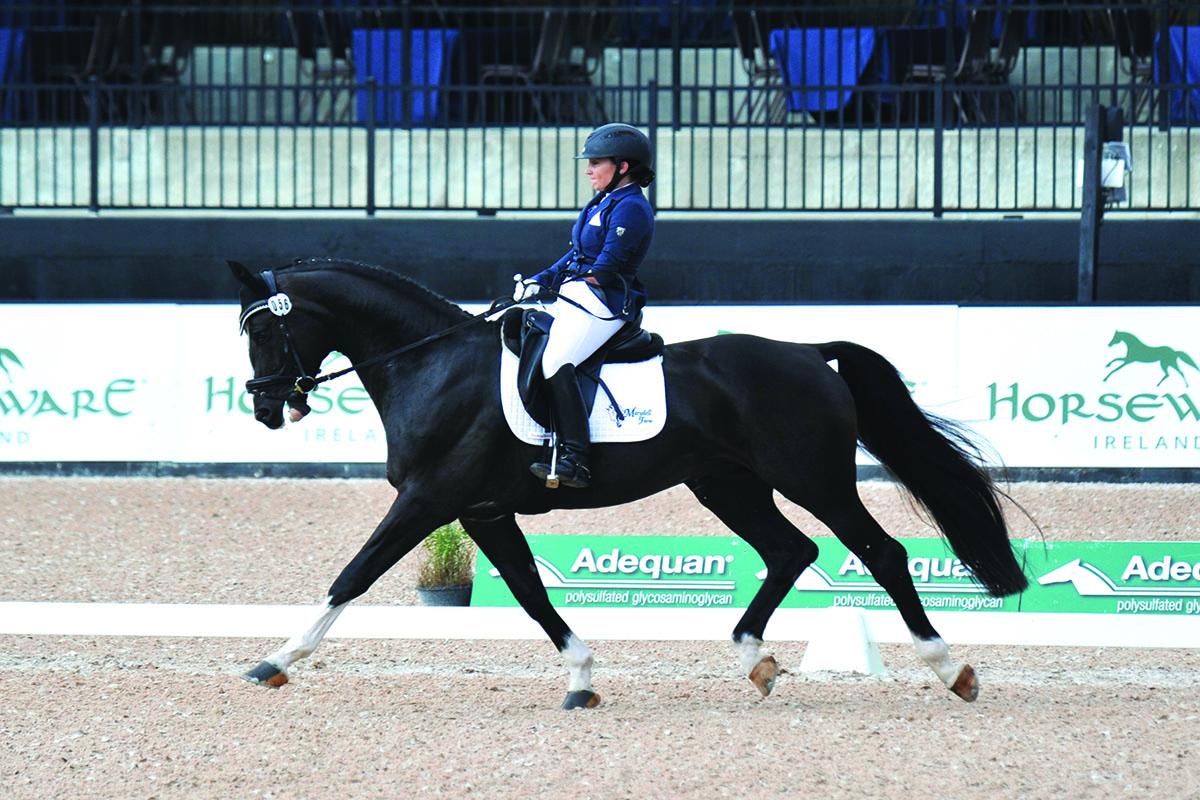 When it came to riding, Steve Bergay was the first to figure out how Holly could hold the reins as a para-equestrian. He created a loop that chained onto her reins.
"I have 3 inches of arm below my elbow," Bergay says. "I have my elbow joint. On my reins, I have a series of loops, so I hook my arm through and hold them with my elbow. Morten Thomsen, who I worked with in Denmark, gave me my most current set of reins. The reins have loops all the way down so I can adjust as much as I need."
Bergay's recent education with Thomsen solidified her mindset that she could make her dreams of training as a para-equestrian happen. Thomsen, a former Olympian and trainer to top dressage riders, sought an apprentice. Bergay submitted her riding videos. Thomsen offered her a plane ticket to Denmark.
"The biggest and coolest thing was that he looked at my difference as a training opportunity," Bergay says. "He said, 'If you can't do something with two hands, then you train the horse well enough that you only have to do it with one.' It was exciting for him to figure it out. It was an opportunity to train the horse better. That mindset that he has is really a gift. I think a lot of people would succeed more if they could think of challenges as opportunities."
Colorado Home
Home from Europe, Bergay now focuses on training her own horses and helping clients. She would also love to give back and help para-equestrian riders with limb differences.
"It's nice to step out of the world competition for a bit to focus on my students and horses," Bergay says. "I have a client who's a young rider. She'll be trying for the North American Junior Championships, which is what I did when I was her age. She's doing that on a horse that I trained, so that will be cool if that works out."
Bergay says that while she coaches able-bodied riders now, parents of children with limb differences have reached out to her.
"Parents see me and think, 'Oh, she can ride, so you can probably ride, too,'" Bergay says. "I think that's important for kids to see what can be done. It's important for anyone who feels different to learn the attitude of 'whatever I want to do, I'll figure out how to do it.'"
Sharing what she has learned from her challenges as a para-equestrian drives her to keep training.
"There are so many highs that come with developing your own horse. That's why I will continue to do this, no matter the setbacks. The competitive part comes second to the horse. If competitive highs come first, you're going to burn out pretty quick. Those highs are few and far between. But if you can find highs in everyday work with horses, then you can keep going for a long time."
This article about para-equestrian Holly Bergay appeared in the July 2021 issue of Horse Illustrated magazine. Click here to subscribe!