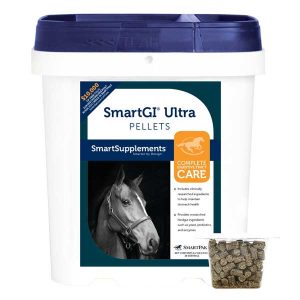 Your horse's gastrointestinal (GI) tract has a number of critical roles to play, including breaking down food, absorbing nutrients, and housing a large portion of your horse's immune system. Unfortunately, many common elements of modern horsekeeping like training, travel, large grain meals, and increased stall time can be detrimental to GI health.
Horses in heavy training or those who travel regularly, particularly for competitions, may benefit from a daily gastric health supplement. While supporting the horse'sGI tract is a smart choice for any horse, it's especially important for those dealing with these stressors, or for those with a history of GI issues. With any health concerns, it's important to work alongside your veterinarian to determine the best course of action for the horse, which may include prescription medication.
You can provide additional support for your horse's GI tract with a gastric health supplement, which works in three primary ways—by providing ingredients to support the normal structure and function of your horse's stomach, by serving up ingredients that can help buffer sensitive stomach structures against acid, and by offering ingredients that can help soothe existing irritation.
Ingredients to look for in a gastric support supplement include calcium and magnesium, which can also help neutralize excess stomach acid. Glutamine is an amino acid that helps to promote healing and the normal repair of intestinal issues, including the stomach lining. Finally, sea buckthorn provides a wide range of compounds whose antioxidant properties assist in normal GI tissue healing and repair.
SmartGI Ultra utilizes these ingredients to provide comprehensive support—not only for gastric health, but it also offers ingredients for digestive health, too. This formula combines two of SmartPak's most popular supplements, SmartGut Ultra Pellets and SmartDigest Ultra Pellets, both of which are backed by research. Plus, if you order SmartGI Ultra Pellets in SmartPaks and you may be eligible for up to $10,000 of colic surgery reimbursement through SmartPak's ColiCare program!