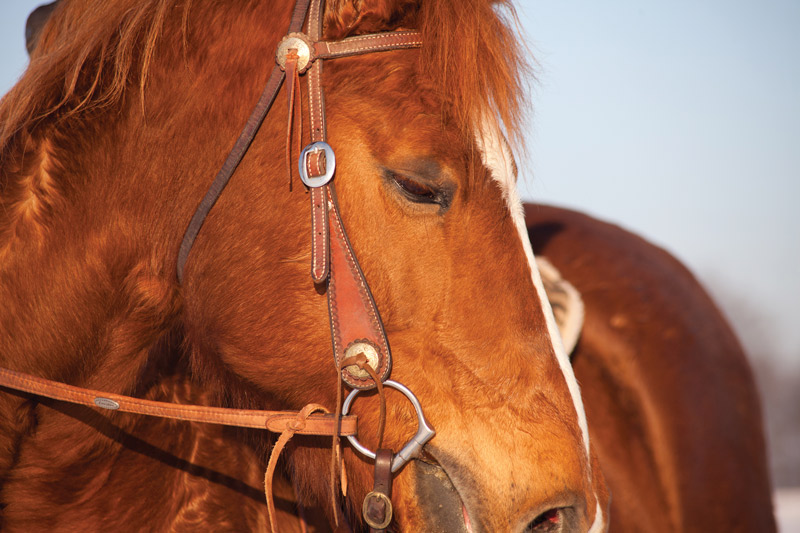 In this Vet Adventures column, a horse suffers an accidental injury, but he still finds his perfect match through a strange twist of fate. 
Everyone had high hopes for Bramble when he was born. The offspring of two prominent Quarter Horses, Bramble's pedigree was very impressive, and he was a handsome animal with a rich sorrel coat. He was a kind and intelligent horse, but there was just one problem. Bramble refused to grow.
My first visit to the farm was to examine 2-year-old Bramble and tell the owners how to make him grow. He was tiny, barely over 13 hands, and he stood patiently while I examined him. He was unusually quiet for a young stallion, and at one point during the exam, I was sure he'd fallen asleep. Everything seemed fine otherwise, so I ran bloodwork and tested his thyroid and adrenal glands. All results were normal.
Failed Attempt
I did not have any magical growth drugs on hand, so I suggested gelding Bramble. If a horse is gelded earlier in life, then he will often grow taller, as closing of the growth plates in the legs is delayed with early castration. Bramble was already 2, so the magic window had probably already gone by, but it was still worth a try.
I performed the castration, and we watched Bramble closely for the next 12 months. Although he ate like a full-sized horse, he remained stubbornly small, and by the end of the year, the owners had given up on him.
Bramble was sold and put into training. He did somewhat well as a kid's horse but didn't have a great deal of enthusiasm for competitions. He hated pole bending and roping, and flatly refused to run barrels properly. He'd zigzag into the arena at a mad gallop and usually knock the first barrel over. Depending on who owned him at the time, us vets took turns evaluating Bramble for soreness, medical problems, or dental issues, but we never found much. He simply didn't want to compete in gymkhanas or roping, and eventually he was sold to a dude ranch several towns away and put to work as a trail horse in the kids' riding program.
Accidental Injury
Bramble settled in and quickly became a favorite on the ranch. He took good care of his young riders and never misbehaved on the trails. Occasionally he'd go to work in the arena, but since most of the cows were bigger than he was, he got intimidated easily and would back off. Several happy years passed, but one day things went terribly wrong.
Every morning, the ranch horses were brought in from the pasture. The horses knew the routine well and usually came in without incident, but one morning there was a scuffle and little Bramble was driven hard into a tree limb. The wranglers watched in horror as a branch went straight into his left eye.
When I arrived, Bramble was surrounded by several sobbing wranglers, and he had a large bandage on his head. I sedated him and gently lifted away the bloody wrap to examine the eye, but it was beyond saving. Sadly, I began to prep Bramble for an emergency surgery to remove the ruined eye.
The surgery was straightforward, and soon I was placing the final sutures. The skin would heal over the empty eye socket, but Bramble's life was changed forever. He'd have to adapt to seeing from only one eye, and he would no longer be able to do guest rides, as the ranch owners felt that he'd be a liability on the trails.
The wranglers argued on Bramble's behalf, but the owners were firm. If Bramble spooked at something because of the missing eye and a guest were injured, they could be liable. Plus, they admitted, no one wanted to vacation on a guest ranch and get stuck riding a one-eyed horse.
Bramble stood quietly as I bandaged him up and gave him some medicine to help with the pain. When he was awake enough to eat, we soaked some pellets into a mash so he wouldn't have to chew, and he ate it very slowly. He looked so small and helpless in the large stall, and my heart hurt for him. He'd probably be sold, again, and I just couldn't stand it. Who knew where he might end up this time?
One Last Home
I made some calls and so did the wranglers, but no one wanted him after hearing about his eye. There was a sale coming up, and I knew Bramble would be there if we didn't find a solution for him. In desperation, I posted an ad on social media explaining his predicament. Initially, there was no response, but one day the phone rang.
"Dr. Diehl, I'm calling about your ad. You see, my 10-year-old daughter had cancer, and the doctors had to remove her right eye six weeks ago. She's been really sad and withdrawn since the surgery, but when I read about Bramble's accident, I thought maybe they could heal together. My daughter is also very small for her age, and the doctors aren't sure how much bigger she's going to get."
I put the family in touch with the ranch right away, and soon a deal was made. I saw Bramble one last time to remove his stitches and do his Coggins and health certificate, and within a week he was on his way to his new—and hopefully final—home.
The girl's mother sends me updates every now and then. Bramble and his young owner are doing short rides together and helping each other heal. Bramble has become very dear to the entire family. Most importantly, this little girl isn't alone in her journey any longer. She has a new best friend who gives her strength to get through each day and seems to have been made just for her.
This Vet Adventures column about an accidental injury appeared in the January/February 2021 issue of Horse Illustrated magazine. Click here to subscribe!