Q: I have two horses, and whenever I try to ride one, the other one goes crazy in his pen. He works himself into a sweat, and I'm afraid he's going to hurt himself or get sick from it. What should I do?
A:
In this video clip, John Lyons teaches you how to help your horses overcome separation anxiety.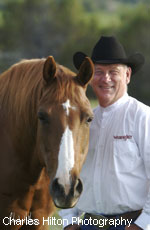 John Lyons' extraordinary ability to inspire and teach people how to become partners with their horses has launched a global training career that has spanned more than 25 years. After a successful show career and gaining practical horse knowledge on his Colorado cattle ranch, Lyons began giving training clinics and symposiums in 1980. With a background in education, he recognized people were eager for help with their horses and developed an extremely successful, solid training program. Lyons is recognized as "America's Most Trusted Horseman" and is a major clinician and keynote speaker at large horse events nationwide and abroad. He is committed to helping people through his books, DVDs and Perfect Horse magazine, and has also developed a certification program that has produced more than 200 professional "John & Josh Lyons Certified" trainers. John Lyons and his wife, Jody, live in Parachute, Colo., on "Our Dream Ranch."
Visit his website at www.johnlyons.com/.
Watch more horse videos >>