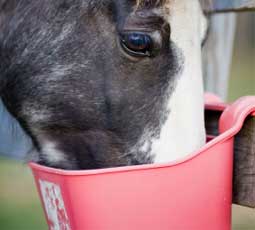 Purina Animal Nutrition released a statement last week to inform customers that some of its products may be contaminated with zilpaterol. Zilpaterol is a drug used in beef cattle feed to promote weight gain and muscle growth. Although research published in 2008 showed temporary, negative effects in horses fed zilpaterol, the substance is not considered a long-term health hazard to horses. However, it is banned in Thoroughbred racing and is on the Fédération Equestre Internationale (FEI) prohibited substances list.
Products involved in the contamination were manufactured in Turlock, Calif. and will include the code "TRL" in the code on the seam of the bag. Brand names include Purina Race Ready, Strategy, Omolene 200, Country Acres Horse Feed, and Country Acres Sweet-12.
While the possibility of zilpaterol contamination is not presently being considered a safety issue for horses, owners and managers of competition horses may want to return any of the products to the dealer where they were purchased.
Purina Animal Nutrition's statement follows:
On March 22, 2013, the California Horse Racing Board issued an advisory noting that certain sweet feed products for horses utilizing a molasses base may contain the drug zilpaterol. Zilpaterol is a beta-2 agonist used to promote weight gain in livestock. While not a safety issue for horses, zilpaterol is a banned substance for race horses.
The products in question were manufactured at Purina's Turlock, California facility in February 2013 under either the Purina or Country Acres labels. Products manufactured at Turlock will have the letters "TRL" in the date code found on the seam of the bag. The CHRB has issued an advisory on the following products:
Purina Race Ready
Purina Strategy
Purina Omolene 200
Country Acres Horse Feed
Country Acres Sweet-12
Purina Animal Nutrition is fully cooperating with the CHRB Zilpaterol is not used at the Turlock facility, and we continue with our own investigation, including discussions with our suppliers.
We reiterate that this is not a safety issue for horses. However, if you are not comfortable using these products until our investigation is complete, please work with your dealer to return the product. As more information becomes available, we will post it at horse.purinamills.com. We care about your animals and take pride in how much you support our products.