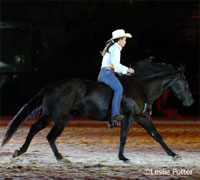 Stacy Westfall and Roxy performed a reining pattern without tack during the opening ceremonies of the 2010 Alltech FEI World Equestrian Games. Photo: Leslie Potter
Stacy Westfall announced on her blog today that Whizzards Baby Doll, known to her friends as Roxy, has been euthanized due to a traumatic injury sustained in her stall.
Few horses experience the kind of fame that Roxy gained in her 11 years. Roxy and Westfall were champions in the 2006 Freestyle Reining Championship at the All-American
Quarter Horse
Congress. The now-famous freestyle was performed completely without tack, and the performance was dedicated to Westfall's father, who had recently passed away.
The video became a viral sensation on YouTube and caught the attention of Ellen DeGeneres, who invited Westfall and Roxy to appear on her daytime talk show. Although the 2006 freestyle made Roxy famous, it wasn't her first major victory. She was a freestyle champion at the Quarter Horse Congress with Westfall as a four year old in 2005. She had also been reserve champion in the reining futurity the Congress as a three year old with Westfall's husband, Jesse. The black mare was owned by Greg Gessner and had been in training with the Westfalls since her two-year-old year.
Although retired from competition, Roxy came out to the 2010 Alltech FEI World Equestrian Games to perform a bridleless and saddleless reining pattern during the opening ceremonies.
According to Westfall's blog, Roxy sustained a traumatic injury after she apparently became cast in her stall on Feb. 5. She was treated for two days at Valley View Animal Hospital, but had to be euthanized on Feb. 8. A Caesarean section was performed in an attempt to save Roxy's unborn colt, which was due in early March, but it was unsuccessful. Roxy has four other offspring, all carried by embryo recipient mares.