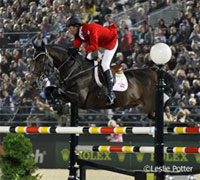 Hickstead and Eric Lamaze, shown here at the 2010 Alltech FEI World Equestrian Games where Hickstead was named "Best Horse" in the show jumping competition.
One of the greatest horses in Canadian show jumping history now has a permanent presence at the country's most prominent venue. Hickstead, the Dutch Warmblood stallion shown throughout his career by Eric Lamaze, now has a statue honoring him at Calgary's Spruce Meadows. The statue was unveiled during a ceremony at the end of last weekend's Masters Tournament.
View photos of the statue at
SpruceMeadows.com
.
Hickstead died unexpectedly after finishing a round at a Rolex FEI World Cup competition in November, 2011. The 15-year-old Dutch Warmblood was still at the top of his game and had no known health problems. The cause of death was ruled to be heart failure as a result of an aortic rupture.
Lamaze and Hickstead won the coveted $1 million CN International at the 2007 Spruce Meadows Masters Tournament and again in 2011. The pair went on to win individual gold and lead the Canadian team to silver at the 2008 Olympics. At the 2010 Alltech FEI World Equestrian Games, Hickstead was awarded the title of "Best Horse" after going clear with every rider in the Rolex Top Four Final.
Hickstead was known as a difficult ride, but he and Lamaze had a unique partnership that kept them on top of the show jumping world in the years they had together. In recognition of their accomplishments, they were both inducted into the Spruce Meadows Hall of Fame this year.
Lamaze competed at this year's Olympics with Derly Chin de Muze, a Belgian Warmblood mare. He finished 29 overall individually. After Hickstead's tribute on Sunday, Lamaze announced that he would be taking a break from competing with the intent to return in 2013.