Dan James and Smart Little Elan
World Championship Freestyle Reining at the Kentucky Reining Cup featured more than the usual thrilling slides, stops and spins that reining fans expect. Music, costumes, special effects and creative choreography add entertainment value to this popular event, but throw in some bareback, bridleless and even backwards riding, and you have a night to remember at the Alltech Arena.
It was Australian native Dan James and his Lone-Ranger inspired bareback freestyle with Smart Little Elan that took first place in the world championship event with a score of 227. James, who is part of the Double Dan Horsemanship duo together with Dan Steers, knows how to wow a crowd. Looking like a dead ringer for Johnny Depp in the role of Tonto, James' reining performance was all the more impressive because he did half of it riding backwards, including spins and a lead change. He also hopped off and added a liberty element, cueing his horse from the ground into a spin sans rider. James earned a standing ovation for his ride, along with the People's Choice Award, a new addition to the event this year to encourage crowd participation.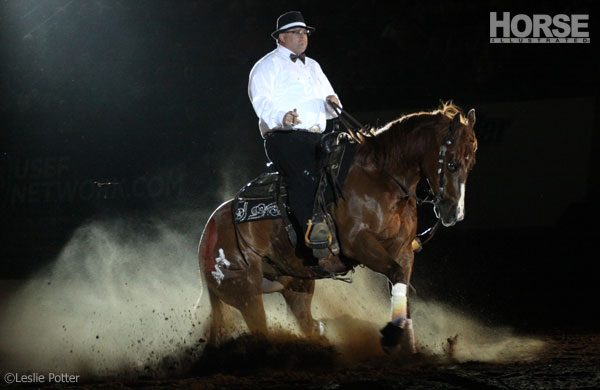 Drake Johnson and Sonic Chic Dream
Second place was tied at 226 between Drake Johnson riding Sonic Chic Dream and Rocky Dare on Squeaky Clean Genes. Johnson's "New York, New York" freestyle offered an homage to Frank Sinatra, trading his cowboy hat for a fedora and bowtie, and hoisting martini glass aloft. Dare's ride started off as a dreamy bedtime story (including a supporting cast of kids), and then broke into an upbeat rendition of Gagnam Style.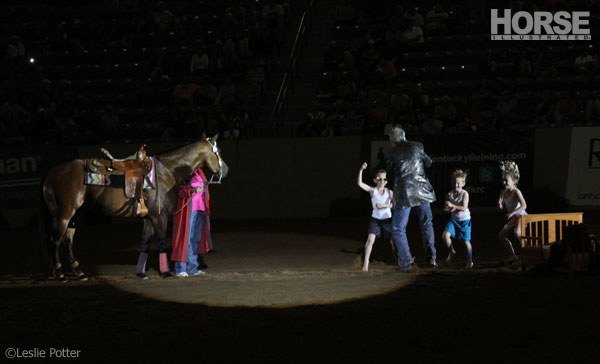 Rocky Dare (and family) and Squeaky Clean Genes
Other Top Finishers
Defending freestyle champion Shane Brown, dressed as the Gingerbread Man aboard Kita Whiz, played a game of catch me if you can. He had a sweet ride to Def Leppard's "Pour Some Sugar on Me" for a score of 223, putting him into 6th place. Jessica Dooley and Magnum Refund rode to 5th place, earning 224.5 for their salute to soldiers. In 4th place was Heather Johnson and Double Knotyourreeboks, riding in a wedding gown to "Same Love" by Macklemore & Ryan Lewis.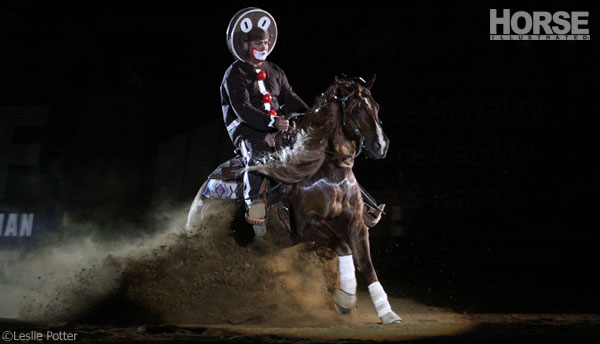 Shane Brown and Kita Whiz
Heather Johnson and Double Knotyourreeboks
Fan Favorites
Pete Kyle and A Ruf Gal turned in a rousing patriotic run to Toby Keith's "Courtesy of the Red, White and Blue," but it was an emotional moment when Kyle pulled the mare's saddle off at the end of the performance and announced her retirement.
Non-pro reiner Emily Fisher rode Whiz Bye Gollie bridleless to "Amazing Grace" in a crowd-pleasing style that made her a runner up for the People's Choice. Even more impressive was the revelation that she had trained the horse herself.
At age 16, competitor Caroline Gute held her own against seasoned pros as "Pocahontas." Her blazing run aboard Travel Whz Me earned some love from the crowd.
Trading Places
Eventing celebrities also made their way over from the Rolex Kentucky Three-Day event to give reining a try in front of the crowd at the Alltech Arena. Lynn Symansky put in an enthusiastic effort for a score of 200, followed by Will Faudree, who looked right at home rocking a cowboy hat and Wranglers. He lost the hat on his final maneuver, but came out of the ring with a big grin to score 201.
One of the busiest Rolex competitors, Buck Davidson also made time for some reining. Davidson was the first and last rider on the cross-country course, putting in two clear rounds with both of his rides currently standing in the top 20. Davidson, who had to learn his pattern at the very last minute, turned in a respectable ride on Zin's Smart Wrangler for 189. It was eventing legend David O'Connor who pulled off the best run of the bunch with big spins and stops aboard Western Whiz, finishing with an impressive hands-free spin for the top score of 220.5.
David O'Connor and Western Whiz
Reining events at the Kentucky Cup continue on Sunday, April 27 at 9 am with the Concours de Reining International 3-Star and final round of the Adequan/USEF Open Reining National Championship and official US Reining Team Selection Trial.
For more information visit www.kentuckyreining.com. To watch video on demand of the Kentucky Reining Cup performances, visit USEFNetwork.com.
Keep up with all of the 2014 Kentucky Reining Cup and Rolex Kentucky Three-Day Event news at HorseChannel.com/Rolex2014.