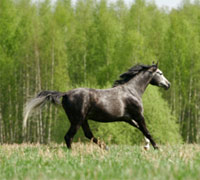 The American Society for the Prevention of Cruelty to Animals (ASPCA) recognizes heroes in the animal community each year with its Humane Awards. Nominations are being accepted now through June 8, 2012 for this year's awards.
The awards are divided into four categories:
The Public Service Award is given to a public service officer (police officer, firefighter, etc.) who made a heroic effort to save an animal's life during the past year or who has demonstrated a commitment to animal safety throughout his or her career.
The Tommy P. Monahan Kid of the Year title will be awarded to someone age 14 or younger who has rescued animals or helped to make the world a kinder place for animals.
The cat and dog of the year awards are given to a cat and a dog that performed a heroic act in the past year.
Although the ASPCA has not yet implemented a Horse of the Year award, the organization has its roots in protecting urban carriage horses and it continues its commitment to equine welfare today.
One of the other awards that will be included at the ASPCA's annual awards luncheon is the Henry Bergh Award, named for the organization's founder. In 2010, Kathleen Schwartz-Howe, founder of Days End Farm Horse Rescue of Maryland, was given this award for her life's work rehabilitating abused and neglected equines. In 2011, the award was given to Green Chimneys of New York, a group that uses horses and other animals to provide therapy for children with emotional, behavioral, social and learning challenges.
To nominate someone who has made a positive difference for equine welfare for the Public Service Award or Kid of the Year Award, visit ASPCA.org