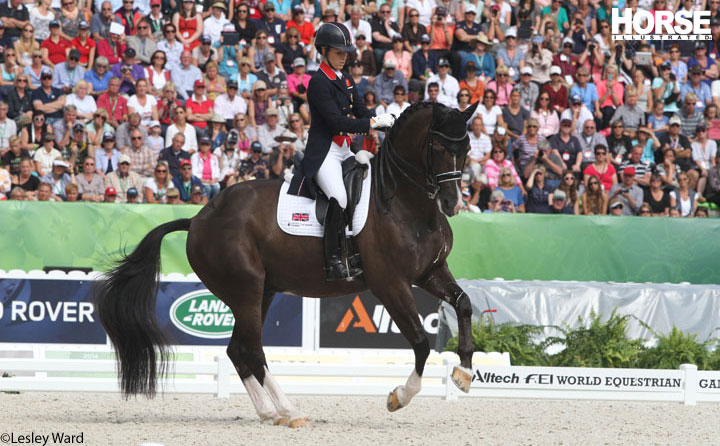 Charlotte Dujardin and Valegro earned gold in the Grand Prix Freestyle on the final day of dressage at the 2014 Alltech FEI World Equestrian Games in Normandy. Photo: Lesley Ward
In the past two years, British rider Charlotte Dujardin and Valegro have won gold medals at just about every championship they've entered, including the 2012 London Olympics and the 2013 European Championships. Now the pair can add two more gold medals from the Alltech FEI World Equestrian Games in Normandy, France, to their haul: two days ago the Grand Prix Special and today the Freestyle Grand Prix with a score of 92.161.
Valegro danced around the arena to music from the movie "How to Train Your Dragon."
"It's only the third time I've ridden to that music," said Charlotte. "But I love it so much."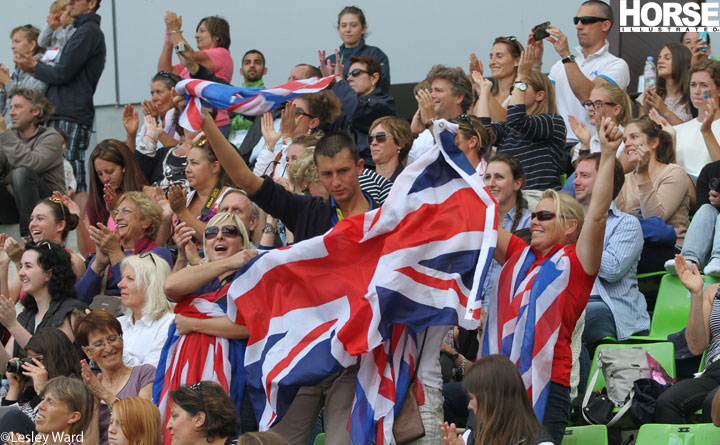 British dressage fans appreciate Dujardin and Valegro's outstanding performance. Photo: Lesley Ward
When asked how she calms her nerves before entering the arena at such a large event, Charlotte admitted that she doesn't get nervous.
"I just go out there and have fun," said Charlotte. I don't think about the pressure, because if you do the fear takes over. Riding a horse like Valegro gives you so much confidence anyway."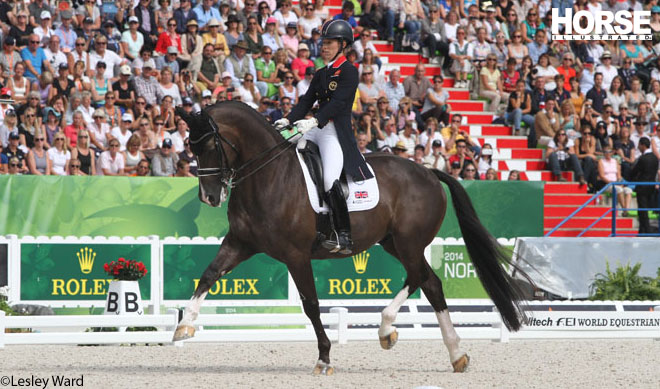 So what's next for Charlotte now that she and Valegro have won just about everything they could possibly win in the dressage world?
"I feel like retiring!" laughed Charlotte. But then she explained that she enjoys training greenies.
"The challenge is to recreate what you've had in the past with young horses," said Charlotte. "I love training horses to Grand Prix. I'd like to continue to be successful with a new horse."
But for now, Charlotte's not giving up the ride on Valegro!
"Valegro has a heart of gold and he gives his all," said Charlotte. "I was really happy with our score, and to come away with a gold medal made it even better."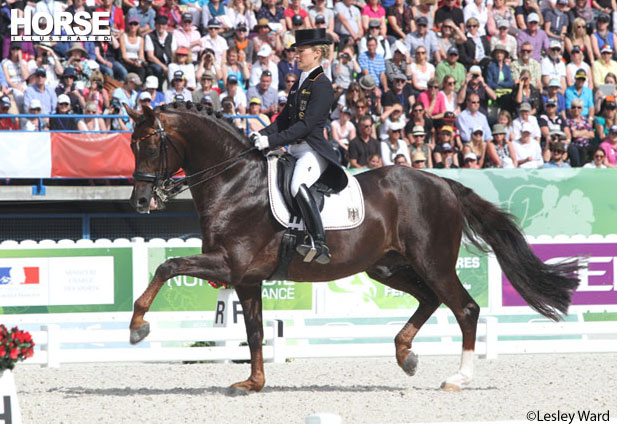 Helen Langehanenberg and Damon Hill NRW finished second in the freestyle. Photo: Lesley Ward
Runner up Helen Langehanenberg said that although it had been a tiring week for Damon Hill NRW, her 14-year-old Westphalian stallion still had plenty of energy.
"I had a really great ride," said Helen. "Damon was fresh today. I am so proud of him. He always enters the arena ready to give his best."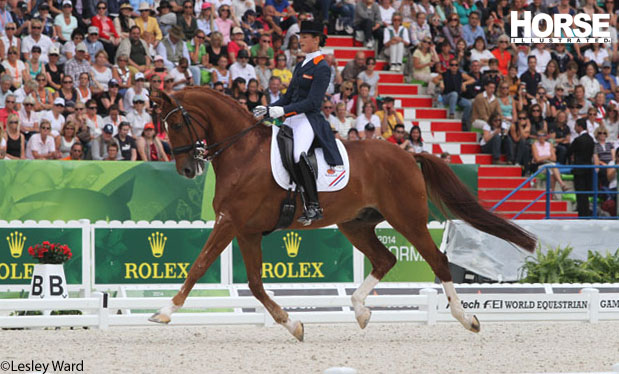 Adelinde Cornelissen and Jerich Parzival N.O.P. won the bronze medal in the freestyle. Photo: Lesley Ward
Adelinde Cornelissen claimed the bronze on her experienced Dutch Warmblood Jerich Parzival N.O.P.
"Parzival is amazing," said Adelinde proudly. "He's 17, but he acts 7. He really deserved the medal today. As long as he loves the game, he'll keep on going.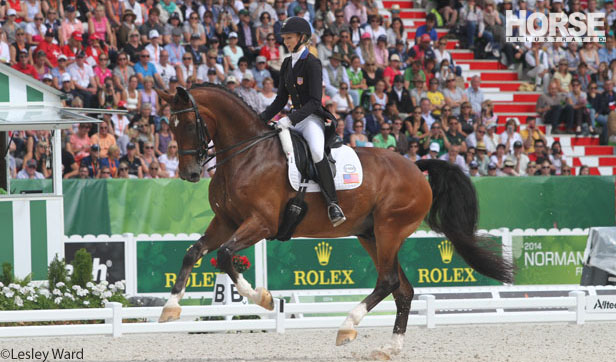 Laura Graves and Verdades were the top-placing American pair in the freestyle. Photo: Lesley Ward
Laura Graves, the newest (and youngest!) member of the United States dressage team got loud cheers from the crowd as she entered the arena on her 12-year old Dutch Warmblood Verdades. The pair performed an accurate test and was in the lead briefly with a score of 82.036. The future is bright for Laura, who earned fifth place in the Freestyle Grand Prix.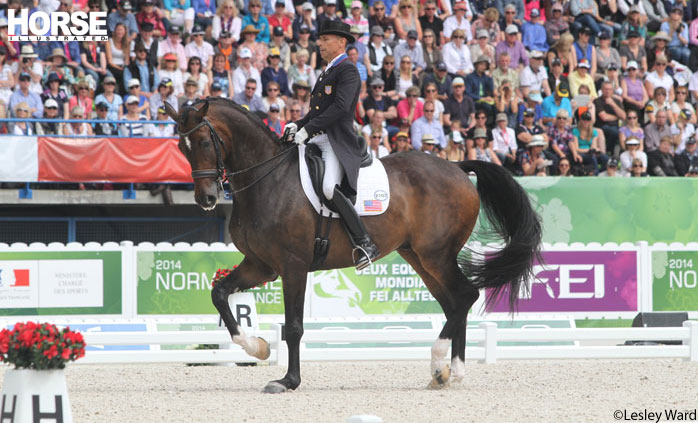 Steffen Peters and Legolas 92 finished in 10th place. Photo: Lesley Ward
Steffen Peters, the only other American to qualify for the Freestyle competition, earned this reporter's admiration for his choice of music. Legolas 92 rocked around the arena to Under Pressure (David Bowie and Freddie Mercury)as well as music from U2. Sadly a mistake late in the test in the one-time tempi changes bumped this American dressage icon down to 10th place with a score of 77.321.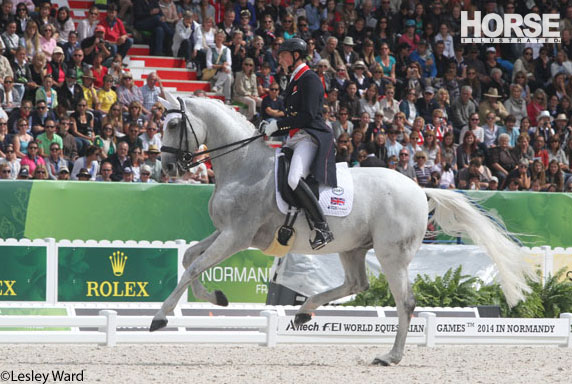 Michael Eilberg and Half Moon Delphi of Great Britain. Photo: Lesley Ward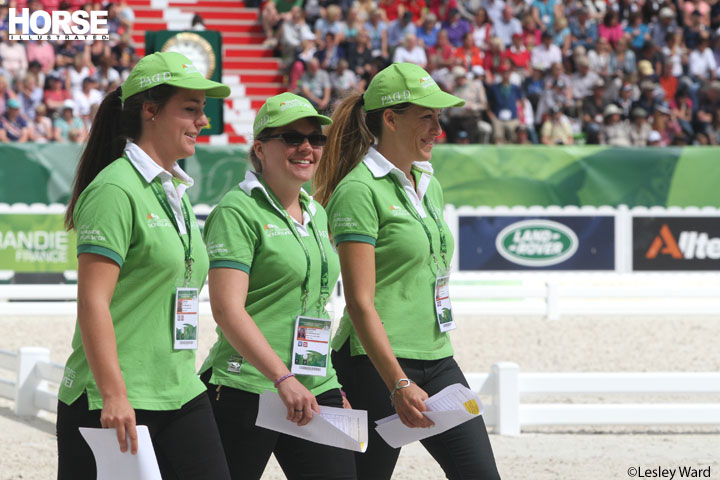 WEG 2014 Volunteers at the dressage stadium. Photo: Lesley Ward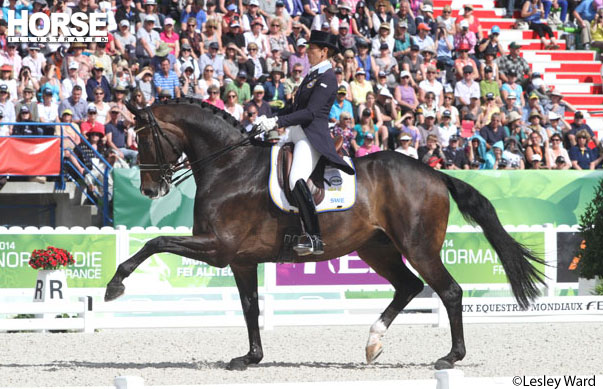 Tinne Vilhelmson Silfven and Don Auriello of Sweden. Photo: Lesley Ward

Keep up with all the World Equestrian Games news at HorseChannel.com/Normandy2014.
Get competition schedules, results and more at Normandy2014.com.