For the past 15 years, visitors to the Kentucky Horse Park have been greeted by a statuesque bay stallion with a very impressive resume. Cigar, whose accomplishments on the racetrack earned him legions of fans in the 1990s, died on Oct. 7 after undergoing surgery for severe osteoarthritis in his neck.
Cigar's record included 19 victories out of 33 starts with lifetime earnings of $9,999,815, a record at the time of his retirement. Cigar's 16 consecutive wins on the track put him in the record books with a tie for most consecutive wins. That record stood until
Zenyatta's 17th consecutive win in 2010
.
Cigar was undefeated during his five-year-old year in 1995, and was voted Horse of the Year and Champion Older Horse in 1995 and 1996. He was also voted Racehorse of the Decade for the 1990s. His notable wins include the inaugural Dubai World Cup in 1996, the 1995 Breeders' Cup Classic and the 1994 NYRA Mile, which is now called the Cigar Mile in his honor.
The stallion retired after his six-year-old year with a ceremony at the National Horse Show, which was then held at Madison Square Garden in New York. The intention was to retire him to a lucrative stud career, but it was quickly revealed that he was infertile.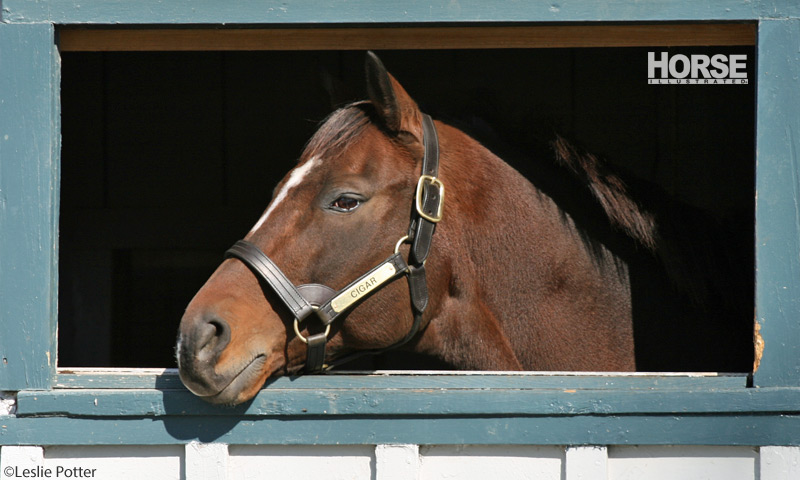 Cigar at the Kentucky Horse Park's Hall of Champions. Photo: Leslie Potter
Cigar earned a cushy retirement at the Kentucky Horse Park's Hall of Champions where he went to live in 1999. He spent his days posing for tourists, relaxing in his grassy paddock, and being honored several times each day during the Hall of Champions presentation.
Read more about Cigar at the Kentucky Horse Park's website.
Leave your thoughts for Cigar on the Kentucky Horse Park's Facebook Page.
---
Leslie Potter is the Senior Associate Web Editor for HorseChannel.com. Follow her on Twitter: @LeslieInLex