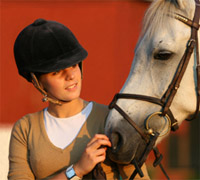 Each April, the American Society for the Prevention of Cruelty to Animals (ASPCA) celebrates Prevention of Cruelty to Animals month in recognition of the Society's founding date of April 10, 1866.
The "Go Orange" campaign asks supporters to wear or display the group's color to show support for the ASPCA's causes. As part of the campaign, several landmarks and buildings across the country will be lit up in orange. Some of the landmarks are: Niagra Falls, New York; Empire State Building, New York; Graceland, Tennessee; Strawberry Mansion Bridge, Philadelphia; Basketball Hall of Fame, Massachusetts. To see the full list of landmarks and when they will be lit up,
click here
.
The ASPCA is sponsoring a "Go Orange" photo contest. Animal supporters are asked to submit a photo of themselves or their animals wearing orange clothing or gear. To submit a photo of you or your horse going orange and to see last year's winners, click here.
The ASPCA's focus is primarily on companion animals and their projects include rescue of neglected or abused pets, free or low-cost spay and neuter clinics and assisting local animal shelters. Some of their recent activities involving horses include:
Learn more at aspca.org