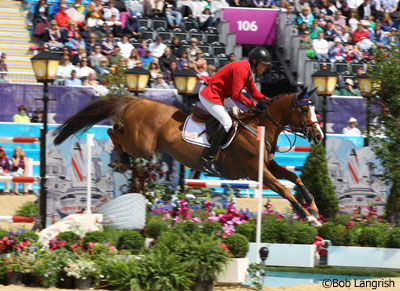 Rich Fellers and Flexible are the only American horse-and-rider pair to remain faultless after two rounds of Olympic show jumping and are tied for first place after today's competition. Photo: Bob Langrish
The second day of show jumping further narrowed the field of team and individual Olympic medal contenders. The individual riders eliminated in round one were able to return to the course to help their teams' scores, which meant U.S. rider Beezie Madden, among others, had a second go at this Olympics.
The only American to go double clear was Rich Fellers and Flexible. This first-time Olympic pair has proven to be an invaluable asset to the U.S. team as they have been perfect so far. They are currently in a 12-way tie for the top spot individually. That tie also includes British riders Nick Skelton and Ben Maher.
McLain Ward and Antares F., who were double clear in the first day of show jumping, had just one rail down to rack up four faults, which was good enough to qualify for the next round of individual competition.
Reed Kessler and Cylana had two rails down and one time fault for a total of nine faults. Unfortunately, that put them just past the point of qualification, ending their quest for an individual show jumping medal. However, both Kessler and Beezie Madden, who was eliminated after two refusals on the first day of show jumping, are still part of the team effort. Madden had just one rail down as part of today's team competition.
The team from Saudi Arabia is currently in first place, with a four-way tie for second among the teams from Great Britain, the Netherlands, Sweden and Switzerland. The United States is tied with Brazil for second place.
The team from Canada stands in sixth place, but suffered the disqualification of one rider, Tiffany Foster. Her horse, Victor, was disqualified for hypersensitivity. No one has been accused of any wrongdoing, but officials prohibited the horse from competing just 15 minutes before the first-time Olympian was set to enter the ring.
In an unlikely turn of events, the strong show jumping teams from Germany and Belgium are now out of team contention along with France, Mexico, Australia, Ukraine and Chile.
Show jumping competition continues on Monday with the team final and third individual qualifier.
Keep up with all the Olympic equestrian news at HorseChannel.com/Olympics.